Jamal Story
Lula Washington Dance Theatre (1992-1993)
Dallas Black Dance Theatre: Guest Artist (1995-1996)
Texas Ballet Theater: Guest Artist (1998)
Donald Byrd/The Group (1999-2000)
Complexions Contemporary Ballet (2000-2004)
Luminario Ballet (2016, 2018)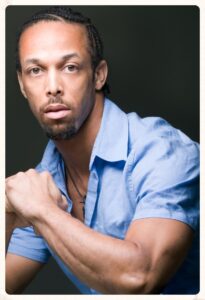 Jamal Story is from Carson, California and started his movement career practicing gymnastics. Around the age of 13, he began studying in dance and trained with Adria Wilson of Oui Geometer Dance Company and Lula Washington, who invited him to join her company the Lula Washington Dance Theatre as a teen. After graduating from the California Academy of Math and Science, Story moved to Dallas, Texas to attend Southern Methodist University in 1995. After four years, he earned dual degrees in Dance Performance and TV/Radio Communications. While in Dallas, Story danced replacements and guest artist gigs with both Dallas Black Dance Theatre and Fort Worth Dallas Ballet (now Texas Ballet Theater).
Following graduation, Story danced with a range of choreographers and companies including Donald Byrd/The Group in New York City from 1999-2000, Complexions Contemporary Ballet in Georgia from 2000-2004, and Luminario Ballet in Los Angeles in 2016 and 2018. He also expanded his performing scope into aerial work and commercial dance with touring musical artists, including Madonna on her Drowned World Tour in 2001 and multiple tours with Cher from 2002 through 2020. Story was invited into the studio as Donald Byrd created the movement for The Color Purple on Broadway, in which Story was a dancer and assistant dance captain for the full Broadway run from 2005 through 2007. Story was also in the original cast of Motown the Musical on Broadway in 2013.
Story has his own company, Schehimazade Productions, and a robust independent career as a choreographer, teacher, writer, and consultant. His piece Catharsis was highlighted as one of the unforgettable performances of 1998 by the LA Times and praised for its "conceptual daring and brilliant technique." Story works frequently at conventions, dance studios, and universities including LA Dance Magic and the University of Missouri – Kansas City.
In addition to his artistic work, Story is an arts activist and has engaged in activities to help the community throughout the COVID-19 pandemic. He serves on the SAG-AFTRA New York Board and co-chairs the National Committee for Dance in this newly merged union. Story is also the author of two novels.
Sources:
His-story, personal website
Jamal Story, Blacks in Ballet
Jamal Story: Teacher Bio, Broadway Dance Center
Year in Review: Reinvention and Revival of the Fittest, Los Angeles Times
Video links:
Jamal Story Choreography Reel
Motown's Jamal Story on Being a Broadway Hoofer, His Ballet Beginnings and Why Madonna Loves His Abs
Social media:
Instagram @jamalstory1