Janet Collins and the Metropolitan Opera Ballet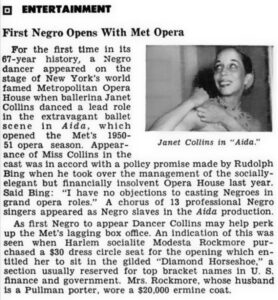 Janet Collins was invited to join the Metropolitan Opera Ballet Company in 1951, when she was 34 years old. Before the Met, Collins danced in a production of Cole Porter's musical Out of This World, where she received the Donaldson Award for best dancer on Broadway in 1951. It was her role in Out of This World that led her to be noticed by Zachary Solov, the ballet master of the Met. She was the first Black dancer to join the company as well as the first Black artist to perform on the Met stage. Collins performed leading roles in various operas such as Georges Bizet's Carmen and Verdi's Aida at the Met up until 1954, when she went on to establish her own dance troupe. While at the Met, despite being a prima ballerina, Collins still experienced racism while touring the US. In many cities, Collins was not allowed to dance, leading to her understudy performing the role. Collins was also not welcome in various hotels and restaurants. In response to this discrimination, the Met threatened to not return to any venues that practiced segregation.
Sources: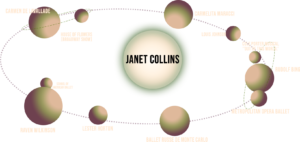 Janet Collins: BDC celebrates Black History Month, BDC Life
Black History Month Spotlight: Janet Collins, Oregon Ballet Theatre
Louis Johnson and the Metropolitan Opera
Louis Johnson received great acclaim for choreographing operas performed by the Metropolitan Opera. His famous choreographed operas are La Giaconda, starring Martina La Rowa, and Aida, which starred Leontyne Price.
Source:
Louis Johnson's Biography, The History Makers
More about the Metropolitan Opera Ballet
The Metropolitan Opera was founded in 1883, with its first opera house built on Broadway and 39th Street by a group of wealthy businessmen who wanted their own theater. In the company's early years, the management changed course several times, first performing everything in Italian (even Carmen and Lohengrin), then everything in German (even Aida and Faust), before finally settling into a policy of performing most works in their original language, with some notable exceptions.
The Met has given the U.S. premieres of some of the most important operas in the repertory. Among Wagner's works, Die Meistersinger von Nürnberg, Das Rheingold, Siegfried, Götterdämmerung, Tristan und Isolde, and Parsifal were first performed in this country by the Met. Other American premieres have included Boris Godunov, Der Rosenkavalier, Turandot, Simon Boccanegra, and Arabella. The Met's 32 world premieres include Puccini's La Fanciulla del West and Il Trittico, Humperdinck's Königskinder, and recent works—John Corigliano and William Hoffman's The Ghosts of Versailles (1991), Philip Glass's The Voyage (1992), John Harbison's The Great Gatsby (1999), Tobias Picker's An American Tragedy (2005), Tan Dun's The First Emperor (2006), and the Baroque pastiche The Enchanted Island (2011), devised by Jeremy Sams, with music by Handel, Vivaldi, Rameau, and others. An additional 78 operas have had their Met premieres since the opera house at Lincoln Center opened in 1966.
Each season, the Met stages more than 200 opera performances in New York. More than 800,000 people attend the performances in the opera house during the season, and millions more experience the Met through new media distribution initiatives and state-of-the-art technology.
Source:
Our Story, The Metropolitan Opera

Victoria Merengwa
Neenah Young
Nicole Young