December 26th 2017
Happy Holidays!!!!
It has been a while since MoBBallet as published an E-Zine, quite frankly pushing And Still They Rose: The Legacy of Black Philadelphians in Ballet into the world took it out of me! But we are happy to say that it is a success and has been well received! We will be posting the footage of our live event that was held October 28th at the Painted Bride in the new year. It was SUCH an incredible conversation and we were so pleased and honored to have Ms. Judy Cuyjet (the daughter of Marion Cuyjet) as a guest. She is a pure delight and holds such memories as do Ms. Joan Myers Brown and Ms. Delores Brown. I am so grateful to them as well as Ms. Judith Jamison who was unable to attend.
We are gearing up for the International Association of Blacks in Dance conference in January and the annual Ballet audition for BOTH MALE and FEMALE dancers this year so make certain you are there! We have some great Ballet organizations participating and there are so many wonderful opportunities that can happen so visit iabdassociation.org to register!!!
Here is an update on one the first year's participants Raquel Smith who was offered scholarships at both Oregon Ballet and San Francisco Ballet School (she went to both that first summer) however San Francisco Ballet School offered her scholarship to study year round and she is currently in level eight and dancing Snow in their Nutcracker!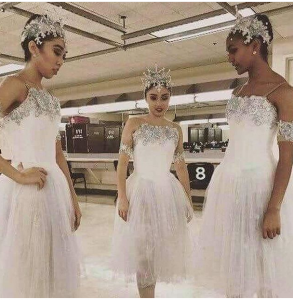 Tis the season to be Nutcracking in all its glory. We all know there is no earthly way to escape it, be you parent, or child whether you are in the ballet or in the mall. No matter how much you love the Tchaikovsky score let's be honest (since the season now starts BEFORE Thanksgiving) 3 months of the the Waltz of the Flowers and Hoop dance will make you want to pull your hair out!
We at MoBBallet wanted in on that Nutcracker spirit so we bring you are all Nutcracker Ezine.
This Nutcracker season might be one of our first indicators as how this whole "Diversity Movement" is progressing as  we have seen a wave of Black Claras as well as Snow Queens and Sugar plum Fairies and Cavaliers. To keep you up to date my most recent Dance Magazine column Tis the Season for Black Claras shares some of those stories,
In addition I thought it might be nice to share the actual news articles from which my story was sourced. You'll get to know: Pacific Northwest's Samarwrit Saleem who is setting the internet ablaze with her natural hair, Cincinnati Ballet's Salome Tregre who is their first Black Clara in their 50 year history. Finally our visual inspiration is delivered by Ingrid Silva and Dylan Santos of Dance Theatre of Harlem dancing the Sugar Plum Grand Pas de Deux as guests with Brooklyn Ballet.
We will see you in the New Year!
Be Safe! and Merde to all who are finishing out the season. We thank you for your service
Theresa Ruth Howard
Founder/Curator of MoBBallet