Llanchie Stevenson
Alvin Ailey American Dance Theater
Radio City Music Hall
National Ballet of Washington: Corps de Ballet
Dance Theatre of Harlem: Principal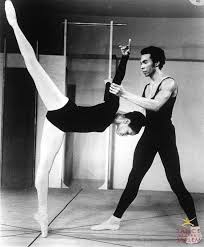 Rosemary "Llanchie" Stevenson began her dance training at the Bernice Johnson Dance Studio. She attended the LaGuardia High School of Performing Arts in New York City and was dissuaded from being a ballet major because they feared that she would not find work in the field. However her father rejected that notion, and she was allowed to remain a ballet major until her graduation.
Upon graduating from high school at 17, she decided to take a class with Alvin Ailey; he then invited her to join the company. She toured with the company, but Mr. Ailey saw in her a ballet dancer and made her maintain her pointe work. He then encouraged her to audition for The Radio City Music Hall as he thought that she could become the first Black ballet dancer with the group. She was accepted and became the first African American to join the corps de ballet of Radio City Music Hall. Often special roles were created for her, but when ballet dancers guested with the company she found herself longing to be a ballerina. She auditioned for the School of American Ballet and was given a scholarship. She studied for two years and upon seeing some of her classmate being offered contracts, she asked about her prospects. Balanchine was not ready to have a woman of color in the company—he had the Black male dancer Arthur Mitchell at the time, but according to Balanchine, a woman of color would "break the corps line."
Stevenson auditioned for Fredric Franklin at the the National Ballet of Washington, where she was accepted as a member of the corps de ballet and was the only African American in the company at the time. After performing with the company for a few years, Arthur Mitchell asked her to become a founding member of Dance Theatre of Harlem as a principal dancer. Stevenson originated the revolutionary aesthetic of skin-toned tights for Black ballerinas.
Source:
[sponsored by Scott Munson]
Capitol Ballet and Llanchie Stevenson
While a dancer with the National Ballet of Washington, Llanchie Stevenson performed as a guest artist with the Capitol Ballet. On May 31, 1968, Steven appeared in Collaboration with Patricia Sorrell and Robert Davis and Pocahontas alongside Sandra Fortune-Green, Virginia Johnson, and Bernard Stanley. 
Source:
The Washington Post, 30th May 1968, p. C6