Mel Tomlinson and Alvin Ailey American Dance Theater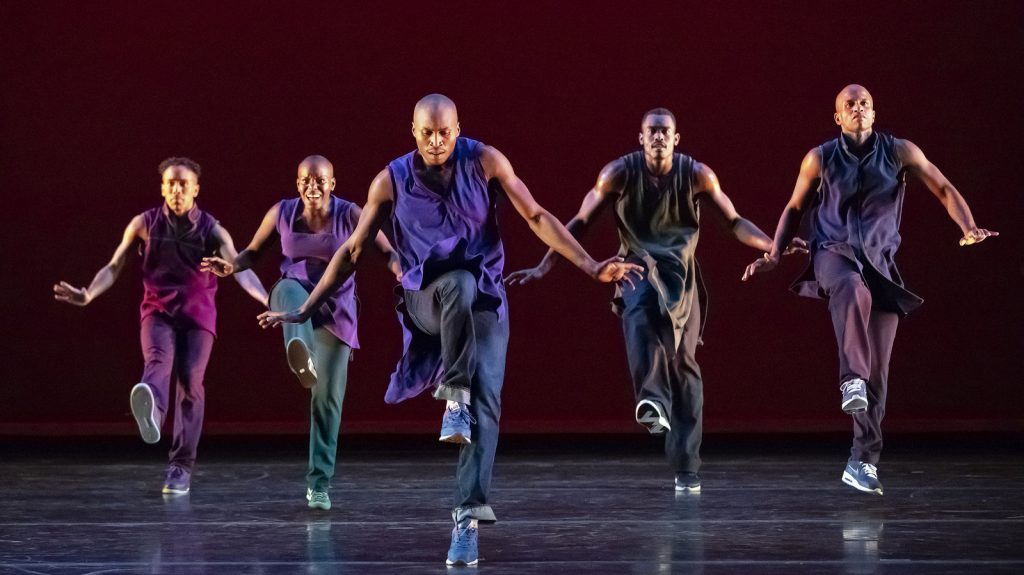 After a few years of dancing at Dance Theatre of Harlem, Mel Tomlinson wanted a new challenge and decided to leave the company. Several days later, while taking class at Alvin Ailey's school, Ailey asked Tomlinson if he'd like to join his company now that he'd left DTH. From there, Tomlinson danced in Ailey's modern company for a year, touring around the world and dancing with some incredible dancers like Judith Jamison.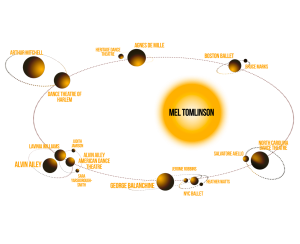 Lavinia Williams and Alvin Ailey
Lavinia Williams then returned to the US to form her own school in Brooklyn and teach at the The Ailey School. She moved back to Haiti in the mid 1980s.
Lavinia Williams' legacy in the dance world lives on predominantly through her daughter Sara, as she followed in her mother's footsteps and also became a dancer. At 17 years old, Sarah danced with the Harkness Ballet Company from 1964-1975. At 19 she danced with the Alvin Ailey American Dance Theater from 1971-1975 and the City Center Joffrey Ballet from 1975-1976.
More about Alvin Ailey American Dance Theater

In March 1958, Alvin Ailey and a group of young Black modern dancers first performed at New York's 92nd Street Young Men's Hebrew Association (92nd Street Y) under the name Alvin Ailey American Dance Theater (AAADT). Ailey was the company's director, choreographer, and principal dancer. The company started as an ensemble of only seven dancers, plus their choreographer and many guest choreographers. Following their first performance, which included Ailey's Blues Suite, the company traveled on what were known as the "station wagon tours"; in 1960, the AAADT became a resident company of the 51st Street YWCA's Clark Center for the Performing Arts. During this period, Ailey choreographed his famous work Revelations, a character dance done to traditional music. In 1962, Ailey changed his all-black dance company into a multi-racial group. In that same year, the company was chosen to tour the Far East, Southeast Asia and Australia as part of President John F. Kennedy's "President's Special International Program for Cultural Presentations." AAADT was the first "Black" company to travel for Kennedy's program. Judith Jamison, a star of the company for 15 years, joined the company in 1965.
Ailey established a school in 1969, the same year that the company moved to the Brooklyn Academy of Music. Both company and school relocated to 229 East 59th Street in Manhattan a year later, to a renovated church building. In April of that year, a financial crisis caused Ailey to issue a statement that the dissolution of the company might take place. The crisis abated, however, and in 1971 AAADT made its first performance at the New York City Center, where it is currently the resident company. Masazumi Chaya, who later served as associate artistic director for 28 years, first joined the company as a dancer in 1972.
AAADT, the Alvin Ailey Repertory Ensemble (later renamed Ailey II) and the Alvin Ailey American Dance Center (later renamed The Ailey School) relocated in 1980 to four new studios in a building on Broadway. The company celebrated its 25th anniversary three years later. Alvin Ailey died on December 1, 1989; before his death he selected Judith Jamison to succeed him as artistic director, and the entire Ailey organization moved to 211 West 61st Street on the Upper West Side of Manhattan. The Ailey School and nearby Fordham College at Lincoln Center (FCLC), Fordham University, have since affiliated to offer a Bachelor of Fine Arts (BFA) degree program.
Following tours in Russia, France and Cuba in the 1990s, as well as a residency in South Africa in 1997, the Alvin Ailey Dance Foundation announced in 2001 that a new dance complex was to be developed. Ground was broken on the building site in Manhattan the following year. The company and school moved into the building, named the Joan Weill Center for Dance, in 2004.
After 21 seasons, Jamison personally selected Robert Battle to succeed her as Ailey's artistic director in 2011, and The New York Times declared he "has injected the company with new life." Troy Powell became artistic director of Ailey II in 2012, succeeding artistic director emerita Sylvia Waters, who ran the junior company for its first 38 years.
The Ailey School is an accredited institutional member of the National Association of Schools of Dance (NASD). The school is recognized by the US Department of Education as an institution of higher education and is eligible to participate in Title IV programs. It is recognized by the US Veterans Administration as eligible to participate in Veteran's Educational Benefit Programs. The Ailey School is authorized under federal law to enroll non-immigrant alien students. Denise Jefferson was selected by Ailey to head the school when it was founded in 1984 and served as its director until her death in 2010. The Ailey School's current co-directors are Tracy Inman and Melanie Person.
Source:
Alvin Ailey American Dance Theater, Wikipedia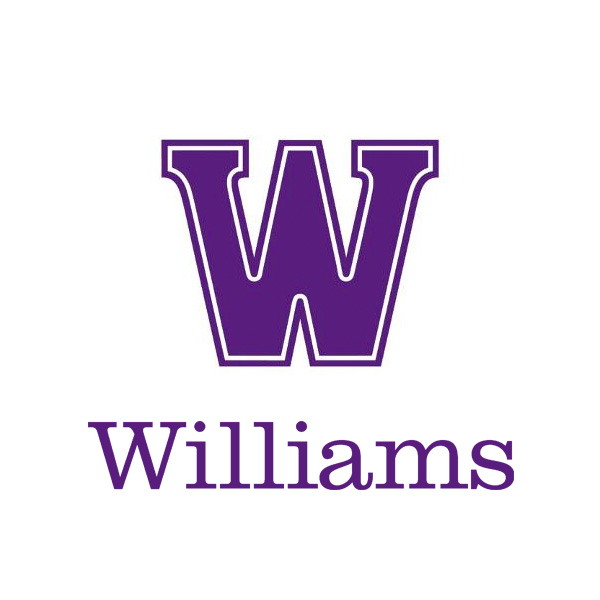 Casey Monteiro
Soffia Smedvig