Lavinia Williams and Eugene Von Grona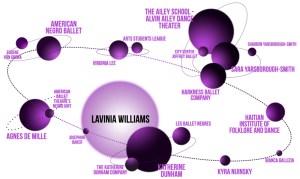 In 1936, Williams was invited to sketch dancers during a rehearsal of Eugene Von Grona's American Negro Ballet. After this introduction, Lavinia was asked to join the company by Von Grona himself. She stayed with the American Negro Ballet for three years, dancing in multiple performances, including the Von Grona Swing Ballet's performance of Lew Leslie's Blackbirds of 1939 and Firebird as the 13th princess.
More about Eugene Von Grona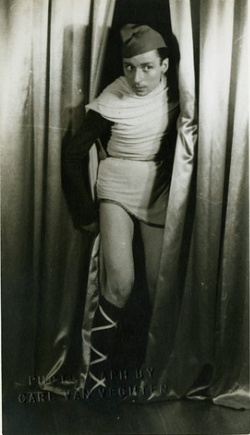 "Eugene Von Grona (January 23, 1908 – March 29, 2000) was a German professional dancer and choreographer. He was born in Berlin. As a child he visited the United States quite frequently, where he became enamored with the cakewalk and minstrel shows. By the 1920s he finally made his move to the United States with his wife Leni Bouvier. Both dancers, they were fascinated by the new artistic innovations of the Harlem Renaissance. He enjoyed the sounds of Duke Ellington and other ragtime favorites. In 1930, Von Grona arranged the dance, Mechanical Ballet, for the Broadway musical, Fine and Dandy. Brooks Atkinson of The New York Times said, 'the most stunning dance number is a mechanical ballet, which is quite the most vivid of its kind.' In 1935, he began dancing and directing ballets at the Roxy Theatre.
Quickly he was confronted with racial boundaries, as many American theaters were segregated by law or custom. Performing opportunities were extremely limited [for] black dancers, and many ballet studios would not accept black students. He decided that the dancers at Roxy were too light and stated, 'I want them black, black, all Negro.'"
Sources:
Eugene Von Grona, Wikipedia
Eugene Von Grona
More about American Negro Ballet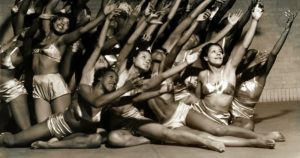 In 1934, Eugene von Grona (1908-2000) formed the American Negro Ballet Company (ANB). Von Grona scouted the dancers by promoting the company, offering scholarships, and more. Out of hundreds of applicants, Eugene von Grona chose 20 dancers. Two notable dancers in the ANB were Lavinia Williams and Al Bledger. A pillar of the American Negro Ballet was that Eugene von Grona wanted to illustrate that Black Americans could be respectable dance artists outside of the jazz dance genre.
On November 21, 1937, the American Negro Ballet, alternatively called the von Grona Ballet, debuted at the Lafayette Theatre in Harlem. The company's showcase was conducted by Dean Dixon. The performance's music was a mixture of ballet staples and modern contemporaries of the time. Igor Stravinsky's "Firebird" was heard along with choreographic pieces set to the scores of W.C. Handy and Duke Ellington. The ANB's premiere was well received by both critics and audience members. Unfortunately, the American Negro Ballet Company struggled to keep afloat and disbanded in 1938. Eugene von Grona later revamped the ANB, but branded it as "Von Grona's American Swing Ballet." In 1939, the new and improved company was featured in producer Lew Leslie's Blackbirds as well as other engagements.
See also:
1937: American Negro Ballet is Founded, MoBBallet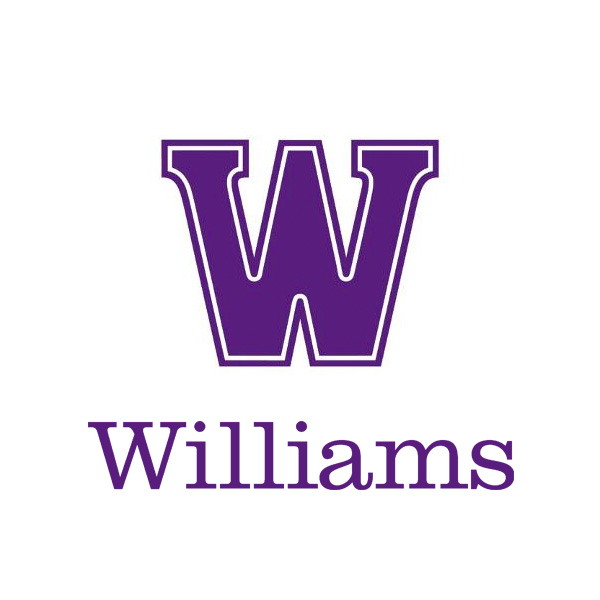 Soffia Smedvig