Muriel Cook (Gaines)
Negro Unit of Ballet Theatre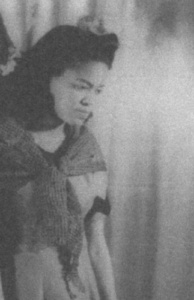 Born in 1915, Muriel Cook was a member of the Negro Unit of Ballet Theatre. She was a part of the original cast of Agnes de Mille's Black Ritual (1940). Cook performed in the original Broadway casts of Flying Colors (1932), Lew Leslie's Blackbirds of 1939, Swingin' the Dream (1939), and Big White Fog (as Claudine Adams, 1940). Cook worked as a singer, performing in Harlem clubs, at Broadway revues, and on tour in South America and Europe.
She passed away in 1976.
Sources:
"Black Ritual" Ballet by Agnes de Mille for the Ballet Theatre, Museum of the City of New York
Muriel Cook, Playbill
Bass, Maudelle, with Muriel Cook, Lawaune Kennard, and Dorothy Williams in Black Ritual (Obeah), Beinecke Rare Book & Manuscript Library
Maher, Erin K. "Ballet, Race, and Agnes de Mille's Black Ritual." The Musical Quarterly, vol. 97, no. 3, Fall 2014, pp. 390-428.