Dorothy (Jones) Williams
American Negro Ballet
Negro Unit of Ballet Theatre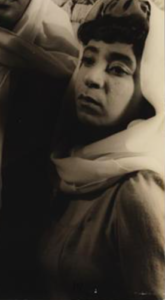 Dorothy Williams was born in 1916 and was a member of both the Negro Unit of Ballet Theatre and the American Negro Ballet. She was a part of the original cast of Agnes de Mille's Black Ritual. In 1936, Williams performed in the Federal Theatre Project's production of Sweet Land. Williams also performed in the Broadway productions of Carmen Jones (1943); Run, Little Chillun (1943); Shuffle Along (1932); and Blackbirds of 1928.
Sources:
Black Ritual (Obeah), American Ballet Theatre
Muriel Cook, Dorothy Williams, Maudell Bass [sic], and Lewanne Kennaro [sic] in "Black Ritual", New York Public Library
Bernstein Meets Broadway: Collaborative Art in a Time of War by Carol J. Oja
Dorothy Williams, Playbill
"Black Ritual" Ballet by Agnes de Mille for the Ballet Theatre, Museum of the City of New York
Night's Dancer: The Life of Janet Collins
Maher, Erin K. "Ballet, Race, and Agnes de Mille's Black Ritual." The Musical Quarterly, vol. 97, no. 3, Fall 2014, pp. 390-428.