1940
Negro Unit of Ballet Theatre was Founded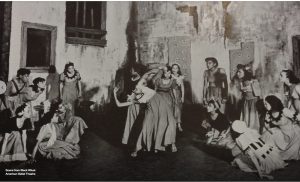 On January 22, 1940, Agnes de Mille choreographed the ballet Black Ritual (Obeah) for sixteen black dancers: Lawaune Kennard, Lavinia Williams, Ann Jones, Dorothy Williams, Elizabeth Thompson, Evelyn Pilcher, Edith Ross, Valerie Black, Leonore Cox, Edith Hurd, Mabel Hart, Moudelle Bass, Clementine Collinwood, Carroll Ash, Bernice Willis, and Muriel Cook. Black Ritual was set to the score La Création du monde (1923) by Darius Milhaud.
The Ballet Theatre was founded in 1940 to be representative of the budding American style of ballet while nodding to the classical European form. New works by American choreographers and European choreographers filled the repertoire. Some notable choreographers who worked with the Ballet Theater were Russians Michel Fokine and Bronislava Nijinska , Englishmen Andrée Howard and Antony Tudor via Ballet Rambert, as well as two Americans Eugene Loring and Agnes de Mille.
The collaborative and collective company was expansive; twenty principal dancers, fifteen soloists, a company of fifty-six, eleven composers, eleven designers, eleven choreographers, eighteen composers as well as a Spanish with nineteen dancers and an all-black called the Negro Unit of fourteen dancers.
The lack of a singular artistic force was the downfall of the Negro Unit of Ballet Theatre but were modeled after a government funded arts initiative by U.S. President Franklin Roosevelt called the Federal Theater Project.
References:
"Ballet Theater after Fifteen Years" by R.J. Austin:
http://libproxy.mcla.edu:2095/stable/pdf/942586.pdf?refreqid=excelsior%3A086337306ce6a4aac8734ebc9f1d4bf6
Ballet, Race, and Agnes de Mille's Black Ritual by Erin Maher:
https://academic.oup.com/mq/article-abstract/97/3/390/2278979/Ballet-Race-and-Agnes-de-Mille-s-Black-Ritual?redirectedFrom=fulltext
Federal Theater Project (Negro Units) by Dr. Anthony D. Hill via blackpast.org:
http://www.blackpast.org/aah/federal-theatre-project-negro-units
Other Happenings in 1940
American History
Sept 16 The Burk-Wadsworth Act is passed by Congress along with the first peacetime draft in the history of the United States
Oct 27 Mafia boss and future head of the Gambino crime family, John Gotti is born in the Bronx, New York

Apr 7 1st black to appear on US stamp (Booker T. Washington
)
May 15 Richard and Maurice McDonald open the first McDonald's restaurant in San Bernardino, California
July 18 Franklin Delano Roosevelt was nominated for an unprecedented third term
World History
Aug 20 Exiled Russian revolutionary Leon Trotsky is assassinated in Mexico City
Sept 7 300 German bombers attack Long in blitzkrieg (lightning war)
Dec 29 At the hands of Germany, London is attacked in its most devastating air raid
Arts and Sciences
Feb 23 Folk singer Woody Guthrie pens "This Land is Your Land"
Feb 29 Hattie McDaniel wins the Oscar for Best Supporting Actress for her role in

Gone With the Wind
May 6 Author John Steinbeck wins a Pulitzer Prize for his novel

The Grapes of Wrath
Sept 12 Near Montignac, France a collection of prehistoric cave paintings are discovered in the Lascaux grotto
Human and Civil Rights
Apr 27 Himmler orders establishment of Auschwitz Concentration Camp
Jun 4 The evacuation of Allied forces from Dunkirk on the Belgian coast is successful; saving 338,000 troops from Nazi capture
Sports
April 16 Bob Feller of the Cleveland Indians pitches his first no-hitter
Dec 8 The Chicago Bears beat the Washington Redskins in the Championship with a score of 73-0