Valerie Black
American Negro Ballet
Negro Unit of Ballet Theatre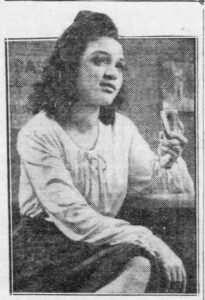 Valerie Cavell Black, born in 1917 in Colon, Panama, attended Bryant High School and Hunter College in New York City. After seeing a call for dancers to join Eugene Von Grona's American Negro Ballet, she performed with the company at their 1937 premiere at Lafayette Theatre, where she played the lead in Children of the Earth. At this performance, critics praised Black, Al Bledger, Lavinia Williams, and their fellow dancers. 
Black was also a member of Negro Unit of Ballet Theatre, performing in the 1940 premiere of Agnes de Mille's Black Ritual. 
Black was featured in several Broadway shows; she was in the original casts of The Hot Mikado (1939), Big White Fog (as Caroline, 1940), Carmen Jones (1943), Lysistrata (1946), and Our Lan' (as Ellen, 1947). Black was cast as the understudy for the title role of Anna Lucasta; a year after the show opened, she took over the role when the original cast member left the production. The New York Age praised Black's "superb acting, her charming personality, and her constant efforts in trying to do a better job every performance."
She appeared in the film Beware! in 1946 and Aida with the National Negro Opera Company in 1941 as well as work on radio and in clubs.
Black passed away in 2003. 
Sources:
Pioneers in Negro Concert Dance: 1931 to 1937, Free to Dance
Valerie Black, Playbill
Maher, Erin K. "Ballet, Race, and Agnes de Mille's Black Ritual." The Musical Quarterly, vol. 97, no. 3, Fall 2014, pp. 390-428.
Inside the Playbill: Our Lan', Playbill
Valerie Black, Native of Panama, Scores in "Anna Lucasta" Show, The New York Age Dec 1, 1945
The Daily News, Oct 28, 1945
See also: