Clover Mathis
The Jacob's Pillow Dancers (1968)
Dance Theatre of Harlem (1969-1971)
Alvin Ailey American Dance Theater (1971-1974)
Boston Repertory Ballet (1980)
Clover Mathis was born in Georgia to Clover Mathis Sr. and Leatha Mae Ashley Mathis. Mathis discovered his love of dance after joining his high school's interpretive dance group in Douglas, Georgia. Following graduation, Mathis trained at Southern Ballet School in Buckhead, Atlanta starting in 1966 and danced with the Atlanta University Center Dance Theater. After seeing Mathis dance, Arthur Mitchell asked him to join the Dance Theatre of Harlem; he then moved to New York and became a founding member of DTH. In 1970, he performed with the company in their first performance at Jacob's Pillow. Mathis was in the original DTH casts of Mitchell's Rhythmetron (1970), Holberg Suite (1970), Spiritual Suite (1970), Fête Noire (1971), and Fun and Games (1971); George Balanchine's Concerto Barocco (1970); and Jerome Robbins' Afternoon of a Faun (1971). With the company, he performed internationally in the Caribbean, Italy, Amsterdam, Belgium, and throughout the United States and Canada.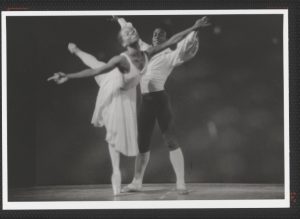 DTH's debut  was not Mathis' first performance at Jacob's Pillow—in August 1968, he is listed as one of "Jacob's Pillow Dancers" for the world premiere of Norman Walker's Evocation (also featuring DTH's Homer Bryant) and later Celene Keller's Court Caprice. He was a member of Alvin Ailey American Dance Theater from 1971 to 1974. Mathis was featured in a production of The Nutcracker in Atlanta in 1975. In August 1980, he appeared with the Boston Repertory Ballet, also at Jacob's Pillow.*
Mathis stopped dancing around 2000 and started college at age 57 in order to earn his BA in performing arts.
*The Moultrie Observer states that Mathis danced with the Boston Ballet, but this may have been misconstrued with the Boston Repertory Ballet.
Sources:
Arthur Mitchell's Dance Theatre of Harlem, Jacob's Pillow
Clover Mathis, Jacob's Pillow
40-years later, dancer reunited with his family, The Moultrie Observer
Family finds lost brother, The Moultrie Observer
Dance Theatre of Harlem Repertory List, Columbia University Libraries
Today's Artist/Danseur, Clover Mathis, Poetry Language of the Soul
See also:
"Dance Is Who I Am", MeeMee the Arts
Video links:
Alvin Ailey American Dance Theater, New York Public Library Digital Collections
Social media:
Twitter @mathisclover