Graham Johnson
First Negro Classic Ballet
New York Negro Ballet
Graham Johnson was a member of the First Negro Classic Ballet, in addition to being one of the company's seven directors. Johnson's repertoire with the company included
Cinderella
(1948),
Harlot's House
,
Little China Figure
(1947),
Symphonic Etudes
(1948), and
Tales from the Vienna Woods
. He frequently performed with fellow star
Bernice Harrison
. He appeared with fellow company members in the November 1953 issue of
Ebony Magazine
.
After the company's debut performance, ballet critic Ronald D. Scofield praised Johnson for his "virile strength, agility, and imagination."
He choreographed Raisin' Cane, which was "a story about Southern sugar-cane farmers that integrated the romance of classical music with jazz elements and a style that incorporated African-American themes" and featured music by Claudius Wilson.
When the company disbanded, Johnson joined New York Negro Ballet. He appeared in the film version of An American in Paris.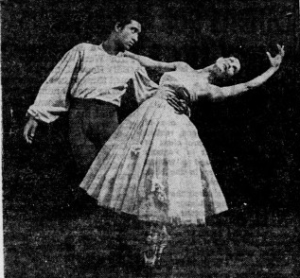 Sources:
Joseph Rickard papers, Online Archive of California
Dance Moves: An African American Ballet Company in Postwar Los Angeles by Kenneth H. MarcusBallet in Black: Louis Johnson and African american Vernacular Humour in Ballet, Thomas F. Defrantz
Vaulted Ambitions: Stories From Where We Were to How We Got Here, Stage Raw
San Bernardino Sun, Volume 58, Number 307, 19 August 1952
See also:
Ward Flemying founds Ballet Americana/New York Negro Ballet, MoBBallet
The First Negro Classic Ballet is Founded, MoBBallet
First Negro Classic Ballet Company debuts, MoBBallet