1947
First Negro Classic Ballet Company Debuts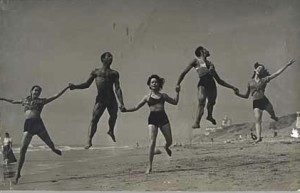 The First Negro Classic Ballet company was established in 1946 by Founder by Joseph Rickard (1918-1994 in Ann Arbor, Michigan) Dancers Included: Theodore Crum, Bernice Harrison, Graham Johnson, James Truitte (also danced with Lester Horton Dance Theater), Donald Stinson, Yvonne Miller, Gene Hill Sagan, Ardie Allison, Shirley Vargas, Diane Gordon (company's one white dancer)
Rickard witnessed an African American child being turned away from dance classes in Los Angeles so he established a school to train African Americans in classical ballet. He later founded the First Negro Classic Ballet.
"The First Negro Classic Ballet was promoted by Rickard through handing out flyers, leaflets, and through personal contact."
First recital: October 19, 1947 in the Danish Auditorium on West 24th Street in Los Angeles
First professional performance: November 19, 1949 in Santa Barbara's Lobero Theatre
Performed in theaters like the Assistance League Playhouse, the Philharmonic Auditorium (1950), Sartu Theater in Hollywood (1954); went on tour
Rickard trained his dancers in classical, Russian ballet
The First Negro Classic Ballet disbanded in 1959
"Despite the name, the company became very much a multiracial endeavor, with three Latinas and an Anglo dancer."
"Several dancers appeared in film musicals, notably American in Paris, Finian's Rainbow, Showboat, and Carmen Jones."
Costume designer: Nancy Cappola, Set designer: Robert Usher
Resident composer and pianist: Claudius Wilson (African-American, born in New Orleans, attended Dillard University)
Created an African-American version of Cinderella
Rep included: Cinderella (music by Claudius Wilson), Streetlight, Raisin' Cane, Harlot's House (music by Claudius Wilson), A Little China Figure (music by Camille Saint-Saens), Landscape/Southern Landscape, Variations Classiques (music by Bach), Trois Etudes de Danse (music by Choin), Symphonic Etudes (music by Robert Schumann), Rondo Capriccioso (music by Felix Mendelssohn), Tales from the Vienna Woods (music by Johann Strauss)
"In 1956, the New York choreographer Edward Flemyng asked Rickard if he would like to integrate his troupe with Flemyng's new ballet company, called the New York Negro Ballet… The new group thus featured Rickard's choreography, Wilson's music, and some of the original dancers, including Graham Johnson, Theodore Crum, and Ardie Allison. They went on a tour of Great Britain in the fall of 1957, but the death of their main sponsor abruptly brought both the tour- and the dance company- to a close."
Bio of one dancer- "Gene Hill Sagan (1932-1991): trained at the Ballet Theatre School and studied with Michel Panaieff and Nina Vyroubova; made his debut in 1959 dancing with the First Negro Classical Ballet; created choreography for the Alvin Ailey American Dance Theater, Pennsylvania Ballet, Kibbutz Dance Theater, Batsheva Dance Company and Bat-Dor Dance Company as well as for his own dance group based in Munich, Germany; was resident choreographer for Philadanco from 1976 until his demise." (from Joan Myers Brown & the Audacious Hope of the Black Ballerina, page 291)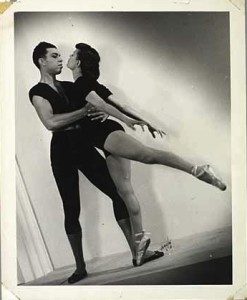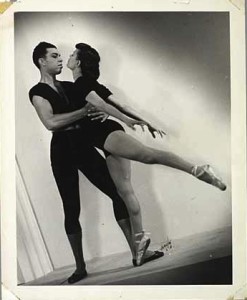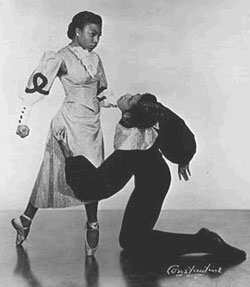 See 1946
Talley Beatty and Betty Nichols performed Lew Christensen's Blackface With Balanchine's Ballet Society

This was a minstrel themed ballet choreographed for Balanchine's Ballet Society which later would become The New York city Ballet. It was comprised of students from the School of American Ballet.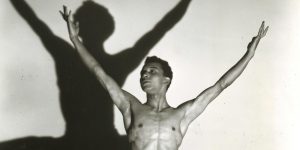 Talley Beatty (1920-1995) was born in Shreveport, Louisiana and later moved to Chicago. He studied with Katherine Dunham as a child and was an original member of the Dunham Company for several years.  He performed in the Broadway show Cabin in the Sky (1940), and in the films Carnival of Rhythm (1940) and Stormy Weather (1943) as a Dunham dancer, among others.  He also performed in Showboat (1946) and Inside USA (1948). Beatty studied at the School of American Ballet and performed Blackface (1947) with Ballet Society, an early Balanchine company and was well trained in ballet technique. In the late 1940s and early 1950s he taught at the Dunham School. During that period he also started the first of several dance companies. Beatty was one of the most notable African American choreographers.  Among his many ballet are Road to Phoebe Snow (1959), Congo Tango Palace (1960), Caravanserai (1971), The Stack Up (1983), and Broadway shows, a revival of House of Flowers (1968) and Don't Bother Me I Can't Cope (1970) and Your Arms too Short to Box with God.   "Obituaries-Talley Beatty" Dance Magazine, July 1995, 60.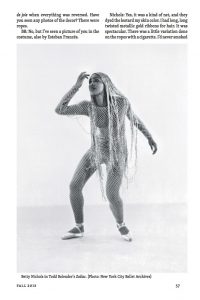 Betty Nichols- was one of the first Black students at the School of American Ballet and in 1946 she was one of the members of Balanchine's Ballet Society and toured with him in Europe. Ballet Society would later become the New York City Ballet.  In addition to Blackface, she was also featured in todd Bolender's Zodiac.
In a 2013 interview, she said, "I started at the School of American Ballet, probably in 1943. I was the first black in the school. I knocked on the door and presented myself. I thought there was considerable surprise, but the door was opened, and that was it.". https://mobballet.org/index.php/2016/08/13/an-interview-with-betty-nichols/
Other Happenings in 1947
American History

Jan 3 Proceedings of US Congress are televised for the first time.
March 12 The Truman Doctrine is announced to Congress by President Harry S. Truman.
Apr 30 Boulder Dam is renamed in honor of Herbert Hoover.
Jun 5 Secretary of State George Marshall outlines the Marshall Plan.
Jun 11 Sugar rationing ends in US.
Oct 5 Harry Truman makes the first televised presidential address.
World History

Jan 31 The Communists take power in Poland.
Feb 10 In Paris, France, peace treaties are signed between World War II Allies and Italy, Hungary, Romania, Bulgaria, and Finland.
April Discovery of the Dead Sea Scrolls becomes known.
May 3 The new Japanese constitution goes into effect.
May 22 The Cold War begins.
Jul 18 King George VI signs Indian Independence Act.
Aug 14 Pakistan gains independence from Great Britain.
Aug 31 The Communists seize power in Hungary.
Sept 30 Pakistan and Yemen join the United Nations.
Nov 20 Elizabeth II marries The Duke of Edinburgh in London.
Art & Science
Jan 10 Finian's Rainbow opens in New York City
Feb 12 Christian Dior introduces The "New Look" in women's fashion.
April 6 First Tony Awards
May 2 Miracle on 34th Street is first shown in theaters.
May 22 The film Great Expectations opens in the United States.
June 25 Anne Frank's The Diary of a Young Girl is published in Amsterdam.
November 6 Meet the Press makes its television debut.
Human and Civil Rights
Drafting of the Universal Declaration of Human rights begins in early 1947.
Oct 23 NAACP petition on racism "An Appeal to the World" presented to UN
Dec 25 Taiwan passes Human Rights laws
Sports
Jan 18 Detroit Tigers sell baseball player Hank Greenberg to the Pirates
Mar 9 US Ladies' Figure Skating championship won by Gretchen Merrill and Men's is won by Richard Button
April 1 Jackie Robinson signs a contract with the Brooklyn Dodgers.
April 15 Jackie Robinson becomes the first African American to play Major League Baseball since the 1880s.
Nov 27 Joe DiMaggio wins his 3rd MVP.