1957
Ward Flemying founds Ballet Americana/New York Negro Ballet
Ward Flemying with the financial support of Lucy Thorndike and Theodore Handcock created Ballet Americana. The original members were Thelma Hill, Anthony Base, Charles Neal, Elizabeth (Betty Ann) Thompson and Cleo Quitman. One of their earliest performances was at the Brandon House in 1954, however the company in full gave it's first official performance at the Seventh Annual Choreographers Night Presented by the New York Ballet Cub, May 19th 1957.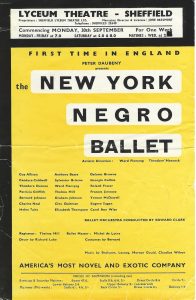 August 1957 the company embarked on tour to England and Scotland, now renamed the New York Negro Ballet, as the presenter wanted to make certain that audiences knew what they were coming to see, they were billed as "America's most Novel and Exotic Company". The Company traveled to New Castle Edinburgh, Sheffield, Liverpool, Manchester, Nottingham and Cardiff. They spent 6 days in each city, two performances a day, with matinees on Wednesdays
Repertoire diverse works by Louis Johnson's Folk Impressions, Graham Johnson's Raisin' Cane as well as classical works including BlueBird Pas de Deux, Waltze, Theme and Rhapsody.
The Company was due to travel on to Paris when the Tour was cut short due to the death of Thorndike. Some member chose to remain in Europe and dance there, Ronald Fraser went on to Colone Ballet, Sylvester Campbell eventually joined the royal Netherlands Ballet. Others like Frances (Franca Jimenez) and Gene Segan returned home only end up working in Europe.
Flemying did try to keep the company going however by 1960 the company had drifted apart
Source: By Thomas F. Defrantz, Dancing Many Drums: Excavations In African American Dance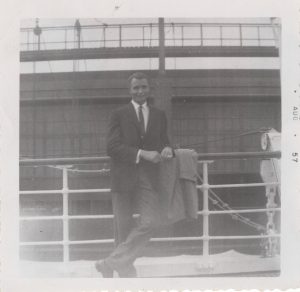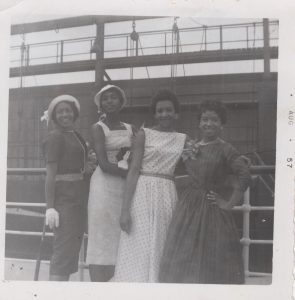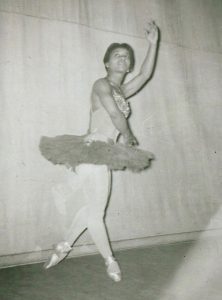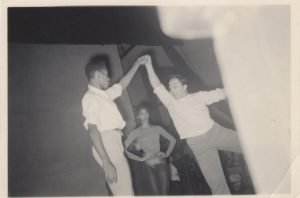 Other Happenings in 1957
American History
Jan 18 3 B-52's set record for around-the-world flight, 45 hr 19 min
Feb 1 1st black pilot (PH Young) on a US scheduled passenger airline
Apr 6 NYC ends trolley car service
May 6 Pulitzer prize awarded to John F. Kennedy
Jun 24 The U.S. Supreme Court rules that obscenity is not protected by the First Amendment in Roth v. United States
World History
Jan 23 Indian nationalist V. K. Krishna Menon begins the longest ever sppeach at the UN on Kashmir- 8 hours over 2 days
Feb 18 Dedan Kimathi, a Kenyan freedom fighter is executed by the British colonial government.
Feb 27 Mao's famous speech to the Supreme State Conference "On Correct Handling of Contradictions Among People" expounding Maoist ideals
Mar 8 USSR performs atmospheric nuclear test
Mar 13 Bloody battles after anti-Batista demonstration in Havana Cuba
May 4 Anne Frank Foundation forms in Amsterdam
Jun 2 US TV interviews Nikita Khrushchev
Jun 21 Louis St. Laurent resigns as Prime Minister of Canada, ending the longest uninterrupted run at the federal level in Canadian history
Arts & Sciences
Jan 13 "All that Fall", first radio play by Samuel Beckett, aired on BBC Third Programme
Feb 4 1st electric portable typewriter placed on sale (Syracuse NY)
Feb 28 14th Golden Globes: The King and I, Kirk Douglas, & Ingrid Bergman win
Apr 11 Pablo Neruda arrested in Buenos Aires
Apr 13 "12 Angry Men", directed by Sidney Lumet, starring Henry Fonda and Lee J. Cobb, is released
Jul 12 US Surgeon General Leroy Burney connects smoking with lung cancer
Jul 16 US Marine Major John Glenn sets transcontinental speed record (03:28:08)
Human and Civil Rights
Feb 14 Georgia Senate unanimously approves Sen Leon Butts' bill barring blacks from playing baseball with whites
Mar 6 Centenary of Dred Scott slavery court decision marked by rediscovery of Scott's grave
May 17 School desegregation law, Brown v Board of education
May 22 South Africa's government approves race separation in universities
Jun 17 Tuskegee boycott begins (Blacks boycotted city stores)
Sports
Jan 5 Dodgers' Jackie Robinson announces his retirement rather than be traded to the NY Giants
Jan 28 45th Women's Australian Championships: Shirley Fry Irvin beats Althea Gibson (6-3, 6-4)
Feb 11 NHL Players Association forms (NYC), Red Wings' Ted Lindsay elected president
Mar 25 NBA modifies the free-throw rule
Jul 6 64th Wimbledon Women's Tennis: Althea Gibson beats Darlene Hard (6-3 6-2)
Jul 21 1st black to win a major US tennis tournament (Althea Gibson)