1946
Sydney King and Marion Cuyjet found the Sydney-Marion School of Dance in Philadelphia
Former classmates at the Essie Marie Dorsey School of Dance, Sydney King and Marion Cuyjet, opened a dance school together. In 1946, the Sydney-Marion School of Dance opened in the former Dorsey School on 711 South Broad Street in Philadelphia.

Sydney King and Marion Cuyjet followed closely in the footsteps of their mentor, Essie Marie Dorsey, with a curriculum offering various techniques to their students, including the Dunham Technique. Their old classmate John Hines had been studying with Katherine Dunham in New York and encouraged the two to travel to the city to study at the Dunham School. Hines introduced them to new teachers and studios and later taught at their studio.
The partnership between Cuyjet and King was short lived, and, after less than two years, they split. King retained the space on Broad Street, and Cuyjet found another. Little is known about the actual reasons for the break, however there are some speculations. Whatever the case may be, they went their separate ways and the students were divided.
---
The First Negro Classic Ballet is founded
The First Negro Classic Ballet company was established in 1946 by founder Joseph Rickard (1918-1994 in Ann Arbor, Michigan).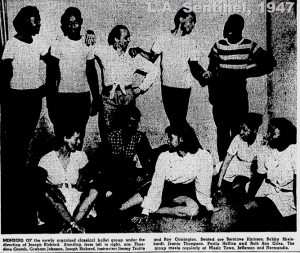 After founder Joseph Rickard witnessed an African American child being turned away from dance classes in Los Angeles, he established a school to train African Americans in classical ballet. He later founded the First Negro Classic Ballet, which was "promoted by Rickard through handing out flyers, leaflets, and through personal contact." Dancers with the company included Theodore Crum, Bernice Harrison, Graham Johnson, James Truitte (also danced with Lester Horton Dance Theater), Donald Stinson, Yvonne Miller, Gene Hill Sagan, Ardie Allison, Shirley Vargas, and Diane Gordon (the company's one white dancer). Later company members were Toni Ashford, Sylvia Bartlett, Helen Burge, Ray Carrington, Verna Coleman, Jane Craddock, Jessie Denise, Pola Dukes, Charlene Dwyer, Ruth Ann Giles, Angela Harrison, Portia Hollins, Julius Johnson, Gloria Jones, Francis King, Danny Lloyd, Marcos Lorango, Betyne Jon Milow, Tommy Robinson, Andre Robinson, Dan Rochelle, Jean Thompson, Kathleen Valdez, Jane Williams, and Carol Ann Robinson.
Sources:

Ballet Society, Wikipedia
Show Boat, Broadway Musical Home
Free to Dance Timeline, Thirteen
Katherine Dunham Timeline, Library of Congress
Lester Horton, Alvin Ailey American Dance Theater
---
Other Happenings in 1946
Ballet/Dance History
Jan 1: Katherine Dunham's first book, Journey to Accompong, is published. In it, she recounts her experiences among the Maroon people of Jamaica in 1935-1936.
Jan 5: Helen Tamiris choreographed the revival of Showboat, starring notable artists like Talley Beatty, Pearl Primus, Alma Sutton, and Joe Nash.
Apr 30: Les Ballets Nègres opens in London at the Twentieth Century Theatre.
Oct 17: Dancers from American Negro Ballet and Negro Unit of Ballet Theatre perform in Lysistrata on Broadway, featuring Sidney Poitier. Among the dancers were Hettie Stephens (American Negro Ballet), Mabel Hart (Negro Unit of Ballet Theatre), and Valerie Black (Negro Unit of Ballet Theatre, American Negro Ballet).
Nov 20: Lincoln Kirstein and George Balanchine established the Ballet Society, later known as New York City Ballet (see also: 1947: Talley Beatty and Betty Nichols).
Lester Horton established the Lester Horton Dance Theater.
American History
Jan 10: US Army establishes first radar contact with the Moon in Belmar, New Jersey.
Jan 22: US president Harry Truman sets up the Central Intelligence Agency.
Feb 7: A filibuster in the US Senate kills FEPC (Fair Employment Practices Committee) bill.
Mar 28: Cold War — The United States State Department releases the Acheson-Lilienthal Report, outlining a plan for the international control of nuclear power.
May 4: five die in a two-day riot at Alcatraz prison in SF bay.
Nov 5: John F. Kennedy (Democrat, Massachusetts) is elected to US House of Representatives.
Dec 12: UN accepts six Manhattan blocks as a gift from John D. Rockefeller Jr.
World History
Jan 6: Vietnam holds its first ever general election.
Jan 17: United Nations Security Council holds its first meeting.
Feb 17: Humanistic Covenant forms in Amsterdam.
Mar 2: Ho Chi Minh is elected President of North Vietnam.
Mar 5: Winston Churchill's "Iron Curtain" speech in Fulton, Missouri popularizes the term and draws attention to the division of Europe.
Mar 15: British Prime Minister Clement Attlee agrees with India's right to independence.
Apr 12: Syria gains independence from France.
Sep 20: Churchill argues for a "United States of Europe."
Arts & Sciences
Jan 1: ENIAC, the US's first computer is finished by Mauchly and Eckert.
Feb 8: Béla Bartók's thirrd concert for piano/orchestra premieres in Philadelphia, PA, US.
Mar 25: Igor Stravinsky's "Ebony Concerto" is first performed.
May 6: Pulitzer Prize is awarded to Arthur M. Schlesinger for The Age of Jackson.
Jul 14: Dr. Benjamin Spock's "Common Sense Book of Baby & Child Care" is published.
Aug 17: George Orwell publishes Animal Farm in the United Kingdom.
Nov 1: Charles S. Johnson becomes the first Black president of Fisk University.
Dec 16: French fashion designer Christian Dior and his backer Marcel Boussac found fashion house Christian Dior.
Human & Civil Rights
Feb 26: Two are killed & 10 wounded in race riot in Columbia, Tennessee.
Mar 3: US Ladies' Figure Skating championship is won by Gretchen Merrill.
Apr 29: 28 former Japanese leaders indicted in Tokyo as war criminals.
May 13: US sentences 58 camp guards of Mauthausen concentration camp to death.
Aug 7: The first US commemorative coin of an African American, Booker T. Washington is created.
Sep 30: 22 Nazi leaders are found guilty of war crimes at Nuremberg.
Sports
Mar 9: Ted Williams is offered $500,000 to play in Mexican Baseball League; he refuses.
Apr 13: Eddie Klepp, a white pitcher signed by defending Negro League champ Cleveland Buckeyes, is barred from field in Birmingham, Alabama.
Apr 18: Jackie Robinson debuts as second baseman for the Montreal Royals.
Dec 3: The 12th Heisman Trophy Award is given to Glenn Davis, Army (HB).
Dec 15: Giants Filchock & Hapes suspended by NFL, didn't report bribe attempt.
Source (among others):
British Dance: Black Routes, edited by Christy Adair and Ramsay Burt