Arthur Mitchell and New York City Ballet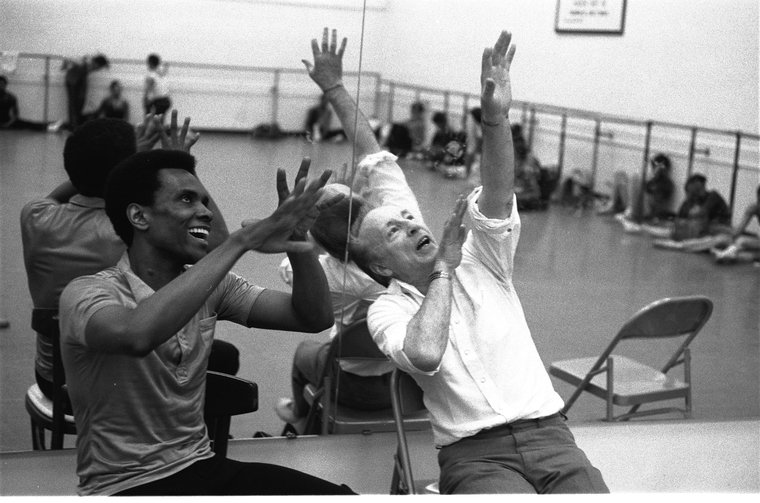 Arthur Mitchell was the first African American male dancer to officially join New York City Ballet in 1955, invited by George Balanchine. He performed numerous pieces choreographed by Balanchine, possibly most notably Agon with Diana Adams.
Mel Tomlinson and New York City Ballet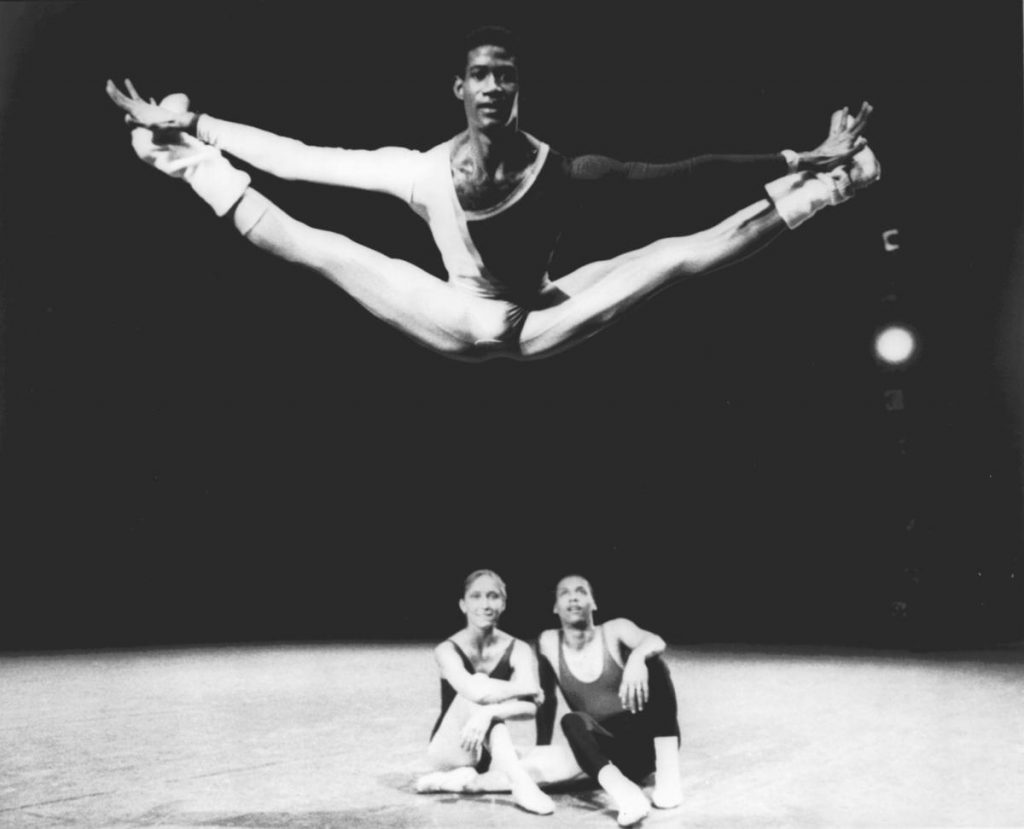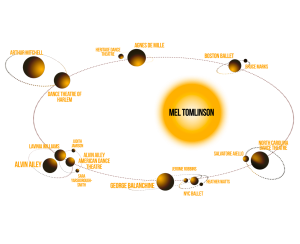 Mel Tomlinson was hired by George Balanchine to dance as a soloist with New York City Ballet, starting in 1981 until he retired in 1987. While here, he danced his most famous role, that of Arthur Mitchell, Agon, with Heather Watts, thanks to Balanchine's legacy casting.
Mel Tomlinson and Heather Watts
Mel Tomlinson's most famous performance took place with the New York City Ballet in 1981, when he danced Agon with Heather Watts. This pas de deux was previously performed by Diana Adams and Arthur Mitchell, designed to emphasize the contrast between dark and light, as Agon means conflict/competition. Choreographed by Balanchine, this piece was Tomlinson's debut performance with NYCB. In addition to the apparent dichotomy of black and white, there also was a contrast between Tomlinson's tall, strong, calm body, and Watts's smaller, more nervous body. Watts remembers, in her foreword to Tomlinson's memoirs, that "Mel was unfailingly kind, patient and professional, and he quickly made a home for himself at NYCB." Balanchine was so interested in the difference in skin tones between the dancers, that he lied to Tomlinson, claiming that Watts's previous partner had hurt his back and needed replacing, in order to get Tomlinson into the role. Tomlinson remembers that Heather was nothing short of professional, while also being so kind and making sure he felt comfortable in the piece, as this was their first time dancing together.
More about Heather Watts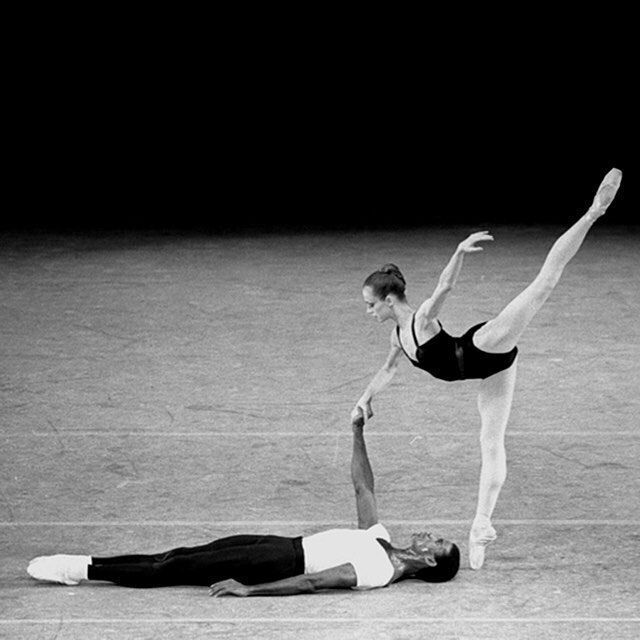 Heather Watts (born Linda Heather Watts; September 27, 1953) was a principal ballerina with New York City Ballet. Born in Long Beach, CA, her dream as a little girl was to be an actress. An acting coach advised her to take ballet classes, seeing as she was incredibly dramatic (and clumsy). So she started dancing at the age of 10 in order to "develop poise." She came to New York at the age of 13 on a Ford Foundation summer scholarship to attend the School of American Ballet (SAB), the official school of the New York City Ballet. She moved permanently to New York at age 15, again on a Ford Foundation scholarship to the School of American Ballet.
Watts joined the New York City Ballet in 1970 and was promoted to principal dancer by company founder George Balanchine in 1979. Balanchine accepted Watts into his company "because he would not let such a talent disappear." During Watts's tenure with the company, she had numerous principal roles created for her by Balanchine, Jerome Robbins, and Peter Martins, among others. Balanchine gave Watts the principal roles in many of his existing masterpieces, including Agon, Concerto Barocco, Apollo, Symphony in C, Theme and Variations, and Serenade. Watts performed around the world, starred in numerous Dance in American television programs, and performed opposite frequent partner Mikhail Baryshnikov at the White House in a nationally televised performance of Balanchine's Rubies during the Carter Presidency. Watts retired from the stage in a gala performance at Lincoln Center in 1995. She married fellow New York City Ballet principal Damian Woetzel in 1999.
Source:
More about New York City Ballet

New York City Ballet (NYCB) is a ballet company founded in 1948 by choreographer George Balanchine and Lincoln Kirstein. Balanchine and Jerome Robbins are considered the founding choreographers of the company. Léon Barzin was the company's first music director. City Ballet grew out of earlier troupes: the Producing Company of the School of American Ballet, 1934; the American Ballet, 1935; Ballet Caravan, 1936, which merged into American Ballet Caravan, 1941; and most directly from the Ballet Society, 1946.
In a 1946 letter, Kirstein stated, "The only justification I have is to enable Balanchine to do exactly what he wants to do in the way he wants to do it." He served as the company's general director from 1946 to 1989, developing and sustaining it by his organizational and fundraising abilities.
The company was named New York City Ballet in 1948, when it became a resident at City Center of Music and Drama. Its success was marked by its move to the New York State Theater, now David H. Koch Theater, designed by Philip Johnson to Balanchine's specifications. City Ballet went on to become the first ballet company in the United States to have two permanent venue engagements: one at Lincoln Center's David H. Koch Theater on 63rd Street in Manhattan, and another at the Saratoga Performing Arts Center, in Saratoga Springs, New York. The School of American Ballet (SAB), which Balanchine founded, is the training school of City Ballet.
After the company's move to the State Theater, Balanchine's creativity as a choreographer flourished. He created works that were the basis of the company's repertory until his death in 1983. His vision influenced dance both across the United States and in Europe. He worked closely with choreographer Jerome Robbins, who resumed his connection with the company in 1969 after having produced works for Broadway.
NYCB still has the largest repertoire by far of any American ballet company. It often stages 60 ballets or more in its winter and spring seasons at Lincoln Center each year and 20 or more in its summer season in Saratoga Springs. City Ballet has performed The Nutcracker, Romeo and Juliet, A Midsummer Night's Dream, and many more. City Ballet has trained and developed many great dancers since its formation. Many dancers with already developed reputations have also joined the ballet as principal dancers.
Source:
New York City Ballet, Wikipedia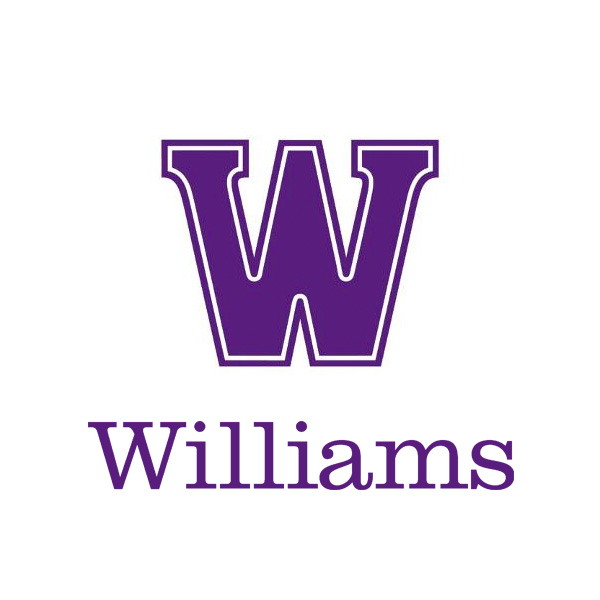 Aayushi Pramanik, Casey Monteiro