Georgia Collins
New York Negro Ballet
Katherine Dunham Company
Alvin Ailey American Dance Theater: Guest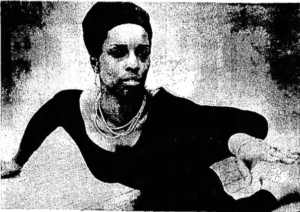 Harlem native Georgia Collins, having come from a family that encouraged her interest in the arts, attended the High School of Performing Arts. From 1951 to 1957, Collins studied at the School of American Ballet in New York, NY along with Barbara Wright and Michaelyn Jackson. In addition to her dance education, she earned a degree in philosophy from Long Island University.
Collins became a member of the New York Negro Ballet and toured with the company throughout England, Wales, and Scotland. Collins was said to be a "sensuous dancer." She later performed with Katherine Dunham's company and toured with an early version of Alvin Ailey American Dance Theater. On March 30, 1958, she performed alongside dancers like Nat Horne, John Jones, Delores Browne, Ronald Platts, Talley Beatty, Charles Moore, and many more in an Alvin Ailey and Ernest Parham recital at the 92nd Street Y. Collins appeared at Jacob's Pillow with a group led by Talley Beatty in 1960 in a piece called The Road of the Phoebe Show, choreographed by Beatty. She was in the original 1962 cast of Ailey's Been Here and Gone and also performed in Louis Johnson's company. Collins was cast in Fellini's 8 1/2* and featured on the Harry Belafonte television special Revlon Comedy Hour. Her work in opera included performances with Scaron Opera Company and the "New York opera company," though it is not certain to which company this is referring.
In a 2018 Ballet Review interview, Louis Johnson listed Collins as one of the remarkable Black dancers who preceded those of Dance Theatre of Harlem.
Collins taught at the Arts for Living program, the Association of Black Social Works, Eleo Pomare Dance Company, Harlem Cultural Council, Long Island University's Upward Bound program, the Mayor's Council in the Arts, Metropolitan Educational Center in the Arts, Performing Arts Training Center, St. Louis' Inner City Arts Project, and Webster College Drama Conservatory. After she moved to Yellow Springs, Ohio, she started teaching at the Springfield Y.
Collins ran a costume shop, from which she would design costumes for dance companies. She served an assistant designer for The River Niger (Broadway), Don't Bother Me I Can't Cope (Broadway), and House Party (46th St. Theatre) as well as a costume designer for Imogene Coca and Odetta Holmes.
Collins seems to have been a pioneer in the clothing sustainability movement; in the 1970s, she "developed a method by which old clothes can be recycled into the latest fashions in male and female apparel" and featured her creations at a gallery and shop.
*Collins is not credited in the film, but an Edward Fleming (possibly the same Ward Fleming who was founder of and dancer with the New York Negro Ballet) had a "bit part" in 8 1/2. Because of this link, it is possible Collins was also in the cast.
Sources:
Before the Dance Theatre of Harlem: Delores Browne—Black Ballerina, Columbia University Libraries
Dancing Many Drums: Excavations In African American Dance, Thomas F. Defrantz
Talley Beatty, Jacob's Pillow Dance Interactive
A Conversation with Louis Johnson, Ballet Review
Dancing Revelations: Alvin Ailey's Embodiment of African American Culture, Thomas D. Defrantz
Converging Movements: Modern Dance and Jewish Culture at the 92nd Street Y, by Naomi M. Jackson
Women in the Theatre, The Age, February 10, 1962
8 1/2 Full Cast & Crew, IMDB
Georgia Collins: Accomplished woman, Xenia Daily Gazette, Sept 21, 1976
See also:
Ward Fleming founds Ballet Americana/New York Negro Ballet, MoBBallet