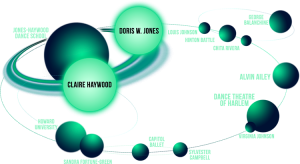 Doris W. Jones
Though she had never seen a Black ballet dancer at the time, Doris W. Jones was so fascinated by ballet as a young girl that she decided she would make it her life's work to provide classical dance training to children of color. Denied such training herself, she studied on her own and in 1941, established the Jones-Haywood School of Ballet in Washington DC. The school taught thousands of students and graduated several distinguished alumni, including Broadway star Chita Rivera. In 1961 Jones cofounded the Capitol Ballet, an integrated company that helped to provide roles for Black dancers. Admired as a passionate teacher, Jones played a central role in breaking down race barriers in the world of ballet.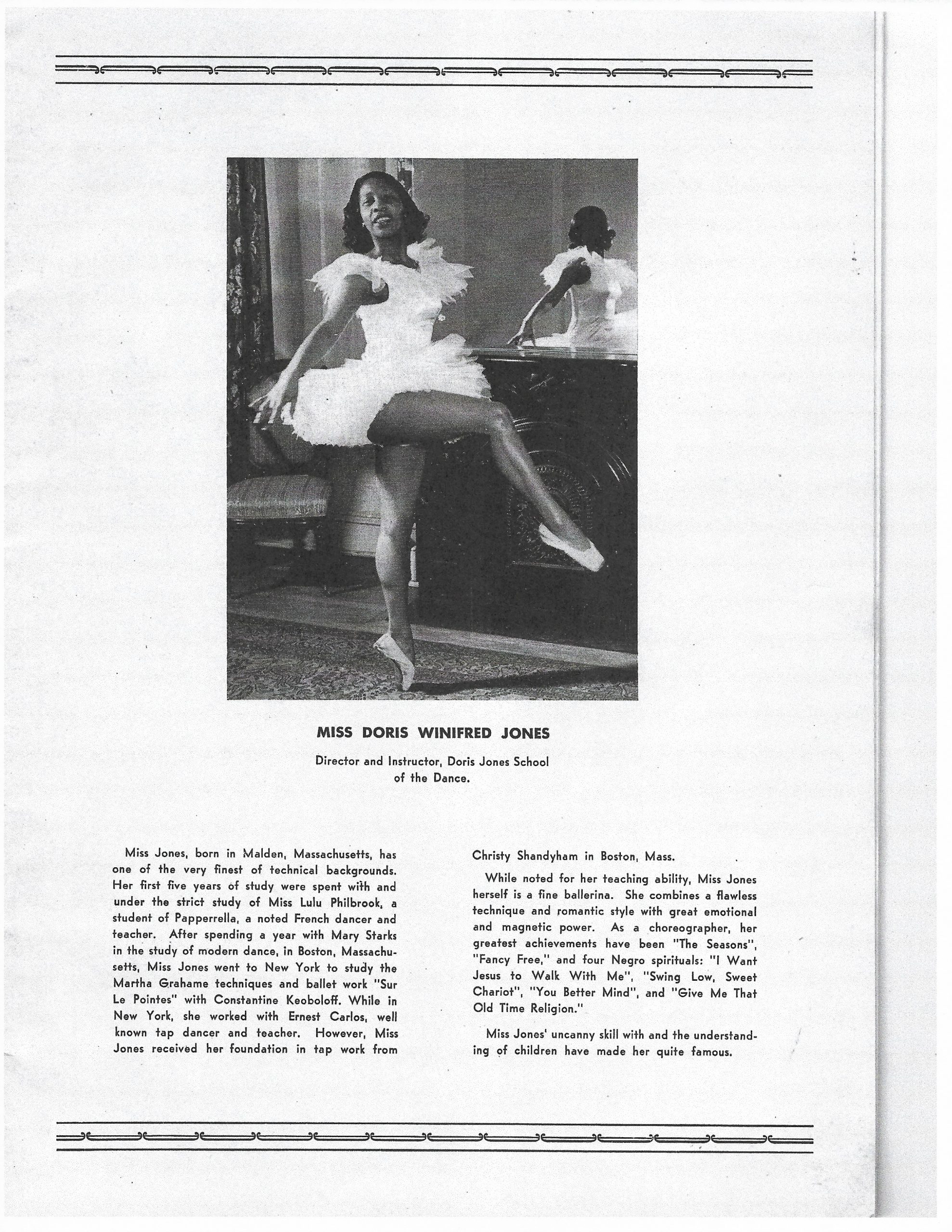 Jones, the daughter of a butcher and a homemaker, was born in the second decade of the twentieth century in Malden, Massachusetts and grew up during the Great Depression. From an early age, she loved dance. She was a talented tap dancer and longed for formal dance training after high school, but college was beyond the family's means. So Jones made appointments to audition at local dance studios. But when she would arrive and the teachers saw that she was Black, they made it clear that she would not be accepted into their training programs. She often heard this disappointing news in the room where other aspiring students were performing, so she would watch closely to learn as much from them as she could. She also got every book she could find about ballet, teaching herself from what she had seen and read.
Jones found a job teaching dance to students at summer camps in Massachusetts. Her tap dance talents were so impressive that she was invited to go on tour with Bill "Bojangles" Robinson, the African American dancer who played a central role in popularizing this art form. But she was not able to take this opportunity, since her parents felt she was too young to go on the road. Eventually Jones was able to persuade one of the dance schools that had rejected her to let her teach tap there, in exchange for ballet lessons. She also taught students in her own studio, which she established in a part of her parents' house.
After a brief marriage that ended in divorce, Jones moved to Washington DC, in 1940 at the suggestion of one of her students, Claire Haywood. The women became partners with a plan to establish a dance studio. Without enough money to jump start the venture, Jones worked at the Bureau of Engraving to make ends meet during her first years in the city. The Doris W. Jones School of Dance started in a spare room at the YMCA in Northeast Washington in 1941 and moved to several temporary locations before settling in 1950 at a permanent site on Georgia Avenue. At its permanent location, Jones and Haywood renamed their business as the Jones-Haywood School of Ballet.
Jones worked hard to give her students excellent training and a wide exposure to the arts. She invited guest teachers, including George Balanchine of the New York City Ballet, to the school and pushed talented students to pursue further training. "Thank God she was my teacher," said Chita Rivera in a Washington Post article by Sarah Kaufman. "She was really my foundation. I could not be whatever I am today without Miss Jones." As Rivera explained, Jones instilled in her students the expectation of excellence and the understanding that inner discipline was required to achieve it. "It makes your body strong when you're taught properly," she noted, "but it also makes you strong spiritually, and gives you hope to keep going, when you're taught to be great." In her autobiographical Broadway show, Chita Rivera: The Dancer's Life, Rivera played Jones in a scene that dramatized how the influential teacher took Rivera to New York to audition for Balanchine. Rivera and another of Jones's students won scholarships to the New York City Ballet's School of American Ballet, becoming the only two students of color in the organization at that time. Other distinguished alumni of the Jones-Haywood School of Ballet, which is now part of the African-American Heritage Trail, include Sylvester Campbell, premier danseur of the Royal Netherlands Ballet Company; Elizabeth Walton of the Paul Taylor Dance Company; Hinton Battle, a Tony Award winning dancer who, like Rivera, went on to study under Balanchine; and Sandra Fortune-Greene, who became the first Black American woman to enter an international ballet competition in 1973, according to the New York Times.
In 1961 Jones and Haywood founded the Capitol Ballet, an integrated company associated with their school. The company performed classical works such as Swan Lake, as well as original pieces choreographed by Jones. The Capitol Ballet became known for its nontraditional approach, such as putting tap dance to the music of Johann Sebastian Bach. Financial difficulties forced the company to shut down in 1983, but it reopened in 1988 with a dance honoring Rosa Parks, whose refusal to give her bus seat to a white passenger in Montgomery, Alabama in 1955 inspired the Civil Rights Movement.
After Haywood's death in 1978, Jones continued running the school and the company on her own.
Source: