Arthur Mitchell and Karel Shook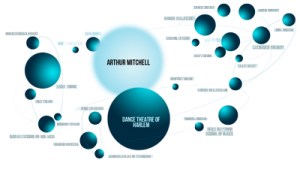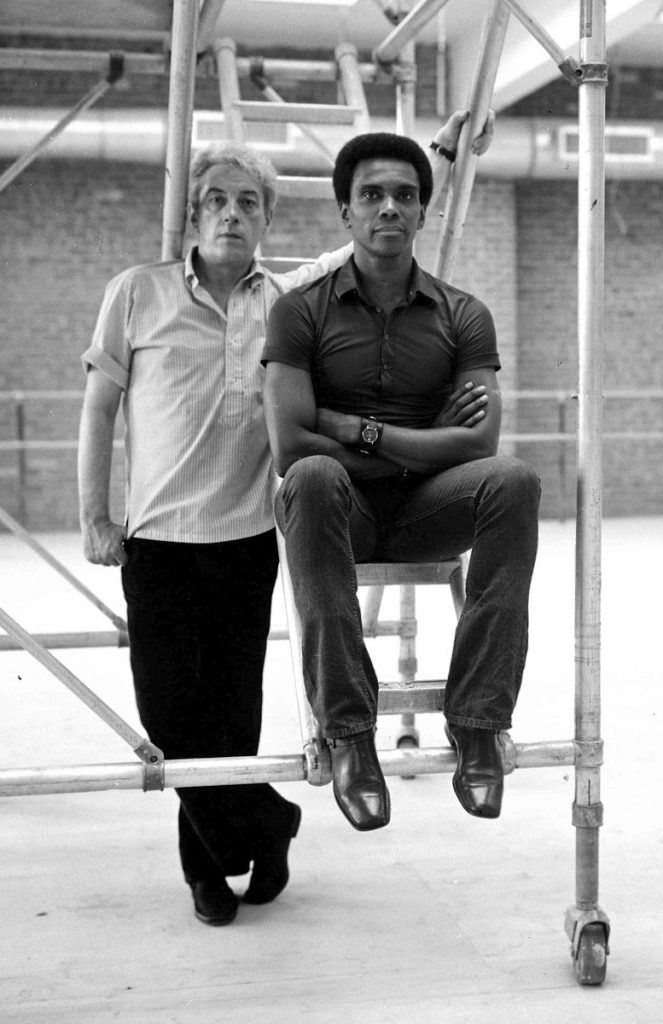 In 1967, Arthur Mitchell was commuting between New York City and Rio de Janeiro, Brazil to work with two ballet companies there. The assassination of Dr. Martin Luther King Jr. in 1968 inspired Mitchell to start teaching dance back at home at Dorothy Maynor's Harlem School of the Arts. At the time, dancer and choreographer Karel Shook was in Amsterdam, serving as ballet master and choreographer for the Dutch National Ballet. Two weeks after Martin Luther King Jr.'s assassination, Mitchell called Shook with a proposal; Shook said, "Arthur called me and asked if I would come back to the States and join in the formation of a Black classical ballet company and an attendant school—in Harlem. I accepted without hesitation." Thus, Mitchell and Shook started teaching together at Harlem School of the Arts, later went on to co-found the school of the Dance Theatre of Harlem in February 1969.
Shook was a mentor to Mitchell, and he provided the experience that Mitchell needed to make Dance Theatre of Harlem a well-functioning school. Mitchell declared Shook to be "extremely important" to his DTH project and thought very highly of him, once saying that "there never has been the feeling that he was a white person working with Blacks; he was a person who believed that you could do something. This has been very important to all Black dancers in America." Shook, too, felt rewarded by and grateful for his time with Mitchell at Dance Theatre of Harlem; he believed that it was "the culmination of [his] own thirty years of work, in dozens of little studios, with black children."
Karel Shook and Katherine Dunham
Karel Shook danced with the New York City Ballet from 1949 to 1952. After his time with NYCB, he became a member of the faculty at the Katherine Dunham School of Dance for two years, before opening his own school Studio Dance Arts, which became a "mecca" for Black dancers.
Karel Shook and the Dutch National Ballet

After teaching at the Dunham School and founding Studio Dance Arts, Karel Shook began his work in Europe. Sonia Gaskell, who established the Nederlands Ballet in 1953 and was the first director of the Dutch National Ballet starting in 1961, sought guidance from George Balanchine, a choreographer she greatly admired. When ballet master Benjamin Harkarvy left his position at DNB, Balanchine suggested that Shook take over the role. Balanchine was most likely familiar with Shook since the former choreographed several ballets for the Ballet Russe de Monte-Carlo, the company with which Shook was a member, and Shook briefly danced with New York City Ballet. Shook was also well known throughout the New York ballet community as being the "Pied Piper of Black Dancers." Shook was ballet master at DNB for nine years starting in 1959 and additionally choreographed 24 dance pieces while in the Netherlands. When Shook began his position as Ballet Master and Associate Artistic Director at the Harlem School of the Arts alongside Arthur Mitchell in July 1968, he resigned from his role at the Dutch National Ballet.
Sources:
Timeline: Dance Theatre of Harlem, Columbia University Libraries
Karel Shook, Dancer, Is Dead; Co-Founder Harlem Troupe, The New York Times
Four Centuries of Dutch-American Relations: 1609-2009
More about the Dutch National Ballet
Established by merging the Amsterdam Ballet and the Nederlands Ballet, the Dutch National Ballet, located in Amsterdam, has been in operation since 1961. Sonia Gaskell, who began the Nederlands Ballet in 1953, was founding director of the company and retired in 1969. Since then, directors have been Rudi van Dantzig, Wayne Eagling, and currently, Ted Brandsen. Their repertoire is described as "a mixture of the classical story ballets, highlights of twentieth-century ballet and contemporary works from highly acclaimed choreographers like Hans van Manen, Krzysztof Pastor, David Dawson, Alexei Ratmansky, Wayne McGregor and Christopher Wheeldon." The company is now widely-regarded as one of the top in the world.
Dutch National Ballet has a long history as a "multinational" ballet company. A 1977 New York Times article notes that the company's dancers are not homogeneously Dutch, but rather from "around the world." Gaskell hired Black American dancers Billy Wilson in 1959 and Sylvester Campbell in 1960, a noteworthy act in an era when directors were more hesitant to hire Black dancers.
Sources:
Sonia Gaskell, Wikipedia
Dutch National Ballet, Wikipedia
Dutch National Ballet Has Come of Age Fast, The New York Times
Dutch National Ballet, IMG Artists
See also:
Sylvester Campbell, Benjamin Feliskdal, and Billy Wilson join the Dutch National Ballet
Social media:
Instagram @nationaleoperaballet
Twitter @dutchnatballet
More about Karel Shook
Karel Shook was an American ballet master, choreographer and writer. He was co-founder of the Dance Theatre of Harlem.
Shook was born in Renton, Washington. Shook was a child actor in the Seattle Repertory Theatre. He was awarded a scholarship to the Cornish College of the Arts at the age of 13; there, he was encouraged by founder Nellie Cornish to study ballet. Soon afterwards, he danced with the Ballet Russe de Monte-Carlo for several seasons and performed in Broadway musicals. He danced with the New York City Ballet in 1949. In 1952, he became a member of the faculty of the Katherine Dunham School of Dance; after that school closed in 1954, he opened his own school. He joined the faculty of the June Taylor School in 1957. In 1959, he started teaching at the Dutch National Ballet; he later became ballet master for the company. In 1969, with Arthur Mitchell, he founded the Dance Theatre of Harlem.
His students included Arthur Mitchell, Alvin Ailey, Carmen de Lavallade and Geoffrey Holder.
Shook's Elements of Classical Ballet Technique: As Practiced in the School of the Dance Theatre of Harlem, with a target audience of ballet instructors, was originally published in 1977. The book features three sections: "The Antecedents" describes the "tradition of a dance teacher, the American attitude, classical ballet and the development of Dance Theatre of Harlem," while "The Theory" and "The Practice" reveal Shook's teaching philosophies.
Among his philosophies, Shook emphasized the ritual of dance, saying that a dancer must "let their love, their exaltation pour across the footlights from the space of the stage to the space of the auditorium." Without this, ballet risks being shallow and "the worst kind of hedonism." He explained that if a dancer projects this outlook, an audience can understand how various cultures and heritages are well suited to ballet. He also believed that practitioners of ballet must fuel the art through "personal and cultural contributions."
Shook discussed how ballet positions will look different on different bodies, which connotes the importance of the presence of different races in ballet. Shook states that, "Classical ballet, like everything else in the human condition, evolves, and, as it evolves, mutates."
He also published Beyond the Mist, a collection of poetry. Shook developed choreography for opera, film, and television. In 1980, he received a presidential award for education. Karel Shook died July 25, 1985 at his home in Englewood, New Jersey at the age of 64.
Sources:
Elements of Classical Ballet Technique, eBooks
Dance View; A Man Who Championed Blacks in Ballet, The New York Times
The History and Evolution of Ballet by Mairead Kennedy, Dance as Cultural Knowledge
Karel Shook, Wikipedia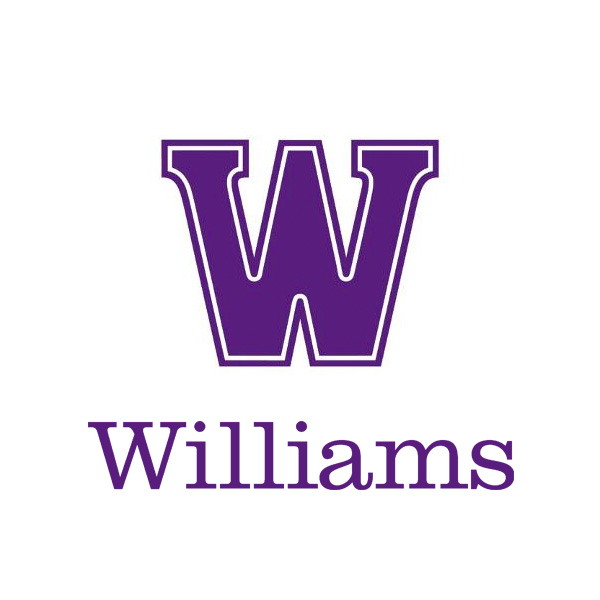 Aayushi Pramanik
MoBBallet: Madeline Crawford