1931
Katherine Dunham Forms Ballets Négre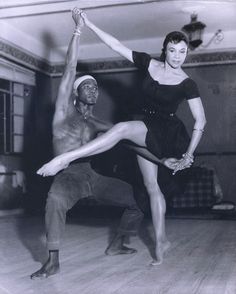 In 1931, when she was only 21,  Katherine Dunham (1910–2006 Dancer, anthropologist, social worker, activist, author) formed a group called Ballet Nègres, one of the first black ballet companies in the United States.
In 1928, while still an undergraduate, Dunham began to study ballet with Ludmilla Speranzeva, a Russian dancer who had settled in Chicago, after having come to the United States with the Franco-Russian vaudeville troupe Le Théâtre de la Chauve-Souris, directed by impresario Nikita Balieff. Dunham also studied ballet with Mark Turbyfill and Ruth Page, who became prima ballerina of the Chicago Opera. Through her ballet teachers, she was also exposed to Spanish, East Indian, Javanese, and Balinese dance forms.[10]
In 1931, at the age of 21, Dunham formed a group called Ballets Nègres, one of the first black ballet companies in the United States. After a single, well-received performance in 1931, the group was disbanded. Encouraged by Speranzeva to focus on modern dance instead of ballet, Dunham opened her first dance school in 1933, calling it the Negro Dance Group. It was a venue for Dunham to teach young black dancers about their African heritage.
A few years later Dunham formed her own company, the Negro Dance Group, and appeared with the Chicago Symphony and at the Chicago World's Fair in 1934.
Wikipedia- https://en.wikipedia.org/wiki/Katherine_Dunham
Contemporary Black Biography – http://www.encyclopedia.com/people/literature-and-arts/dance-biographies/katherine-dunham
Library of Congress Timeline – http://memory.loc.gov/diglib/ihas/html/dunham/dunham-timeline.html
In 1931, Katherine Dunham founded Ballet Negre with Mark Turbyfill. Both Dunham and Turbyfill started Ballet Negre with the desire to create an all-black professional ballet company. Turbyfill acknowledged that the development of a black ballet company began in the mind of a young Katherine Dunham. In 1983 Dance Magazine obtained access to Mark Turbyfill's diary in which he documented Dunham's creation of her all-black ballet company.
In the July 1930 issue of the Chicago Herald-Examiner, the Ballet Négre was cited as "an experimental ballet on Negro themes, for which Eric DeLamarter, assistant conductor of the Chicago Symphony Orchestra, is composing music" (Barzel 94). This was one of the first announcements of Ballet Négre's debut as a professional performing company. The announcement cited works that were created for the ballet as it slowly evolved into a company. Turbyfill wrote in his persona; diary their desire to see Ballet Negre flourish as a ballet company. He said: "Although deferred, when it did catch on, the Negro Ballet was astonishing in character" (Barzel 94). He referenced Dunham as a ballerina, stating "the satisfaction of seeing our potential ballerina come on top" (Barzel, 94).
Source:Barzel, Ann. "The Lost Ten Years: The Untold Story of the Dunham-Turbyfill Alliance."
Source: Jackson, La'Toya Princess. "Black Swans Shattering the Glass Ceiling: A Historical Perspective The Evolution of Historically Black Ballet Companies— From Katherine Dunham to Arthur Mitchell." Harvard University, 2019.
OTHER HAPPENINGS IN 1931
American History
Mar 3 "Star Spangled Banner" officially becomes US national anthem by congressional resolution
May 1 Empire State Building opens in New York City
Jun 12 Al Capone is indicted on 5,000 counts of prohibition & perjury
Oct 1 The second (and current) Waldorf-Astoria Hotel is opened in New York.
Oct 18 American gangster Al Capone convicted of tax evasion
Oct 24 George Washington Bridge linking New York City and New Jersey dedicated, opens the next day
Nov 13 Hattie Caraway (D-AK) appointed first US woman senator
World History
Mar 5 Gandhi & British viceroy Lord Irwin sign pact
Nov 7 Chinese People's Republic proclaimed by Mao Zedong
Dec 11 Statute of Westminster gives complete legislative independence to Canada, Australia, New Zealand, South Africa, Ireland (Free State), and Newfoundland (not then part of Canada)
Arts & Sciences
Feb 14 The original "Dracula", starring Bela Lugosi as the titular vampire, is released
Feb 21 Alka Seltzer introduced
Jun 9 1st rocket-powered aircraft design patented (Robert Goddard)
Nov 1 Dupont introduces synthetic rubber
Dec 25 NY's Metropolitan Opera broadcasts an entire opera over radio=
Human and Civil Rights
Aug 15 Roy Wilkins joined NAACP as asst secretary
Sports
Jul 26 25th Tour de France won by Antonin Magne of France
Aug 18 Lou Gehrig hitless in Detroit, his 1,000th consecutively played game