About This Orbit: Janet Collins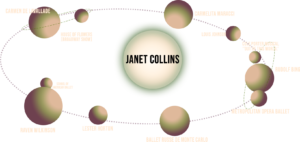 Janet Collins, (born March 7, 1917 in New Orleans, Louisiana, US—died May 28, 2003 in Fort Worth, Texas), American ballet dancer and choreographer, was acclaimed for the beauty of her dancing on the B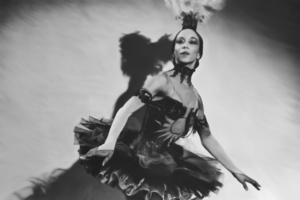 roadway stage. Collins was raised in Los Angeles, where she attended Los Angeles City College and the Los Angeles Art Center School (now the Art Center College of Design in Pasadena). She studied classical ballet as well as modern and ethnic dance, and her career reflected her versatility. At age 15 she auditioned for the Ballet Russe de Monte Carlo but declined an offer when told she would have to disguise the fact that she was Black. She first performed as a theatrical dancer in 1940 and had her first solo recital in New York City in 1949. Collins appeared in the Cole Porter musical Out of This World (1950–51), receiving the Donaldson Award for best Broadway dancer. In 1952, a year after joining the corps de ballet, she became the first African American prima ballerina with the Metropolitan Opera and danced lead roles in such operas as Aida and Carmen. Her choreography included solo and group performances. She also appeared on early television variety shows and toured, giving solo dance recitals. Collins taught modern dance at the School of American Ballet in New York City and at Manhattanville College in Purchase, New York.
Sources:
Janet Collins, MoBBallet
Janet Collins, 86; Ballerina Was First Black Artist at Met Opera, The New York Times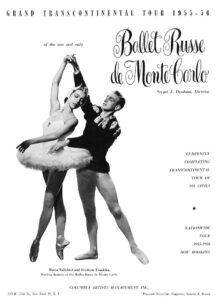 At age 15, Janet Collins auditioned for the Ballet Russe de Monte Carlo. Despite receiving an offer, the terms for accepting required Collins to paint her face white for performances in order to conceal the fact that she was Black. However, Collins defied the conventional standards and rejected the opportunity to dance for this company. Instead, she sought out places that would look past her skin color and value her talent as a dancer. Giving up this offer must have been an incredibly difficult decision, but in doing so, Collins was able to pave the way for more Black ballerinas in the future and also to allow her own career as a Black ballerina to flourish. 
Source:
What Janet Collins Taught Us About Integrity and Abundance, Brown Girls Do Ballet

Janet Collins studied modern dance under the guidance of Lester Horton and was also a principal dancer in Horton's dance company in 1941.
Sources:
Lester Horton, Kennedy Center
Lester Horton, Alvin Ailey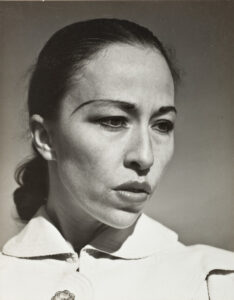 When Janet Collins first moved to Los Angeles at an early age, she began ballet lessons at a Catholic community center. Soon she was accepted to study privately under prominent ballet teachers including Carmelita Maracci. Maracci was one of the few teachers at the time who was open to instructing Black students. Collins greatly respected Maracci, who was herself an extremely talented dancer and highly skilled in ballet technique. Maracci passed this trait on to her pupils.
Sources: 
Janet Collins, The Guardian
Celebrating Black History Month: Spotlight on Janet Collins, Atlanta Ballet
Janet Collins, Jacob's Pillow
Pioneering prima ballerina Janet Collins, Amsterdam News

Janet Collins was not only a cousin to Carmen de Lavallade, but also her source of inspiration for taking up dance. Carmen de Lavallade described Collins as a great example of someone who never gave up, especially in her pursuit to become a ballet dancer, which was nearly impossible during her time due to the stigma that people of color were not suited for ballet dancing. The presence and command that Collins displayed was what inspired and motivated de Lavallade's work. De Lavallade also eventually succeeded her cousin Collins as a principal dancer for the Metropolitan Opera.
Sources:
Carmen de Lavallade tells the story of her cousin and "star in the sky," Janet Collins, PBS: American Masters
Carmen de Lavallade, Kennedy Center
Soon after Janet Collins arrived to study in New York, she was cast in her first Broadway production: Cole Porter's musical Out of This World (1950-1951). Even though her part was a minor character called Night, it included a long solo dance at the beginning of the musical. The performance won her the Donaldson Award for best Broadway dancer. During her shows, Collins was noticed by Zachary Solov, who was working at the time as the ballet master of the Metropolitan Opera House. Solov said of Collins years later, "She walked across the stage pulling a chiffon curtain, and it was electric. The body just spoke." He was so taken by her performance that he persuaded Rudolph Bing, the Metropolitan Opera's general manager, to hire her for their new production of Aida. This hiring marked a significant break from tradition for the Met; Collins would be the first Black artist to be under regular contract with their permanent team. Many years later, Bing stated that his greatest accomplishment from all his years at the Met was breaking the color barrier and hiring Janet Collins. 
Sources:
Janet Collins, Britannica
Janet Collins, Jacob's Pillow
Celebrating Black History Month: Spotlight on Janet Collins, Atlanta Ballet
Janet Collins, 86; Broke Ballet Color Line, Los Angeles Times
Janet Collins was not in House of Flowers, but her cousin Carmen de Lavallade, whom Collins had a great influence on, played a role in the show. De Lavallade played the role of Carmen in the show, and this was her Broadway debut in 1954. House of Flowers was also the show that introduced de Lavallade to her husband, Geoffrey Holder. 
Sources:
Biography of Carmen de Lavallade, Free to Dance
Emory acquires archive of dancers Carmen de Lavallade and Geoffrey Holder, Emory
Rudolf Bing was the director of the Metropolitan Opera Ballet when Janet Collins was brought in as the prima ballerina in 1954. Zachary Solov, the ballet master at the Metropolitan Opera, persuaded Bing to hire her, thus making Collins the first Black prima ballerina at the Met. Bing also went on to hire more African Americans for the company and the opera, such as Leontyne Price and Marian Anderson. Bing helped eliminate the race barrier at the Met.  
Sources:
Celebrating the Life of Janet Collins, an African-American Pioneer in Dance, New York Public Library
Janet Collins was invited to join the Metropolitan Opera Ballet Company in 1951, when she was 34 years old. Before the Met, Collins danced in a production of Cole Porter's musical Out of This World, where she received the Donaldson Award for best dancer on Broadway in 1951. It was her role in Out of This World that led her to be noticed by Zachary Solov, the ballet master of the Met. She was the first Black dancer to join the company as well as the first Black artist to perform on the Met stage. Collins performed leading roles in various operas such as Georges Bizet's Carmen and Verdi's Aida at the Met up until 1954, when she went on to establish her own dance troupe. While at the Met, despite being a prima ballerina, Collins still experienced racism while touring the US. In many cities, Collins was not allowed to dance, leading to her understudy performing the role. Collins was also not welcome in various hotels and restaurants. In response to this discrimination, the Met threatened to not return to any venues that practiced segregation.
Sources:
Janet Collins: BDC celebrates Black History Month, BDC Life
Black History Month Spotlight: Janet Collins, Oregon Ballet Theatre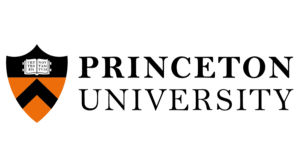 Helen Chen