1951
Janet Collins joins the Metropolitan Opera Ballet
Janet Collins made her Metropolitan Opera debut on November 13th, 1951 as the premier dancer in the opera Aida. The piece was choreographed by Zachary Solov, and Aida had 27 performances that season.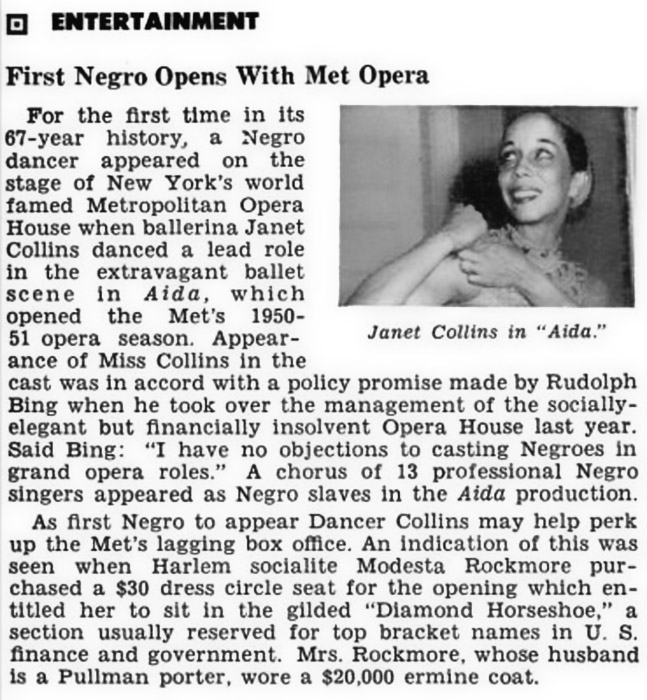 Janet Collins studied classical ballet and modern dance, and her career reflected her versatility. At age 15, she auditioned for the Ballet Russe de Monte Carlo but declined an offer when told she would have to disguise the fact that she was Black. She first performed as a theatrical dancer in 1940 and had her first solo recital in New York City in 1949. Collins appeared in the Cole Porter musical Out of This World (1950–51), receiving the Donaldson Award for best Broadway dancer. In 1952, she became the first African American dancer to join the Metropolitan Opera Company.
Sources:
The Metropolitan Opera Archives

---
Other Happenings in 1951
American History
Mar 6: The trial of Julius Rosenberg and his wife Ethel Rosenberg begins.
May 3: Congressional hearings on General MacArthur begins.
Jul 9: US President Harry Truman asks Congress to formally end state of war with Germany.
World History
Feb 11: Kwame Nkrumah wins first parliamentary election in the Gold Coast (Ghana).
Jul 20: King Abdullah of Jordan is assassinated.

Arts & Sciences
Feb 3: Tennessee Williams' Rose Tattoo premieres in NYC.
Feb 28: The eighth Golden Globes—Sunset Boulevard, Jose Ferrer, & Gloria Swanson win.
Mar 27: Frank Sinatra records "I'm a Fool to Want You."
Mar 29: King & I opens at St. James Theater NYC for 1246 performances.
Jul 28: Walt Disney's animated musical film Alice In Wonderland is released.
Aug 26: An American in Paris, with music by George Gershwin, directed by Vincente Minnelli and starring Gene Kelly and Leslie Caron, premieres in London.
Oct 15: I Love Lucy, starring Lucille Ball and Desi Arnaz, debuts on CBS.

Human & Civil Rights
Feb 16: NYC passes bill prohibiting racism in city-assisted housing.
May 24: Racial segregation in Washington DC restaurants is ruled illegal.
Sports
Feb 14: Sugar Ray Robinson defeats Jake LaMotta & takes middleweight title.
May 25: NY Giant Willie Mays plays first major league game.
May 30: Ezzard Charles beats Joey Maxim in 15 for heavyweight boxing title.
Jun 15: Joe Louis scores his last knockout victory.
Jul 18: Jersey Joe Walcott becomes oldest to win heavyweight champion at 37.
Nov 1: Brooklyn Dodger catcher Roy Campanella wins the first of his three NL MVPs.