About This Orbit: Lavinia Williams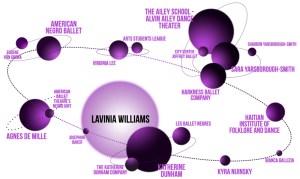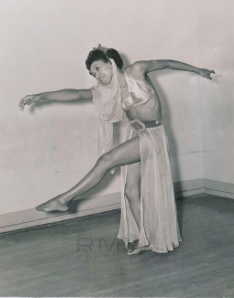 Lavinia Williams was born in 1916 into a family of six children in Philadelphia, Pennsylvania. Her family ended up moving to Portsmouth, Virginia and eventually Brooklyn, New York, which was where she spent most of her childhood. While in Virginia, Williams began taking dance classes at the age of three from her grandmother, who worked at a dance studio. The prejudice of the South didn't allow Williams to dance alongside white children in the studio, so she had to take private lessons.
Virginia Lee co-founded the Ballet Arts School in 1937, and it is the oldest continuously operating dance school in NYC after the School of American Ballet (which opened 3 years earlier). The Williams family lived in New York through Lavinia's teenage years, where she attended Washington Irving High School and then received a scholarship from Virginia Lee to attend the Arts Students League. Williams studied at the Arts Students League until she was 20 years old.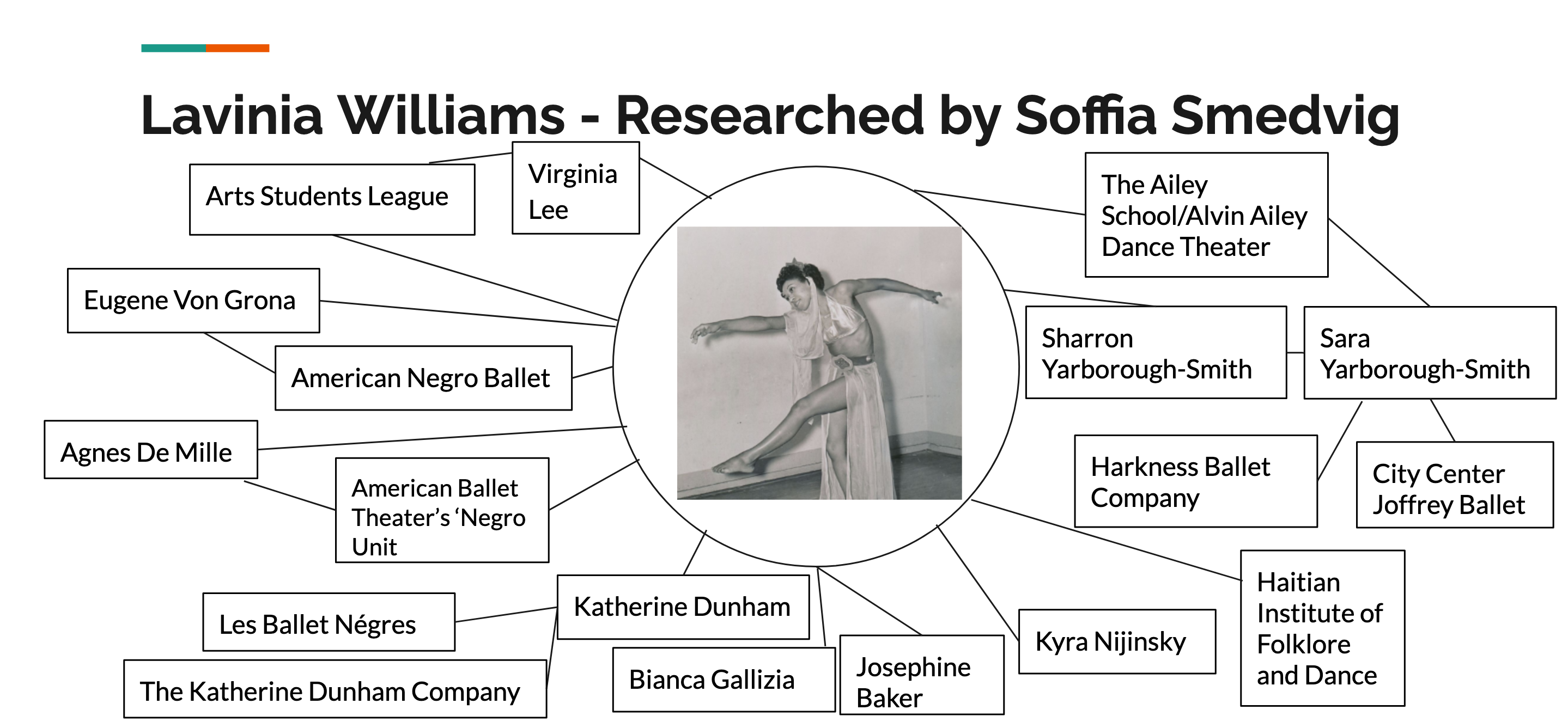 In 1936, Williams was invited to sketch dancers during a rehearsal of Eugene Von Grona's American Negro Ballet. After this introduction, Lavinia was asked to join the company by Von Grona himself. She stayed with the American Negro Ballet for three years, dancing in multiple performances, including the Von Grona Swing Ballet's performance of Lew Leslie's Blackbirds of 1939 and Firebird as the 13th princess.
The American Negro Ballet disbanded in 1940, so Williams went to dance with the American Ballet Theatre's Negro Unit, where she was given the opportunity to perform in Agnes de Mille's Black Ritual. The ballet, alternatively called Obeah, was a ballet based on North American understandings of the West Indian belief in black magic. While Williams was dancing with American Ballet Theatre, Katherine Dunham came to New York from Chicago, needing new dancers for her company.
Lavinia took leave of de Mille's Negro Unit of Ballet Theatre to dance with Dunham's company and to perform in shows, such as Broadway musical Cabin in the Sky, and the films Stormy Weather and Carnival of Rhythm. After dancing with the company for five and a half years, in 1945, Williams helped found the first Katherine Dunham School at Caravan Hall on 59th Street. She taught there for a year and then went to Europe with Noble Sissle's revival of Shuffle Along for a USO tour. She performed one of the dancing roles that Josephine Baker had originated, later meeting Baker during a performance in Brussels. 
While traveling through Europe with the USO tour, Williams had the privilege of studying and dancing with Kyra Nijinsky, who ended up choreographing two dances specifically complimenting Williams' style and technique. In Antwerp, Belgium, Williams studied with artistic director of the Flemish Opera House, Sascha Sarkoff, and in Naples, Italy, Williams danced for ballet mistress at the San Carlo Opera House, Bianca Gallizia, who choreographed Edvard Grieg's Norwegian Dance No. 4 for her.
In 1952 Lavinia was observed by Jean Brierre, poet and Director General of the Haitian State Tourist Office, at her dance school in Brooklyn, New York and was asked to become a national dance instructor in Haiti. Brierre was looking for a classically and formally trained modern dancer who would bring technical and disciplined training to performers in Haiti. Moreover, the Haitian Office of Tourism believed Williams could also bring notoriety and potentially access to US cultural resources. Overall, Brierre and the Haitian government assumed Williams' training would modernize aspects of Haitian culture.
In 1953, Williams moved from Brooklyn to Haiti with her two daughters, Sharron and Sara Yarborough-Smith, to continue teaching dance there. Teaching at the Lycée des Jeune Filles, William's responsibilities included physical culture classes and body conditioning exercises for members of La Troupe Folklorique Nationale, as well as some teachers from the Bureau of Sports. Lavinia's classical ballet training was able to blend American dance and Haitian dance into one art form—in other words, "the ballet, voodoo dancing, Latin rhythms and acrobatic dancing, as developed to a high degree on the American stage, have all been fused into what has come to be regar." Following in the footsteps of Katherine Dunham, Williams came to teach in Port-au-Prince at the invitation of the Haitian government. [Haitian dancer and teacher Viviane Gauthier] is said to have served as Williams' assistant at the Haitian Academy of Folklore and Classic Dance in the 1950s and 1960s. While in Haiti, Williams helped found the National School of Dance and the National Dance Troupe of Jamaica, along with the Haitian Institute of Folklore and Classical Dance. She then returned to the US to form her own school in Brooklyn and teach at the The Ailey School. She moved back to Haiti in the mid 1980s.
Lavinia Williams' legacy in the dance world lives on predominantly through her daughter Sara, as she followed in her mother's footsteps and also became a dancer. At 17 years old, Sarah danced with the Harkness Ballet Company from 1964-1975. At 19 she danced with the Alvin Ailey American Dance Theater from 1971-1975 and the City Center Joffrey Ballet from 1975-1976.
Sources:
Lavinia Williams-Yarborough, Oxford Reference
Lavinia Williams, Wikipedia
Dance On with Billie Mahoney, Lavinia Williams
Lavinia Williams (photo)
A Tale of Three Graces Lòtbò Dlo by Roger E. Savain, Journal of Haitian Studies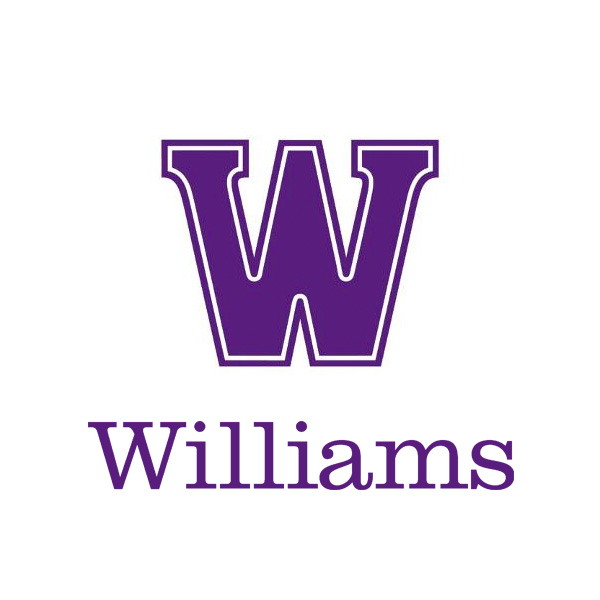 Soffia Smedvig