Mel Tomlinson About This Orbit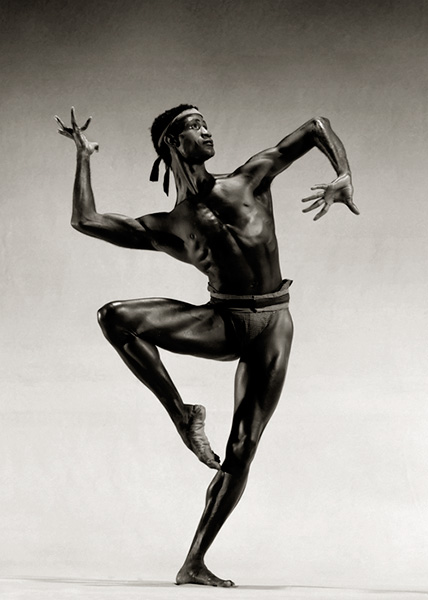 Mel Tomlinson was a strong asset to multiple American Ballet Dance Companies in his lifetime, dancing all over the country,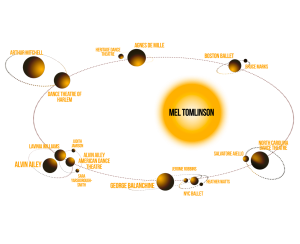 bringing modern technique and stunning skill to the ballet stage. He got his start at Heritage Dance Theatre in North Carolina, but also performed with Dance Theatre of Harlem, Alvin Ailey American Dance Theater, New York City Ballet, North Carolina Dance Theatre, and Boston Ballet. He danced in both principal and solo roles at these various companies, and got to work with many different choreographers and dancers. According to the New York Amsterdam News, his most favorite piece he ever performed was Manifestations at Dance Theatre of Harlem in 1976. He had to dance like a snake, and actually bought a pet snake as a learning tool to enhance his performance, emphasizing his dedication to his craft. Mel Tomlinson was an advocate for getting more underrepresented and low-income students into the dance world, so at Boston Ballet, he helped start the CITYDANCE initiative, a way to get inner city youth on stage, and build the next generation of dancers. After retiring, he returned to his old middle school in Raleigh, and taught classes for the students there. Mel Tomlinson's legacy lives on through the iconic work he performed, and through his dedication to outreach programs that are still thriving today. "There is one thing that I believe we, as dancers, all have in common; it is our desire not to be forgotten" (Mel Tomlinson – Beyond My Dreams memoir). Mel Tomlinson left his mark on the dance world by working professionally in six different companies, and this orbit follows Tomlinson through his career, mapping the people and institutions he intersected, to ensure that he is never forgotten.

Mel Tomlinson and Agnes de Mille (Heritage Dance Theatre)
Tomlinson got his start at Heritage Dance Theatre thanks to Agnes de Mille. In 1974, de Mille revived her company (Agnes de Mille Dance Theatre) under the name Heritage Dance Theatre, in collaboration with the University of North Carolina School of the Arts, where Tomlinson attended as an undergraduate. Tomlinson remembers in his memoir, Beyond Mr Dreams, that he was initially cut from Agnes de Mille's audition at school for the company, but thanks to his teacher, was given another chance, where he demonstrated his many tricks, such as riding a unicycle and twirling a baton. Afterwards, Tomlinson was selected as a principal dancer in this company, and began touring right after graduation. Agnes de Mille created a ballet called Texas Fourth in which Tomlinson had multiple solo moments to show off his tricks. The ballets showcased on the tour were true to American spirit, thanks to de Mille's fascination with The West, and connecting Americans with the ballet world and the history of the nation. Agnes de Mille and Mel Tomlinson shared a rather special connection while on tour, because as the company was moving through the deep South, there were plenty of people that were unfriendly towards Tomlinson and the three other black dancers, so Agnes de Mille took it upon herself to protect them. The tour culminated in a performance at the Metropolitan Opera House in Lincoln Center, NYC for a gala, though it was not supposed to, due to Miss de Mille's terrible stroke. 
Tomlinson and Arthur Mitchell (Dance Theatre of Harlem)
After touring for a little while, Tomlinson transitioned to Arthur Mitchell's Dance Theatre of Harlem. Tomlinson accepted the invitation from Dance Theatre of Harlem to dance professionally after graduating from the North Carolina School of the Arts. This however, was not the first time that Tomlinson had been offered to dance with the company. According to his memoir (Beyond My Dreams), Tomlinson remembers that he was offered a full scholarship to DTH's summer program and was then invited to stay and join the company. Tomlinson, while excited at the offer, declined in order to finish out his schooling and get a college degree, a rather unprecedented move for most dancers. Tomlinson had graduated through the modern program, so it was Mitchell who taught him the technique of ballet and the vocabulary. Arthur Mitchell was very interested in Balanchine's choreography, having worked at New York City Ballet, and Tomlinson worked his way up to the rank of soloist. Mitchell and Tomlinson were like a father-son duo, to the point that when Tomlinson asked to leave the company, Mitchell said a spot for him would always be there, and two years later, Tomlinson grew homesick and came back to Dance Theatre of Harlem and Arthur Mitchell. That's not to say they didn't have their tense moments, but out of love and respect for each other, they were a great team. Tomlinson's favorite piece performed at DTH was "Manifestations" in 1976, which was based on the story of Adam and Eve, in which Tomlinson played the snake. His grand entrance was coming down from the ceiling on an invisible wire, which captivated audiences night after night.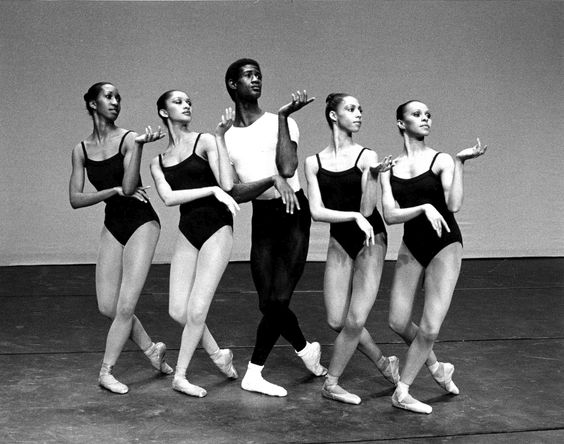 Tomlinson and Alvin Ailey
Mel Tomlinson is a dancer who is never satisfied. After a few years dancing at Dance Theatre of Harlem, Tomlinson wanted a new challenge, and decided to leave the company. Several days later, while taking class at Alvin Ailey's school, Ailey asked Tomlinson if he'd like to join his company now that he'd left DTH. According to the New York Amsterdam News, Tomlinson initially was shocked and had to think it over, "'but in five minutes I was signing the contracts.'" In Tomlinson, Ailey saw a new partner for Judith Jamison, He credits Alvin Aliey for bringing modern back into his life, and loosening him up a bit after years of ballet discipline. Thanks to Ailey, Tomlinson found "'the total joy of movement.'"
Tomlinson and Judith Jamison
Judith Jamison performed a "Pas de Duke" with Tomlinson in 1976, soon after he joined Alvin Ailey American Dance Theatre. He was a part of Alvin Ailey's company for two years, but this was one of his more memorable performances. The piece is supposed to show the differences between ballet and modern while having the two dancers in a sort of playful competition. According to the New York Amsterdam News, Tomlinson has said that he admired Jamison as a role model, and continued to follow her career after they parted ways at Alvin Ailey. The fact that Jamison was at AAADT at the time and that Tomlinson would get to partner with her is part of the reason he came to dance at Ailey's company in the first place. He remembers that Judith Jamison kept him presently in the moment when they aned together, as she challenged him often by appearing like the man, dancing circles around him.
Tomlinson and Sara Yarborough
While in Alvin Ailey's company, Tomlinson also danced one of his more famous pieces, "The Time Before The Time After", with Sara Yarborough, in 1977. According to The New York Times, "there is no doubt that they have a performing spark." This dance, while focusing more on lust rather than love, involves a series of embraces and repeated movements, emphasizing the circle that the piece is about. Due to their immediate connection and strong background, they were able to focus more of their energy into the acting of the role, taking their artistry to a whole new level.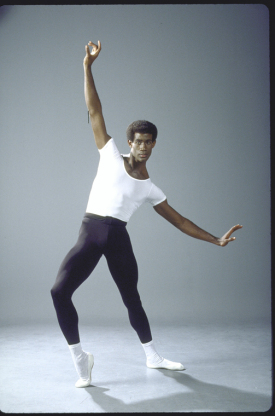 Tomlinson and Balanchine (New York City Ballet)
Tomlinson eventually grew homesick and returned to Dance Theatre of Harlem, where he was spotted by none other than George Balanchine of New York City Ballet, and soon after, Tomlinson was the only African American dancer in the company. Balanchine had always had a grand dream of a ballet class with eight white students and eight black students, with four males and four females of each skin color. Balanchine chose to hire Tomlinson as he continued to strive for the truly "American" New York City Ballet company that he dreamed of. However, this was not the first instance that their paths had crossed, that was when Arthur Mitchell brought Tomlinson downtown to meet with Balanchine, as Tomlinson was selected to fill a role in the film The Spellbound Child initially for Mitchell. While in NYCB, Tomlinson took on roles that had previously been performed by Arthur Mitchell, who used to be the only black dancer in the company before leaving to form Dance Theatre of Harlem. Balanchine saw similarities between Mitchell and Tomlinson, and used Tomlinson as Mitchell's "legacy" being reborn within the company. Balanchine admired Tomlinson's talent and experience with his repertoire, having performed so many Balanchine works with DTH, and Balanchine adored Tomlinson so much as a dancer, that he was in the process of creating a ballet with him in mind when he died. In his memoir, Beyond My Dreams, Tomlinson remembers the first time he went into Balanchine's office, and how he commented favorably on one of Balanchine's armchairs, and Balanchine gave it to him, just like that. Tomlinson remembers Balanchine's immense kindness, and claims that the three years dancing for Balanchine were the best years of his life.
Mel Tomlinson and Heather Watts
Tomlinson's most famous performance took place with the New York City Ballet in 1981, when he danced "Agon" with Heather Watts. This pas de deux was previously performed by Diana Adams and Arthur Mitchell, designed to emphasize the contrast between dark and light, as Agon means conflict/competition. Choreographed by Balanchine, this piece was Tomlinson's debut performance with NYCB. In addition to the apparent dichotomy of black and white, there also was a contrast between Tomlinson's tall, strong, calm body, and Watts's smaller, more nervous body. Heather Watts remembers that "Mel was unfailingly kind, patient and professional, and he quickly made a home for himself at NYCB" (Beyond My Dreams – Foreword). Balanchine was so interested in the difference in skin tones between the dancers, that he lied to Tomlinson, claiming that Watts's previous partner had hurt his back and needed replacing, in order to get Tomlinson into the role. Tomlinson remembers that Heather was nothing short of professional, while also being so kind and making sure he felt comfortable in the piece, as this was their first time dancing together.
Tomlinson and Jerome Robbins
After Balanchine's death in 1983, Jerome Robbins and Peter Martins took over as co-artistic directors, though Martins had been Balanchine's personal choice of successor. The process of changing over to new artistic directors meant that Tomlinson wasn't able to get on stage as often, as it seemed Robbins and Martins preferred using white dancers. Tomlinson honestly reveals in his memoir, Beyond My Dreams, that "although my relationship with Jerry was never smooth or comfortable, I am very grateful that I got to work with him." Tomlinson remembers Robbins's work as being full of life, because he knew his dancers very well and worked to make the piece work for their style and body. Robbins came up with excellent choreography due to his deep connection to the music, and his strong relationship with Leonard Bernstein, the composer. This does not excuse the fact that he was openly racist and made many dancers feel vulnerable in his presence, due to his constant degrading of their talent and his desperate desire for perfection. He is part of the reason why Tomlinson decided to leave NYCB soon after Balanchine's death.
Mel Tomlinson and Salvatore Aiello (North Carolina Dance Theatre)
Tomlinson left NYCB and returned to North Carolina to teach at his alma mater, but found a way to continue his dance career thanks to North Carolina Dance Theatre. Salvatore Aiello was the artistic director and resident choreographer of the company at the time, and gave him many roles, including in Afternoon of a Fawn. Aiello gave Tomlinson a lot of artistic freedom in this piece, as he did with most of his dancers, making the choreography a collaborative and adventurous experience. During his time at North Carolina Dance Theatre, Tomlinson had the opportunity to dance alongside many dancers, including Jeanette Makaroff, Anita Intrieri, Katherine Thompson, and Helen Rosenthal who, in 1988, played the four nymphs that frightened and intrigued Tomlinson, who played the faun, in Afternoon of a Fawn. Additionally, Tracy Owens danced with Tomlinson in the company. An article from a local North Carolina newspaper explains that they were the two strongest dancers in the company. Their first pas de deux was called "By Lamplight", and Tracy Owens remembers it as one of her most favorite pieces to dance in her career.
Tomlinson joined the company at a time when it was struggling financially, but despite the harsh work conditions, Tomlinson and Aiello got along really well. Aiello, in addition to bringing Tomlinson on as a principal, made him the Education Director, in charge of outreach programs for younger dancers. 
North Carolina Dance Theatre was the professional company founded thanks to the North Carolina School of the Arts, where Tomlinson attended the end of high school and college. The company was fully integrated since the beginning, and now operates under the title "Charlotte Ballet".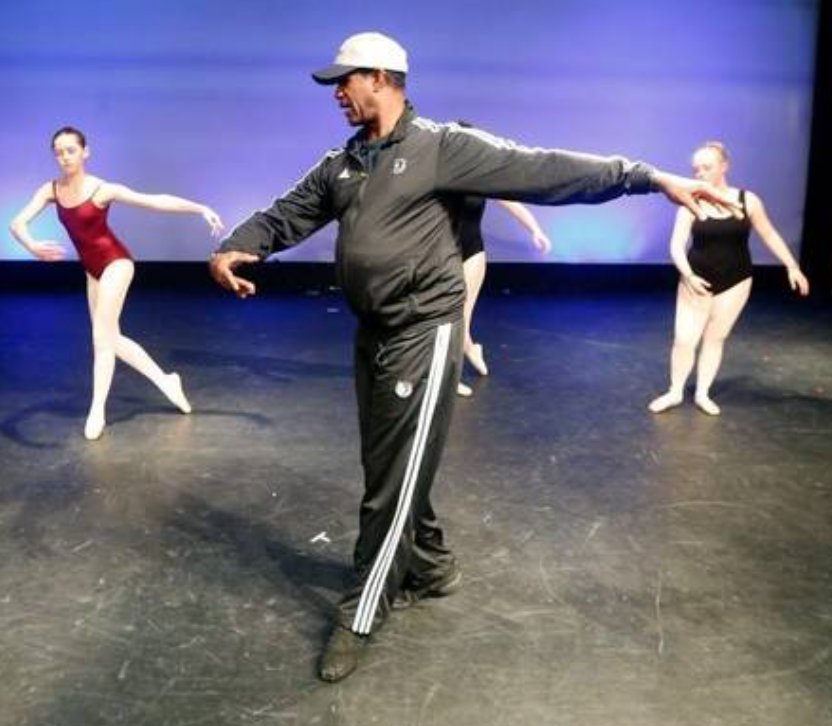 Mel Tomlinson and Bruce Marks (Boston Ballet)
Finally, Tomlinson came out of retirement to dance again at Boston Ballet beginning in 1991, where Bruce Marks was the artistic director. Bruce Marks was recognized by the dance world for inspiring inclusion and equity with the Boston Ballet CITYDANCE program, that Mel Tomlinson helped to craft while teaching and dancing with the company. CITYDANCE is a year long program where 3,000 third grade students from public schools around Boston get to study dance at no tuition cost for a year. This program was successful from the outset, and is the model other companies around the country looked to when forming outreach initiatives like this. Though Tomlinson had some disagreements with his other co-director of Citydance, he loved the children. One of his students, Ebony Williams, went on to become one of Beyonce's dancers. While in the company, Tomlinson would teach company class when it was time for the company to learn/perform a Balanchine work, as Tomlinson's extensive career with New York City Ballet and Dance Theatre of Harlem gave him lots of exposure to the speed and specificity of a Balanchine Ballet. While there, he had the opportunity to work with Carla Stallings, Kyra Strasberg, Julie Bacon, Adriana Suarez, and Jennifer Gelfand. 
Tomlinson's dedication to his craft ended up taking him around the country, as he danced his way into the heart of many professional dancers at the time. His legacy lives on today, as we celebrate all of the advancement he made in terms of bringing his darker shade to numerous stages, in addition to his strength and musicality.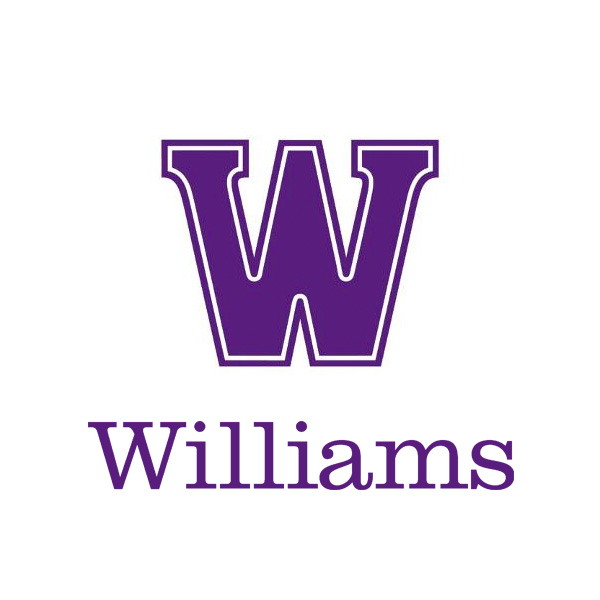 By: Casey Monteiro