About This Orbit: Arthur Mitchell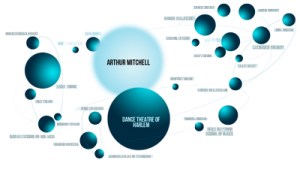 A native New Yorker, Arthur Mitchell attended the High School for the Performing Arts in New York City and began performing in Broadway musicals and with the companies of Donald McKayle and John Butler. In 1956 Mitchell became the only Black dancer in the New York City Ballet. He soon became a principal with the company, and George Balanchine created several roles for him, notably those in A Midsummer Night's Dream (1962) and Agon (1957).
He was asked to assemble a group of leading Black dancers, called the American Negro Dance Company, to perform in Senegal in 1966. The performance was to take place at the World Festival of Negro Arts in Dakar during the month of April. Though they declined to fund the company, it was initially sponsored by the US Department of State. Members included well-known dancers Carmen de Lavallade, John Jones, Paula Kelly, Bill Luther, William Louther, Llanchie Stevenson, Claude Thompson, Dudley Williams, and Sara Yarborough; the repertoire included choreography by Alvin Ailey, George Balanchine, Talley Beatty, Katherine Dunham, Louis Johnson, Donald McKayle, Walter Nicks, Pearl Primus, and Jerome Robbins.
The organizing of the festival was controversial—though Senegal was supposed to appoint the directorship, it was most likely the US State Department that selected a white woman for the job in an attempt to increase funding for the endeavor. This decision ultimately proved fruitless as the fundraising campaign fell through and was met with backlash from African American artists, including Harry Belafonte, who disagreed with the Senegalese president's politics. Due to the lack of funding, American Negro Dance Company's performance was cancelled, but Alvin Ailey American Dance Theater traveled from Rome to Dakar to participate.
Mitchell was sensitive to the prejudice against Black people in the world of ballet and was determined to form an all-Black ballet company. In 1968 he and Karel Shook founded an integrated school, whose associated company made its debut in 1971 in New York City and at the Spoleto Festival in Italy.
He left a significant mark on the dance world and paved the way for African American dancers to follow in his footsteps. This orbit traces Mitchell's connections throughout his career and celebrates his life and legacy.
Sources:
The First World Festival of Negro Arts, Dakar 1966, edited by David Murphy, page 80
Timeline: Arthur Mitchell's Performing Career, Columbia University Libraries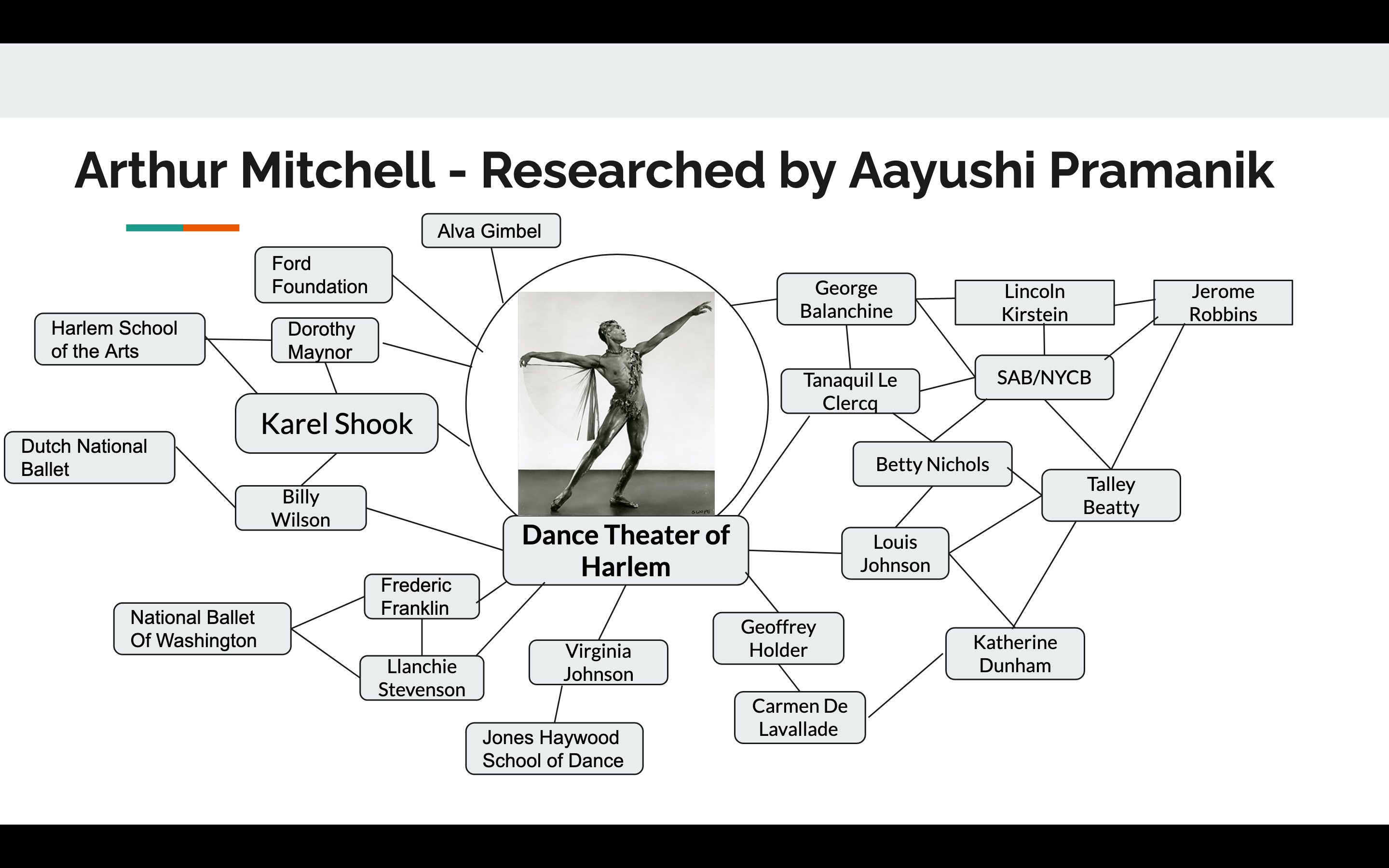 Arthur Mitchell attended the High School of Performing Arts in New York City, studying dance styles such as jazz, tap, and modern. Lincoln Kirstein, the co-founder of New York City Ballet along with George Balanchine, watched Mitchell's high school graduation performance. Impressed by what he saw, Kirstein gave the School of American Ballet, New York City Ballet's affiliate school, enough funding to offer Mitchell a scholarship. Mitchell accepted, and in 1952, began studying ballet at age 18. A mere three years later, Kirstein offered Mitchell a position in New York City Ballet, and he was promoted to principal dancer in 1962.
Source:
Atlanta Ballet Centre for Dance Education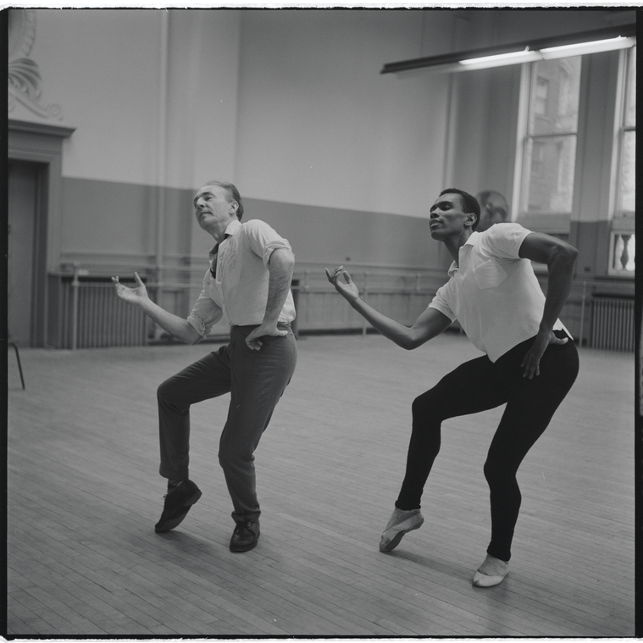 Mitchell was a favorite of George Balanchine, who co-founded and directed the company. Allegra Kent, in a New York Times article, says that when Balanchine invited Mitchell to join NYCB, "he saw not an African-American dancer, but a dancer who could thrill an audience." Mitchell had a unique aesthetic that Balanchine was searching for, and he served as an example of vitality and movement for other dancers in the company.
Balanchine choreographed several pieces for Mitchell, most notably Agon in 1957. This ballet had a Black man and white woman dancing together, and with an added element of sensuality, it was revolutionary. Mitchell's words about Agon are interesting; he insisted that the contrast between the color of his skin and the color of the ballerina's skin is part of the choreography, and that casting white men makes for a different ballet.
Clearly, Mitchell held Balanchine in high regard. In 1969, following Martin Luther King Jr.'s death, Mitchell decided to form Dance Theatre of Harlem with the help of choreographer Karel Shook. In creating this new company, Mitchell relied on assistance from Balanchine and Kirstein, NYCB's other co-founder. He spoke about "working under a genius, George Balanchine," and about how he got his authority and sense of personal dignity from him. Mitchell had high standards when envisioning the future of Dance Theatre of Harlem. He claimed that the company "must stand as a ballet company….I will not lower my standards or betray the standards of the people who made Arthur Mitchell the ballet artist….I am giving the dancers the same chance Kirstein and Balanchine gave me." Even when founding his own company, Mitchell sought and received support from Balanchine, continuing their mentor-mentee relationship.
Source:
Maynard, Olga. "Arthur Mitchell and the Dance Theater of Harlem." Dance Magazine, March 1970, 52–64.
*Jacob's Pillow 8/7/1997 PillowTalk Dance Theatre of Harlem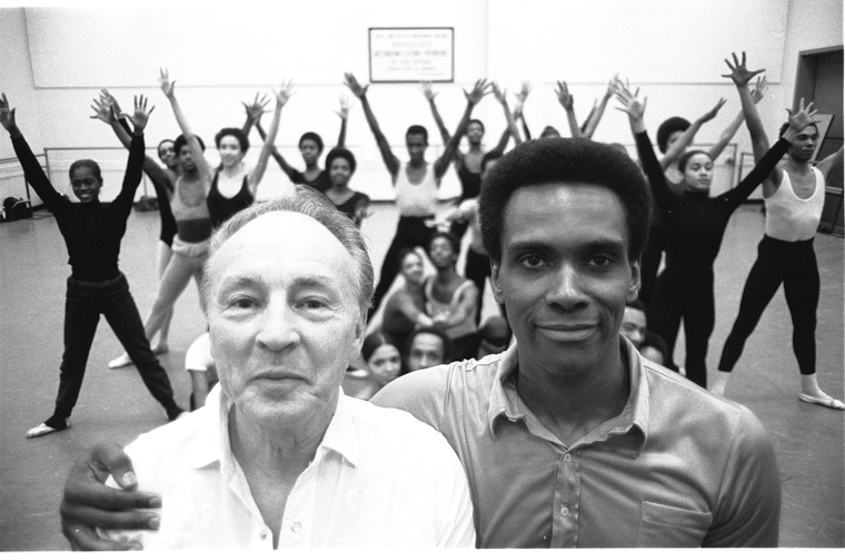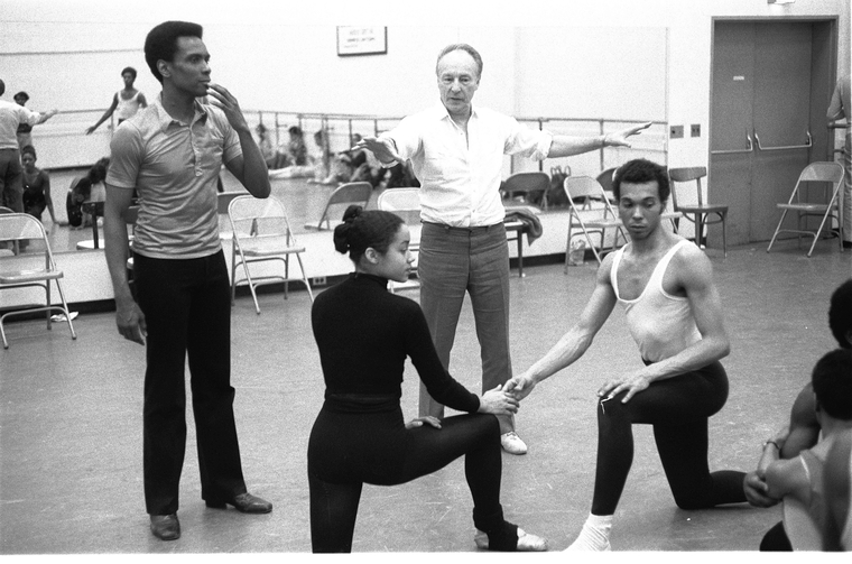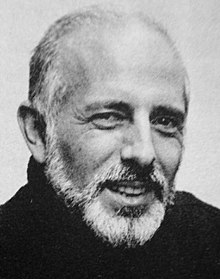 While a member of New York City Ballet, Arthur Mitchell performed his fair share of pieces by Jerome Robbins, choreographer and once Associate Artistic Director of the company. In addition to originating an ensemble role in The Concert (1956), Mitchell danced the principal role in Pied Piper (1955), as the Trumpet in Fanfare (1955), in Interplay (1956), and the principal role in Afternoon of a Faun opposite Kay Mazzo in 1965.
Years before the establishment of Dance Theatre of Harlem, Mitchell was to include Robbins' choreography in the repertory of American Negro Dance Company, a group that he put together in 1966 and that was never able to perform.
Still, Mitchell eventually incorporated Robbins' work into DTH's repertoire: their production of Afternoon of a Faun was originally performed by Lydia Abarca and Clover Mathis in 1971 and the original cast of their 1985 Fancy Free included Tyrone Brooks and Christina Johnson.
Sources:
Dance Theatre of Harlem's Repertory List, Columbia University Libraries
Timeline: Arthur Mitchell's Performing Career, Columbia University Libraries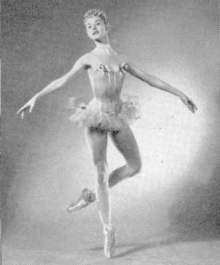 Tanaquil Le Clercq was a student at the School of American Ballet and performed in the Ballet Society, the first iteration of Balanchine's New York City Ballet. During this time she befriended Betty Nichols and after traveling Europe and performing in Paris with Nichols, Le Clercq returned to America and danced with New York City Ballet alongside Arthur Mitchell. Le Clercq was Balanchine's muse. Both Balanchine and Jerome Robbins were enamored with her, and she ultimately married Balanchine in 1952.
In 1956, New York City Ballet went to Europe on tour. Along with Le Clercq, Mitchell traveled as a member of the company; they performed ballets such as Western Symphony together. Just before one of their performances, Le Clercq reportedly told Mitchell she "felt a stiffness throughout her whole body; he told her to just stretch." The night after that performance, Le Clercq was rushed to the hospital—she had been stricken with polio and was paralyzed, never to dance again.
After Le Clercq spent years in treatment, Balanchine divorced her in 1969. That same year, Arthur Mitchell founded Dance Theatre of Harlem, and he invited Le Clercq to teach at the school. Yvonne Delaney Mitchell, a woman who was among the first young students learning classical ballet at DTH, remembers one day when "this beautiful lady in a wheelchair was rolled in….We were introduced by Mitchell, who said something to the effect, 'This is Tanaquil Le Clercq. She will be your teacher….Now places, everyone.'" Yvonne recalls that Le Clercq would "demonstrate the steps….by using her hands while softly counting out the beats." Le Clercq continued to teach occasionally at Dance Theatre of Harlem, remaining engaged with ballet however she could. She had a close friendship with Mitchell, who in effect brought her back to life by giving her the opportunity to teach.
Source:
Cosmopolitan Review: remembering ballerina Tanaquil le Clercq, Amsterdam News
See also:
Afternoon of the Faun (movie), directed by Nancy Buirski, 2014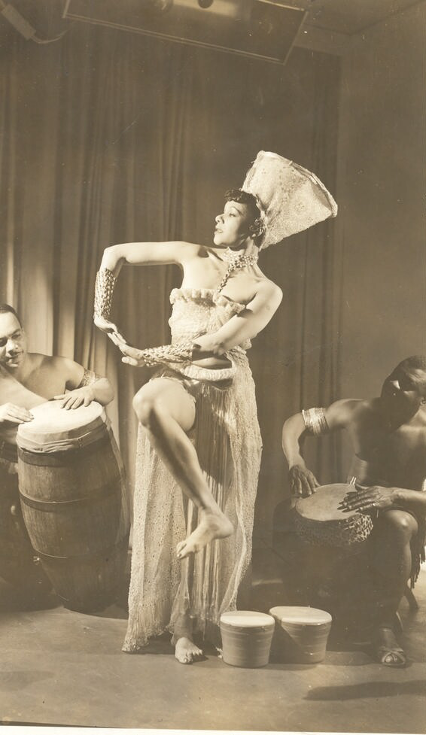 Between seasons at New York City Ballet, Arthur Mitchell taught ballet at several schools, including the Katherine Dunham School. Katherine Dunham was a ballet dancer, choreographer, and founder of the Dunham technique. In 1931, at the age of 21, Dunham and Mark Turbyfill formed a group called Ballet Nègre, one of the first Black ballet companies in the United States. Turbyfill acknowledged that the development of a Black ballet company began in the mind of a young Katherine Dunham. After a single, well-received performance in 1931, the group was disbanded. Encouraged by Speranzeva to focus on modern dance instead of ballet, Dunham opened her first dance school in 1933, calling it the Negro Dance Group. It was a venue for Dunham to teach young Black dancers about their African heritage. The Negro Dance Group appeared with the Chicago Symphony and at the Chicago World's Fair in 1934.
Dunham also appeared at the Martin Beck Theatre in October of 1940 as Georgia Brown in Cabin in the Sky, which she also choreographed with George Balanchine.
Sources:
Gale Biography
Talley Beatty, 76, a Leader In Lyrical Jazz Choreography, New York Times
See also:
1931 – Katherine Dunham Forms Ballet Nègre, MoBBallet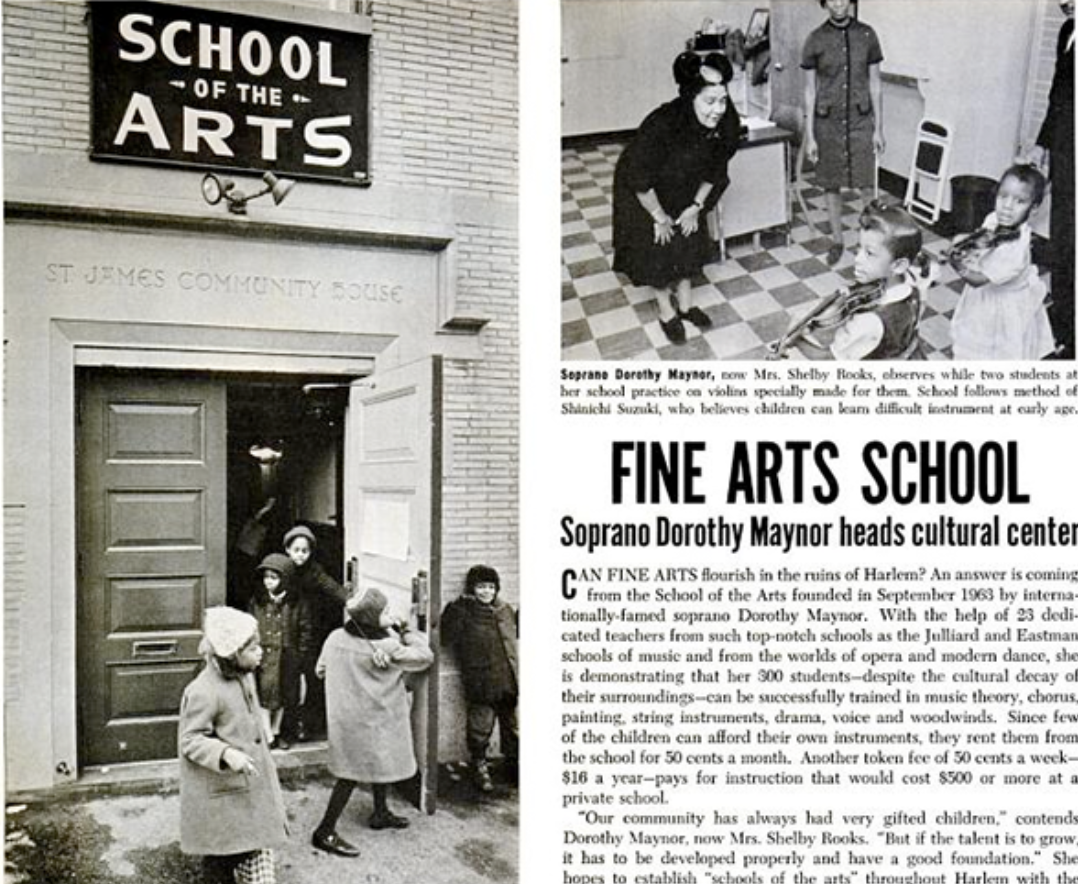 In April 21, 1947, internationally acclaimed concert soprano Dorothy Maynor incorporated her St. James Community Center, which was housed in the basement of the St. James Presbyterian Church (where her husband was the pastor). In 1964, Maynor officially renamed the center The Harlem School of the Arts. In 1966, while still a principal dancer New York City Ballet, Arthur Mitchell joined faculty of Harlem School of the Arts.
Two years later, after the assassination of Martin Luther King, Jr., Mitchell decided he had to do something. Mitchell approached Karel Shook, American ballet master of the Netherlands Ballet, and together in the gym of Dorothy Maynor's Harlem School of the Arts at 141st Street and St. Nicholas Avenue, they started the school of the Dance Theatre of Harlem with 30 students. The doors were left open and people from the community, some initially antagonistic, were invited to watch and take classes. Within a few months enrollment had risen to 400. This would be the foundation for the Dance Theater of Harlem, the first permanently established Black ballet company in America.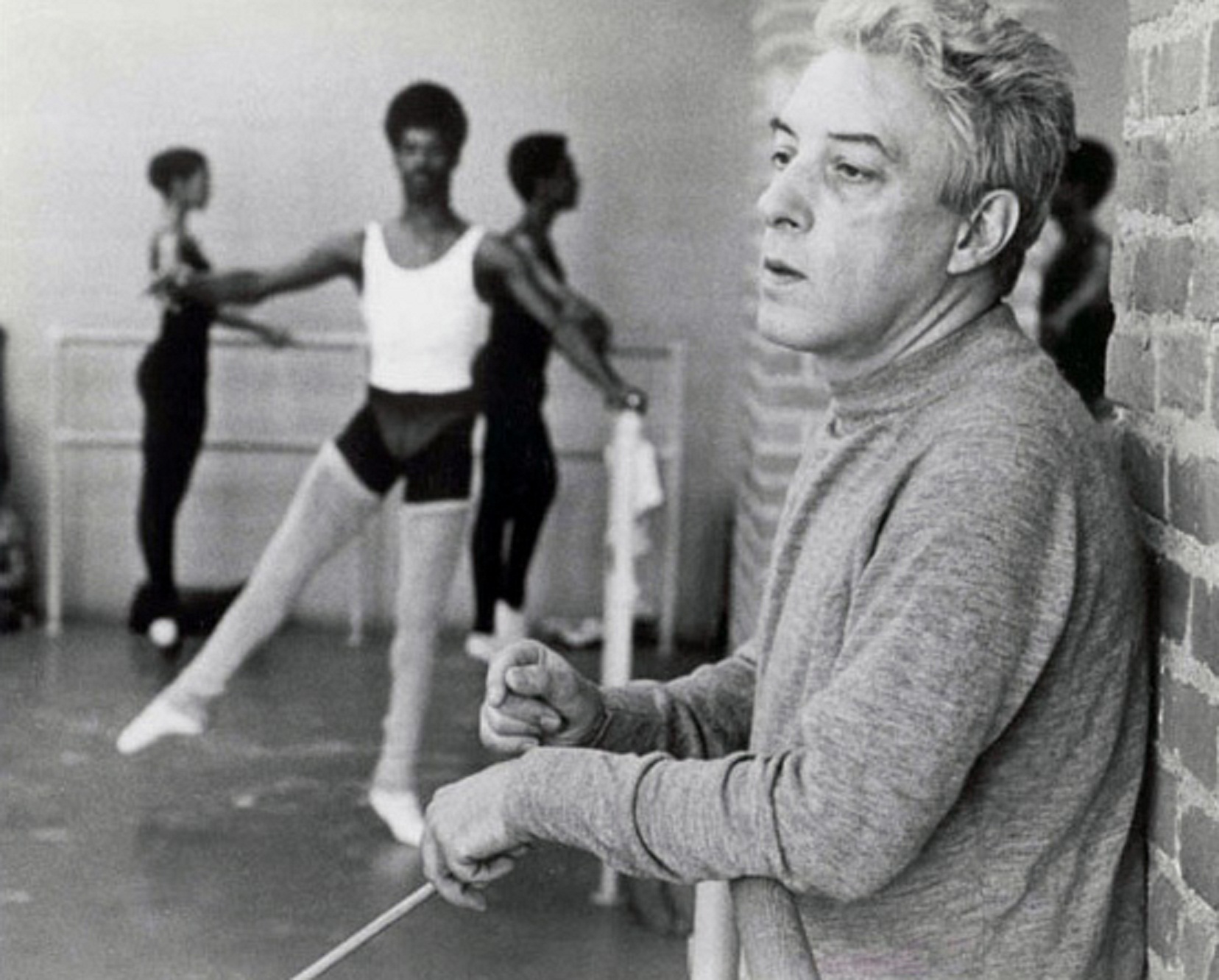 In 1967, Arthur Mitchell was commuting between New York City and Rio de Janeiro, Brazil, to work with two ballet companies there. The assassination of Dr. Martin Luther King Jr. in 1968 inspired Mitchell to start teaching dance back at home at Dorothy Maynor's Harlem School of the Arts. At a NYCB Guild Seminar in 1994, Mitchell said that he "just told kids to come in because [he] felt it was very important to take young people off the streets and get them involved in the arts and particularly the dance."
A former member of the Ballet Russe de Monte Carlo and for a brief time, New York City Ballet, Karel Shook spent a good part of the 1950s teaching ballet at the Katherine Dunham School, the June Taylor school, and his own midtown Manhattan Studio of Dance Arts. Shook was in Amsterdam, serving as ballet master and choreographer for the Dutch National Ballet, when, two weeks after Martin Luther King Jr.'s assassination, Mitchell called Shook with a proposal. In Shook's words, "Arthur called me and asked if I would come back to the States and join in the formation of a Black classical ballet company and an attendant school—in Harlem. I accepted without hesitation." Thus, Mitchell and Shook started teaching together at Harlem School of the Arts, later went on to co-found the school of the Dance Theatre of Harlem in February 1969.
Shook was a mentor to Mitchell, and he provided the experience that Mitchell needed to make Dance Theatre of Harlem a well-functioning school. Mitchell declared Shook to be "extremely important" to his DTH project and thought very highly of him, once saying that "there never has been the feeling that he was a white person working with Blacks; he was a person who believed that you could do something. This has been very important to all Black dancers in America." Shook, too, felt rewarded by and grateful for his time with Mitchell at Dance Theatre of Harlem; he believed that it was "the culmination of [his] own thirty years of work, in dozens of little studios, with black children."
Source:
Arthur Mitchell's Dance Theatre of Harlem: The Early Years, Columbia University Libraries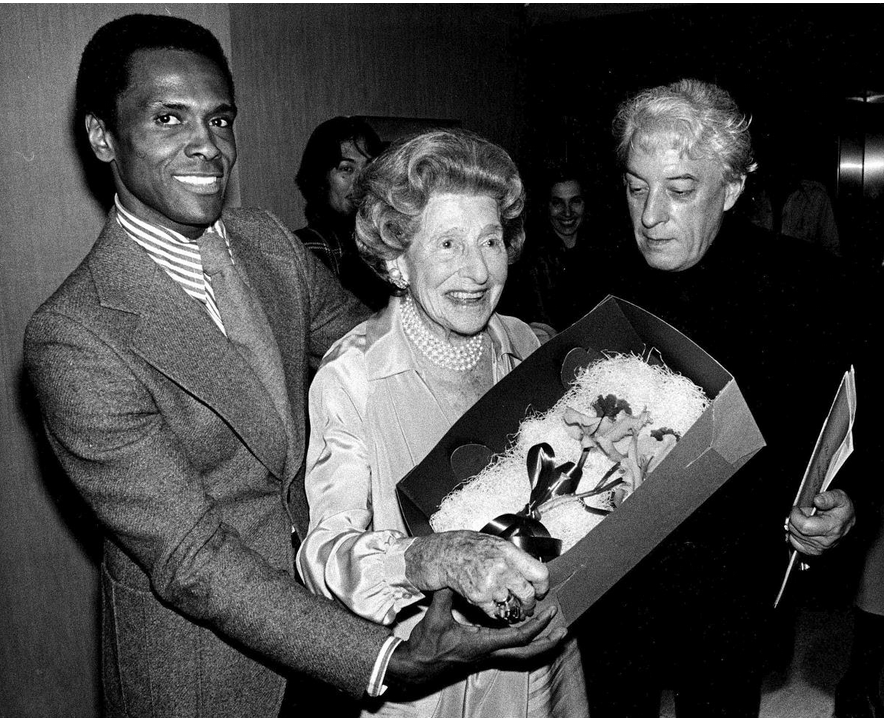 Dance Theatre of Harlem quickly outgrew Church of the Master. Luckily, thanks to help from friends and supporters, Mitchell found a solution that allowed him to build the organization and place it on a more secure footing. One Wednesday afternoon in 1971, the wealthy department store heiress and philanthropist Mrs. Alva B. Gimbel accompanied a friend to a DTH Open House. Afterward, she spoke to Mitchell, who recalled the conversation: "She said, 'These kids are fantastic, and you shouldn't be stuck in this basement. Look, if you need space I would like to help you, and if you want some help just let me know.' Well, you know that was the last thing to tell me." Soon afterward he learned of a building on 152nd Street between St. Nicholas and Amsterdam Avenues, not far from his mother's home. He contacted Mrs. Gimbel immediately, and together they went to check it out.
"It was $110,000 dollars, so Mrs. Gimbel said she would donate the money from her and her husband's Foundation, the Alva and Bernard F. Gimbel Foundation, to secure the two-story garage with basement building."
Source:
Arthur Mitchell's Dance Theatre of Harlem, Columbia University Libraries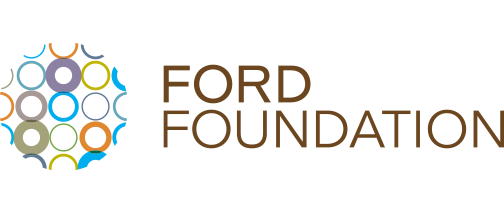 In 1970 Mitchell sought a grant from the Ford Foundation. "They said they couldn't give it to me because I was not a non-profit, tax-exempt organization, so I then asked if they would give it to the Harlem School of the Arts specifically for the dance program I was doing and they agreed. So that was my first grant."
Source:
Arthur Mitchell's Dance Theatre of Harlem, Columbia University Libraries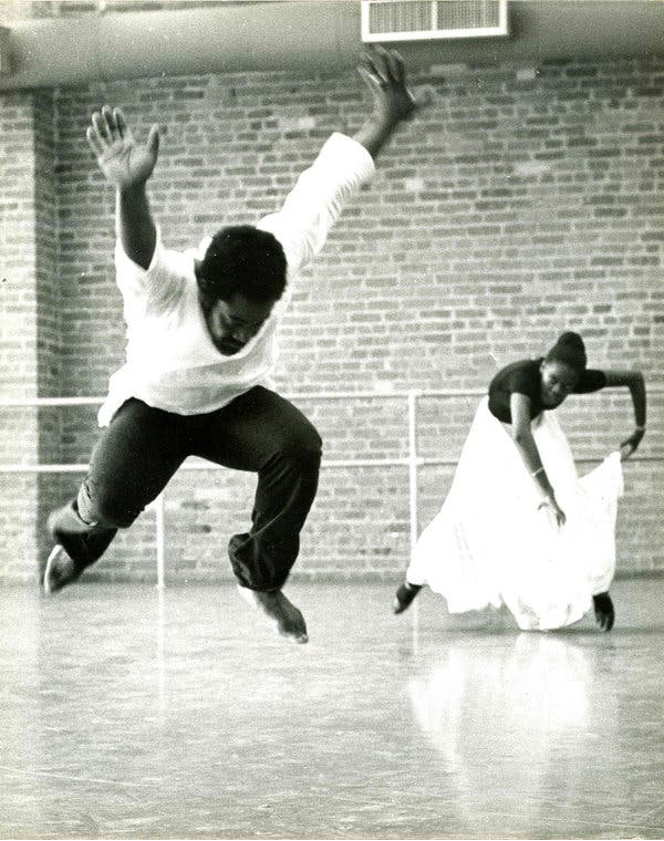 Louis Johnson was a genre-crossing dancer and choreographer for Dance Theatre of Harlem under Arthur Mitchell. He was mentored by George Balanchine and Jerome Robbins and studied with Katherine Dunham. In 1952, he performed with the New York City Ballet in Jerome Robbins' Ballade, and Robbins created the role in Afternoon of the Faun for Johnson. However, Balanchine was not ready for a mixed-race pas de deux, so Johnson was not cast for the role.
Johnson began choreographing in 1953, and over the years, he created several ballets for Dance Theatre of Harlem including its first signature work Forces of Rhythm in 1972.
In a 1975 New York Times interview, he says "very few blacks have had all the experiences I've had."
Source:
Excerpt from Louis Johnson, 90, genre-crossing dancer and choreographer, dies ~ Gia Koulas The Philadelphia Tribune:
One of his most famous pieces was "Forces of Rhythm," a signature work of Dance Theater of Harlem set to classical and contemporary music, including Tchaikovsky and Donny Hathaway.
The work "is a choreographic approximation of a quick turn of the radio dial," Jennifer Dunning of The Times wrote in a review of a Dance Theater performance of it in 1988. "But its staging is ingenious and its message heartfelt. One's roots must be acknowledged and honored."
Virginia Johnson, who is the artistic director of Dance Theater (and not related to Louis Johnson), said: "The story that he tells in 'Forces' was exactly what Dance Theater of Harlem was all about. He could bring together all those different languages in that one work to say, 'Yes, it belongs to us.'"
When he was choreographing the work, Johnson was demanding and exacting, Virginia Johnson said. "He was not like, 'You have to do this the way I told you to do it, exactly the way I told you to do it,'" she said. She added, "He didn't want you to parrot what he was doing. He wanted you to be painting inside the lines in the most beautiful colors that you could imagine."

In 1938 Franklin joined the Ballet Russe de Monte Carlo where he was premier danseur until 1952. Known as a quick study and for having an impeccable memory, Franklin also became the company's ballet master in 1944. In 1952, Franklin co-founded the Slavenska-Franklin Ballet with Mia Slavenska. A few years later he became the co-director of the Washington Ballet and then the co-founder and artistic director of the National Ballet of Washington DC.
Frederic Franklin staged Dance Theatre of Harlem's Creole Giselle, an act that earned him a Laurence Olivier Award. He based this production off of the Giselle he performed with Ballet Russe de Monte Carlo. The ballet starred Virginia Johnson and premiered at the London Coliseum in 1984. In setting the ballet, it was said that, "every step and gesture was correct but [Franklin] managed to refresh the old ballet and provide it with real dramatic focus" and that "Franklin's staging remained true to the choreography and plot of the original." He also staged Swan Lake for the company. After his success in this role, Franklin became one of the company's artistic advisors in 1989. DTH's first open house of their 2007/08 season was dedicated to Franklin. The event featured photos of Franklin's work and performed excerpts from his stagings of DTH ballets.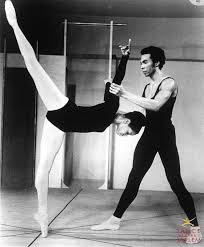 While Arthur Mitchell was a member of New York City Ballet, Llanchie Stevenson, a Black dancer previously at Alvin Ailey and Radio City Music Hall, auditioned for School of American Ballet and was accepted. She was not offered a role in the company, however, because Balanchine was not ready to have a woman of color in the company. Though Mitchell was in the company, a Black woman would, according to Balanchine, "break the corps line." She was however hired by Fredrick Franklin, the artistic director of the National Ballet of Washington (now called the Washington Ballet).
In 1966 Mitchell formed a company of twenty-six prominent African-American dancers to perform at the World Festival of Negro Arts in Dakar, Senegal from April 1 to 24. Stevenson was amongst them.
When Mitchell retired from New York City Ballet, he founded Dance Theatre of Harlem with Karel Shook, and looking for well trained dancers, he contacted Stevenson and asked her to join his company. She accepted, becoming the first principal dancer at DTH.
Balanchine and Kirstein, who mentored Mitchell, were actively interested in DTH, and the company's opening performance featured several of their works. The first Balanchine ballet to enter Dance Theatre of Harlem's repertoire was Concerto Barocco, with Llanchie Stevenson dancing one of the lead roles.
It is Stevenson who is credited with convincing Mitchell that the dancers should wear tights and shoes to match their skin colors. It is said that one day she wore a pair of dark brown tights under her leotard in rehearsal; upon seeing her Mitchell, remarked that it just looked "right." In 1972, while in Oslo on a European tour, the ballerinas debuted their brown tights and pointe shoes.
Source:
Ballet: Mitchell's Troupe, The New York Times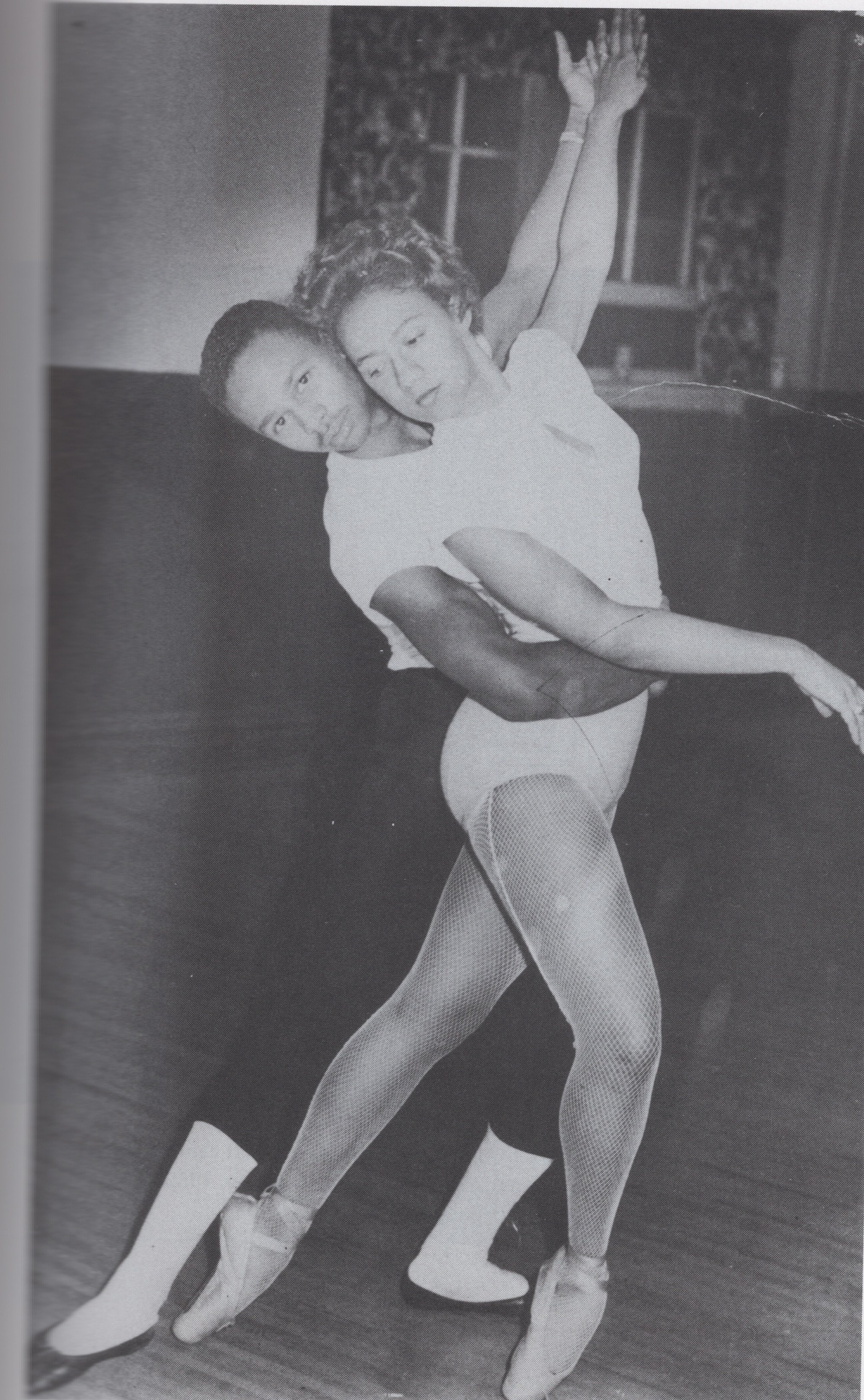 Upon returning from Europe and dancing with the Dutch National Ballet, Billy Wilson began to choreograph in various genres including Broadway productions. He created Bubbling Brown Sugar (1976); an all-Black revival of Guys and Dolls (1976); and Eubie (1978); he also choreographed for the children's television program ZOOM (1976-1981), for which he received an Emmy Award. Arthur Mitchell, a proponent of Black choreographers, enlisted Wilson to create pieces for the Dance Theatre of Harlem. He eventually choreographed several ballets for DTH, including Mirage (1979); Concerto in F (1986), which was first set on Alvin Ailey; and Ginastera (1991) as well as collaborating with Mitchell on Phoenix Rising (Work in Progress) in 1987.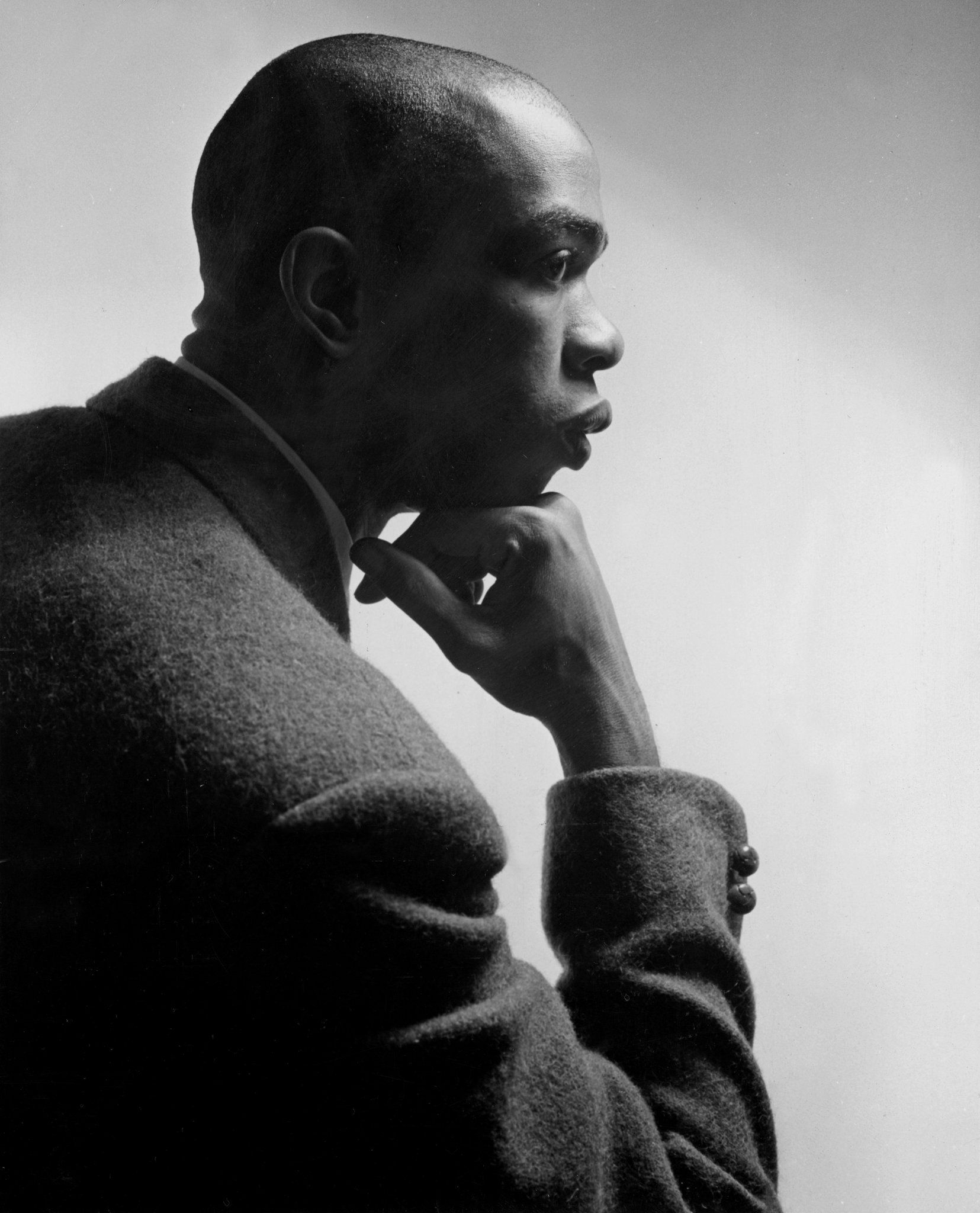 Legendary dancer, actor, and choreographer Geoffrey Holder created Dance Theatre of Harlem's classic work Dougla in 1974. The work would quickly usurp Louis Johnson's Forces of Rhythm to become the companies signature work. The late Holder drew on his Trinidadian heritage to create his masterpiece ballet Dougla—a marriage ceremony as pageant. A long-time company favorite, Dougla is performed with live music and all of its spectacle and glory. The word "Dougla" is used in Trinidad to refer to those of mixed South Asian and African descent.
The ballet begins before it begins; while the curtain is down, the dancers stand in place as the groom leads the prayer: I believe in God. Maker of Heaven and Earth, and Myself. The whole world stinks, but I am Lovely, I am gorgeous, I am Divine.
Holder created several other ballets that were performed by the company, including Belé (1973); Banda (1982), for which he also produced the music and costumes; and Songs of the Auvergne (1982), which starred Virginia Johnson and also featured costumes by Holder. He designed the scenery and costumes for John Taras' Firebird (1982) and Billy Wilson and Arthur Mitchell's Phoenix Rising (Work in Progress) (1987).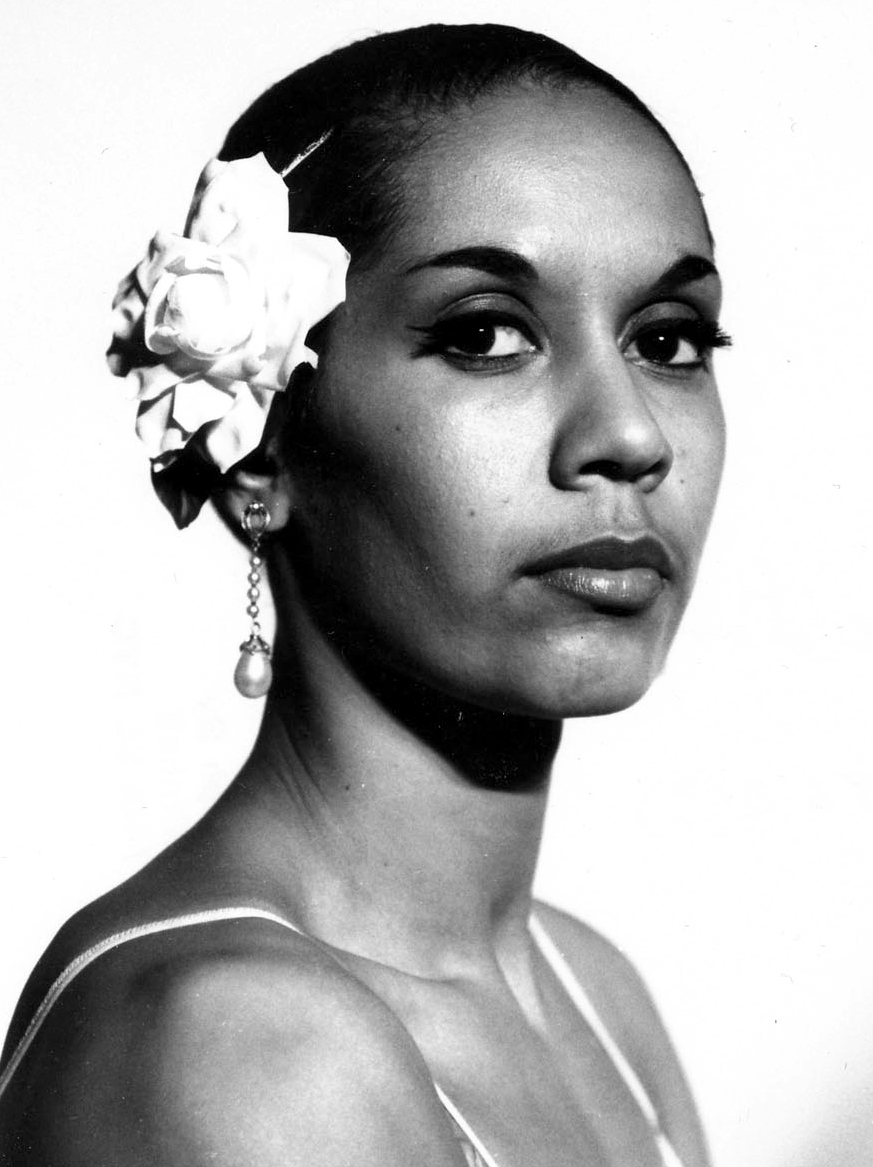 In addition to being a member of Lester Horton Dance Theater, the Metropolitan Opera Ballet, and other major companies, Carmen de Lavallade was enlisted by Arthur Mitchell to join the American Negro Dance Company. In 1966, the company, originally sponsored by the US State Department, was to perform pieces by such choreographers as Alvin Ailey and George Balanchine. Other members included
John Jones
,
Llanchie Stevenson
, and
Sara Yarborough
. Though the performance was cancelled, this endeavor secured de Lavallade a place in Mitchell's orbit. After de Lavallade began her successful career in choreography, she created
Sensemaya
for the Dance Theatre of Harlem in 1979. The original cast of the piece, which premiered at City Center in February of that year, included
China (Melva) Murray White
and
Karen Brown
. The ballet gathers inspiration from a Mayan creation myth.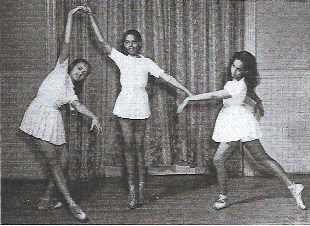 In 1965, Arthur Mitchell taught a Ford Foundation scholarship class once every three weeks at the Jones-Haywood School of Ballet, Washington DC. Tuition was paid for by the Ford Foundation, and Mitchell's stipend and expenses by the School of American Ballet. Private funds came from the Lena Robbins Foundation, Lincoln Kirstein, and Miles David.
The Jones-Haywood School has been a boon for Dance Theatre of Harlem over the years, training many of its dancers including Hinton Battle and Dionne Figgins, who began ballet lessons at the Georgia Avenue NW studio when she was six. Figgins says of her early mentor, "Miss Jones is very strict. She definitely pushed us very hard. She never made anything easy, and she let us know this is not an easy profession." Other JHDS alum include Damien Johnson and Lauri Fitz-Pegado.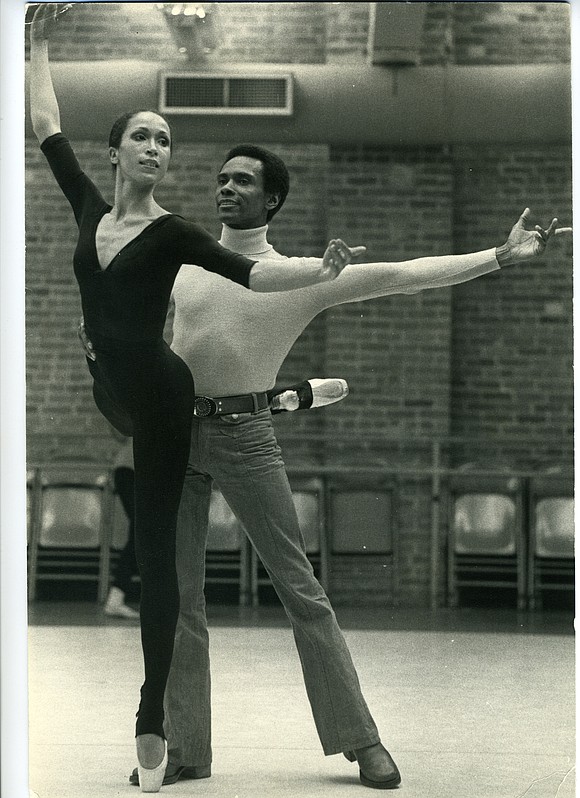 Virginia Johnson, the daughter of a naval architect father and a mother who taught physical education at Howard University, decided to "pursue this dream in the basement of a church in Harlem" after studying ballet with Therrell Smith, with Mary Day at the Washington School of Ballet, and at the Jones-Haywood School of dance. She was then admitted on scholarship to study at the dance department of New York University. 
Mitchell was a pioneering figure in the Black dance world, and his name lives on in various spheres, namely Dance Theatre of Harlem, now under the artistic leadership of Virginia Johnson.

From Ballet to Broadway and Black and Arthur Mitchell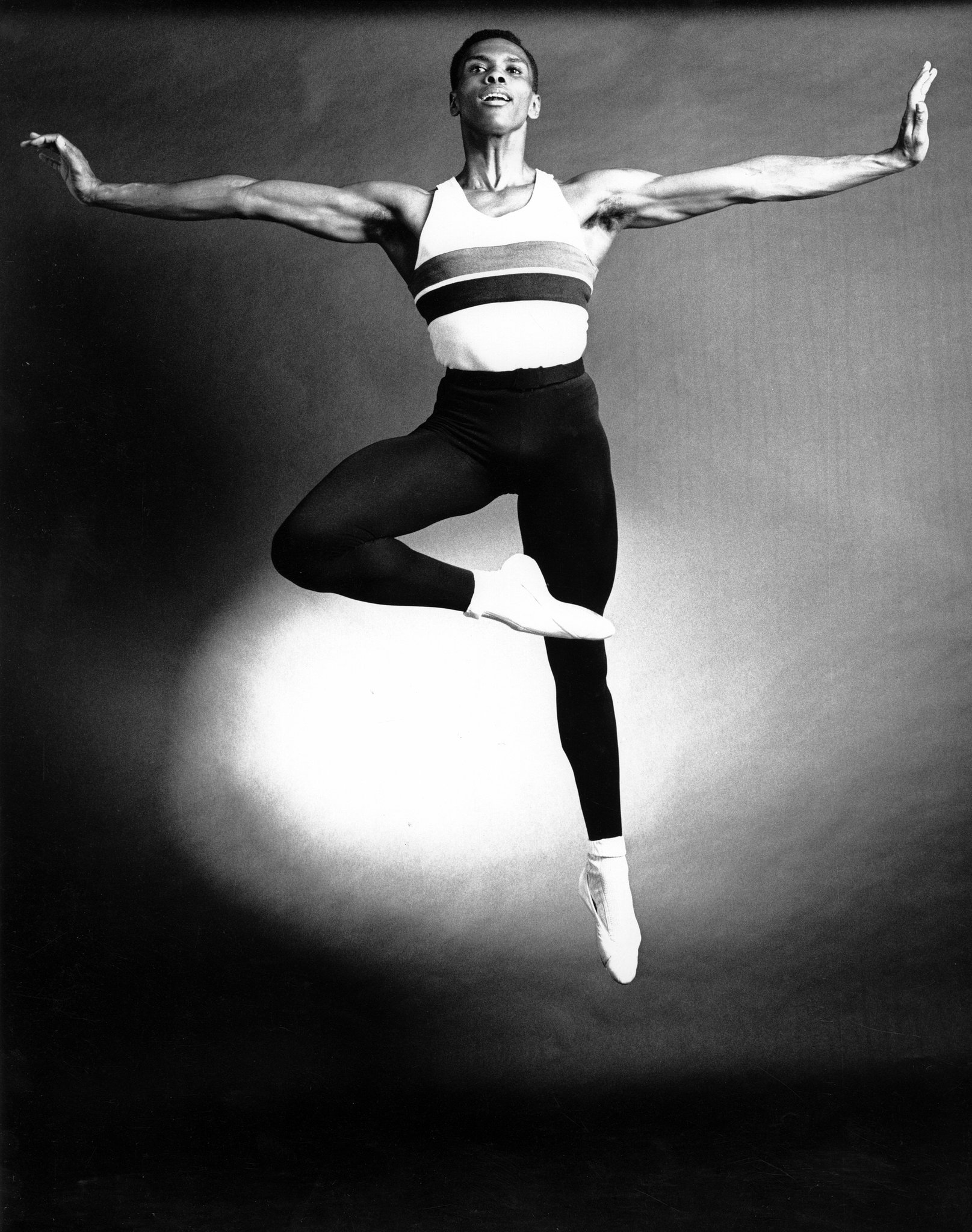 Arthur Mitchell was a prominent Black ballet dancer native to New York.  During his years as a student, Mitchell sought more opportunities and turned to Broadway. He performed in two popular Broadway shows: Virgil Thomas' Four Saints in Three Acts in 1952 and Harold Arlon's House of Flowers in 1954.
Sources:
Arthur Mitchell Biography, Wikipedia
Arthur Mitchell Obituary, Playbill
Arthur Mitchell, MoBBallet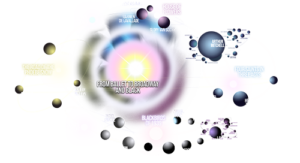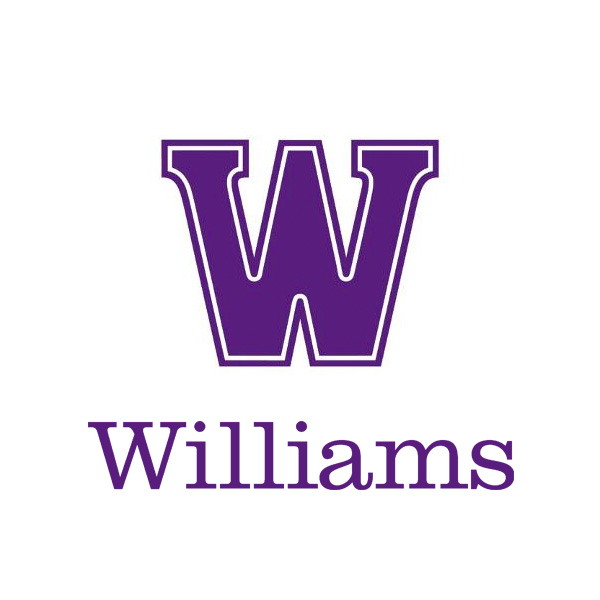 Aayushi Pramanik
MoBBallet: Madeline Crawford