1950
Arthur Bell dances in the world premiere of Frederick Ashton's Illuminations with New York City Ballet
Arthur Bell danced in the section "Being Beauteous" in the premiere of Frederick Ashton's Illuminations with the New York City Ballet on March 2, 1950.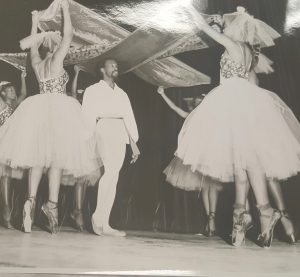 In "Being Beauteous" Arthur Bell danced alongside Tanaquil LeClercq, Dick Beard, Jacques d'Amboise, and Roy Tobias.
Sources: 
Illuminations Cast, The Frederick Ashton Foundation
See also:
Homeless NY Ballet Pioneer Reunited With Family After 40-Year Separation, Jet Magazine
---

Other Happenings in 1950
American History
Mar 8: The first woman medical officer is assigned to naval vessel (BR Walters).
Mar 14: FBI's "10 Most Wanted Fugitives" program begins.
May 25: Brooklyn Battery Tunnel opens in NYC.
Jun 30: US General MacArthur visits front in South Korea, asks for US troops.
Aug 11: Ethel Rosenberg testifies before grand jury on allegations of spying for the Soviet Union.
World History
Jan 26: India becomes a republic, ceasing to be a British dominion.
Feb 27: General Chiang Kai-shek is elected president of Nationalist China.
Jun 25: Korean conflict begins—North Korea invades South Korea.
Sept 19: UN rejects membership of the People's Republic of China.
Dec 16: US President Harry Truman proclaims state of emergency against "communist imperialism."
Dec 19: General Eisenhower is named NATO commander.
Dec 19: Tibet's Dalai Lama flees Chinese invasion.
Arts & Sciences
Elma Lewis founds Elma Lewis School of Fine Arts in Boston, MA.
Feb 15: Walt Disney's "Cinderella" is released.
Mar 27: Jazz pianist Erroll Garner's solo concert is performed, Cleve, OH.
May 1: Gwendolyn Brooks is first African American awarded the Pulitzer Prize for poetry.
Aug 8: Florence Chadwick swims English Channel (13:23).
Aug 10: Sunset Boulevard, starring William Holden and Gloria Swanson, premieres at Radio City Music Hall.
Sept 27: Dr. Ralph Bunche receives Nobel Peace Prize.
Sept 30: Radio's Grand Ole Opry is broadcasted on TV for first time.
Oct 2: First strip of Charlie Brown, Li'l Folks, later Peanuts, by Charles M. Schulz is published in nine papers.
Human & Civil Rights
Jan 15: 4,000 attend National Emergency Civil Rights Conference in Washington DC.
Apr 27: South Africa passes Group Areas Act, segregating races.
Jun 5: US Supreme Court undermines legal foundations of segregation.
Jun 23: Swiss parliament refuses voting right for women.
Sports
Jan 24: Jackie Robinson signs highest contract ($35,000) in Dodger history.
Jun 21: Joe DiMaggio gets his 2,000th hit.
Jul 19: NY Yankees obtain their first Black players, Elston Howard & Frank Barnes.
Aug 25: Sugar Ray Robinson KOs Jose Basora to win middleweight boxing title.