1966
Cleo Quitman performs with the Joffrey Ballet in Eugene Loring's These Three
The Joffrey Ballet presented These Three, based on the infamous murders of three civil rights workers in Mississippi. Clive Barnes thought These Three was a failure, though he commended Eugene Loring for addressing a highly-charged human rights issue through dance theater.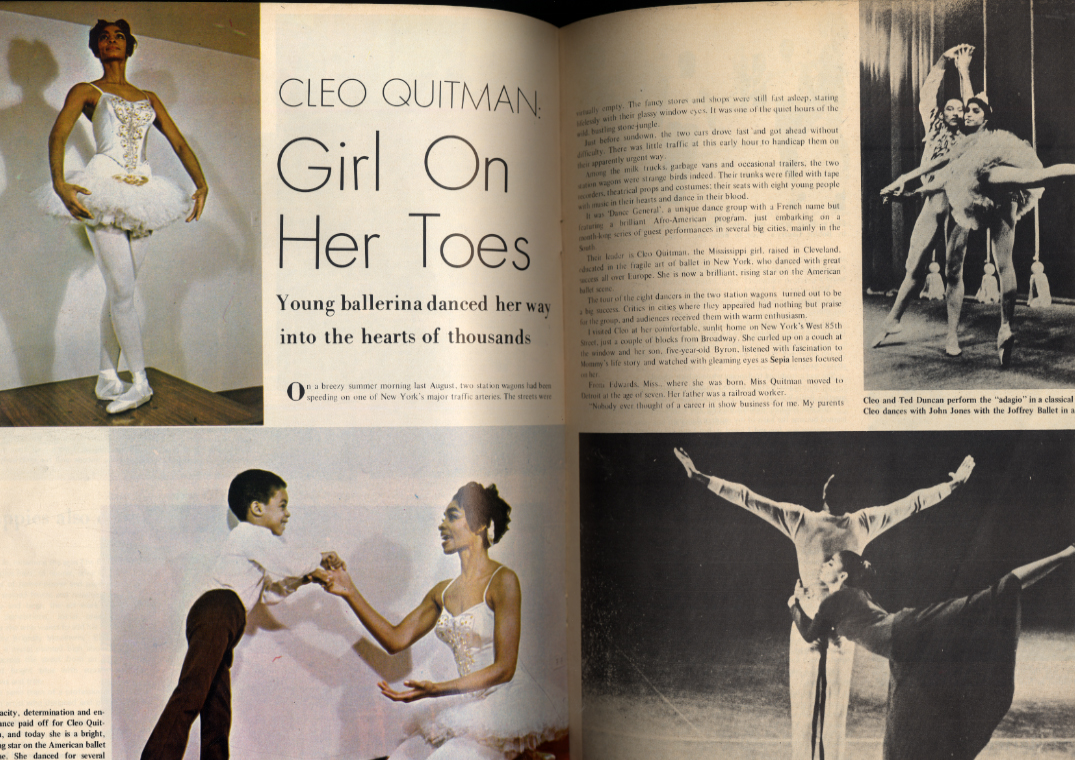 Cleo Quitman, a Detroit native, studied ballet with Sofia Tsouklas, who taught Black students privately. In 1954, at age 17, Quitman moved to New York with the hopes of studying at the School of American Ballet. Unable to attend SAB as she had arrived mid-semester, she began to study with Mattie Gabors and Alfredo Corvina at the Metropolitan Opera School. 
Sources:
Dancing Many Drums: Excavations In African American Dance, Thomas F. Defrantz
Classic Dance and Race: A Story Still Unfolding, New York Times

---
Elizabeth Ann Thompson joins Radio City Ballet Company
A "pioneer woman of color," Elizabeth Ann Thompson joins the Radio City Ballet Company.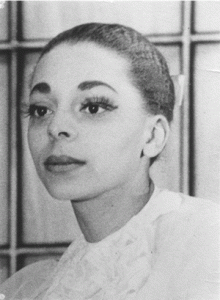 Harlem native Elizabeth Ann Thompson performed with Les Ballets Negres, Geoffrey Holder, and Louis Johnson before joining Radio City Ballet Company in 1966. She is considered a "pioneer woman of color in a predominantly white corps." 
It is said that Llanchie Stevenson (Alvin Ailey American Dance Theater, National Ballet of Washington, Dance Theatre of Harlem) was the first African American to join the corps de ballet at Radio City and Besty Ann Dickerson, who trained at Sydney King's school and performed in several Broadway productions, was another one of the first Black dancers with the company.
Sources:
Elizabeth Hubbard, 76, Dancer and Beloved Gardener, AMNY
Black Swans Shattering the Glass Ceiling, La'Toya Princess Jackson
See also:
Elizabeth Ann Thompson
Llanchie Stevenson
Besty Ann Dickerson
---
Other Happenings in 1966
American History
Jan 1: All US cigarette packs have to carry "Caution: Cigarette smoking may be hazardous to your health."
Jan 10: The Georgia House of Representatives votes 184-12 to deny Julian Bond his seat as a result of his opposition to the Vietnam War.
Jan 12: LBJ says US should stay in South Vietnam until communist aggression ends.
Jan 13: The first Black person is selected for presidential cabinet (LBJ selects Robert C. Weaver).
Feb 9: Dow-Jones index hits record 995 points.
May 9: A.F. Brimmer becomes the first Black member of Federal Reserve Board.
Nov 8: Movie actor Ronald Reagan is elected Governor of California.
Mar 16: Gemini 8 is launched with Armstrong & Scott, aborted after 6.5 orbits.
Mar 26: Large-scale anti-Vietnam War protests take place in the United States, including in New York, Washington DC, and Chicago.
Jul 4: LBJ signs Freedom of Information Act.
Sept 5: Jerry Lewis' first Muscular Dystrophy Labor Day telethon raises $1 million.
Sept 15: US President Lyndon B. Johnson, responding to a sniper attack at the University of Texas at Austin, writes a letter to the United States Congress, urging the enactment of gun control legislation.
Nov 8: Edward W. Brooke (Rep-R-Mass) becomes the first African American popularly elected to the US Senate.
World History
Jan 8: Georges Pompidou is re-appointed French Prime Minister and forms a new government.
Jan 10: India and Pakistan sign Tashkent Declaration peace accord.
Jan 12: Three British Members of Parliament are attacked in a hotel in Salisbury, Rhodesia (now Harare, Zimbabwe).
Jan 15: The First Nigerian Republic is overthrown in a military coup.
Jan 19: Indira Gandhi is elected India's forth Prime Minister.
Jan 31: USSR launches Luna 9 towards the Moon.
Feb 2: Pakistan suggests a six-point agenda with Kashmir dispute as number one item for the proposed Indo-Pak ministerial talks after the 1965 war. 
Feb 3: The first soft landing on Moon occurs (Soviet Luna 9).
Feb 24: Coup ousts President Kwame Nkrumah of Ghana.
Feb 25: Syrian military coup under General Hafiz al-Assad occurs. 
Mar 1: Ba'ath-party takes power in Syria.
Mar 8: An IRA bomb destroys Nelson's Column in Dublin.
Mar 11: Military coup led by Indonesian Gen Suharto breaks out.
Mar 31: Labour Party under Harold Wilson wins British parliamentary election.
Apr 21: Ethiopian Emperor Haile Selassie visits Kingston, Jamaica.
Apr 28: OCAM, Common Afro-Mauritian Organization forms.
May 26: Buddhist sets himself on fire at US consulate in Hue, South Vietnam.
May 26: Guyana (formerly British Guiana) declares independence from UK.
Sept 8: The Severn Bridge is officially opened by Queen Elizabeth II.
Sept 30: Botswana (formerly Bechuanaland) gains independence from Britain.
Arts & Sciences
Jan 12: Batman, starring Adam West as Batman, Burt Ward as Robin, and Cesar Romero as The Joker, debuts on ABC.
Jan 14: David Bowie releases his first single "Can't Help Thinking About Me."
Jan 19: Musical Sweet Charity, by Neil Simon, Cy Coleman, and Dorothy Fields, premieres.
Jan 30: Dmitri Shostakovich completes his 11th string quartet.
Mar 4: John Lennon says "We [the Beatles] are more popular than Jesus."
Mar 15: The eighth Grammy Awards—Taste of Honey, Tom Jones, Frank Sinatra & Barbra Streisand win.
Apr 1: The first world festival of Black art his held (Dakar, Senegal).
Apr 11: Frank Sinatra records "Strangers in the Night," a single for his album of the same name.
Apr 28: 38th Academy Awards — The Sound of Music, Julie Christie & Lee Marvin win.
May 1: Last British concert by Beatles (Empire Pool in Wembley).
Jun 10: Janis Joplin's first live concert (Avalon Ballroom in SF).
Jul 25: Supremes release "You Can't Hurry Love."
Sept 8: Star Trek premieres on NBC.
Sept 16: Metropolitan Opera House opens in Lincoln Center, New York.
Oct 12: Jimi Hendrix Experience forms with Jimi Hendrix, Noel Redding, and Mitch Mitchell.
Nov 20: Cabaret opens at Broadhurst Theater NYC for 1166 performances.
Dec 18: Dr. Seuss' How the Grinch Stole Christmas airs for first time on CBS.

Human & Civil Rights
Jan 17: Martin Luther King Jr. opens campaign in Chicago.
Mar 15: Racial riots erupt in the Watts section of Los Angeles.
May 13: US Federal education funding is denied to 12 school districts in the South because of violations of the 1964 Civil Rights Act.
Jun 1: 2,400 people attend White House Conference on Civil Rights.
Jun 6: Activist James Meredith is wounded by white sniper in Mississippi.
Jun 13: US Supreme Court's Miranda decision—suspects must be informed of rights.
Jul 5: National Guard mobilizes in Omaha after third night of rioting.
Jul 12: Race riot occurs in Chicago.
Aug 5: Martin Luther King Jr. is stoned during Chicago march.
Aug 7: Race riot occurs in Lansing, Michigan.
Aug 27: Race riot occurs in Waukegan, Illinois.
Sept 6: Race riot occurs in Atlanta, Georgia.
Oct 15: Black Panther Party is created by Huey P. Newton and Bobby Seale.
Nov 20: Men in Zurich vote against female suffrage.
Sports
Jan 12: Red Auerbach wins his 1,000th game as coach of NBA Boston Celtics.
Feb 11: SF Giant Willie Mays signs highest contract: $130,000 per year.
Feb 14: Wilt Chamberlain breaks NBA career scoring record at 20,884 points.
Apr 11: 30th Masters Golf Tournament—Jack Nicklaus wins, shooting a 288.
Apr 11: Emmett Ashford becomes first Black major league umpire.
Apr 18: Bill Russell becomes first Black coach in NBA history (Boston Celtics).
Apr 19: Roberta Gibb becomes first woman to run in the Boston Marathon.
Apr 26: Red Auerbach retires as Boston Celtic's coach.
May 21: Muhammad Ali TKOs Henry Cooper in 6 for heavyweight boxing title.
May 25: Peru & Argentina soccer fans fight in Lima; 248 die.
Jul 2: 73rd Wimbledon Women's Tennis Singles—Billie Jean King (Miss Moffat) beats Maria Bueno (6-3 3-6 6-1).
Jul 9: 95th British Golf Open—Jack Nicklaus shoots 282 at Muirfield Gullane to become only the forth person in history to win all four majors.
Jul 25: Mao Zedong swims the Yangtze River.
Aug 6: Muhammad Ali KOs Brian London in 3 for heavyweight boxing title.