1998 
Carlos Acosta joins Royal Ballet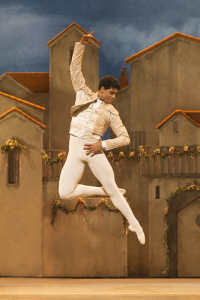 In 1998, Carlos Acosta left the Houston Ballet to join The Royal Ballet of London as a principal dancer under the direction of Anthony Dowell. He became a Principal Guest artist with the company in 2003 and is known for his roles as Seigfried (Swan Lake), Albrecht (Giselle), The Prince (The Nutcracker), Des Griex (Manon), Prince Florimund (The Sleeping Beauty), Basilio (Don Quixote), and Apollo. Though Acosta left the company in 2016 he has created an original work titled Carmen and staged Don Quixote for the company and returns as a Principal Guest Repetiteur.
Born in Havana in 1973, Carlos trained at the National Ballet School of Cuba with many of its most influential teachers, including Ramona de Sáa. From 1989 to 1991 Carlos performed throughout the world, guesting with several companies including the Compagnia Teatro Nuovo di Torino in Italy, where he danced alongside Luciana Savignano. He was invited by Ben Stevenson to dance as Principal with the Houston Ballet between 1993 and 1998. Here he made his American stage debut as the Prince in The Nutcracker. Following this, his repertory with the Houston Ballet included Prince Siegfried in Swan Lake, Solor in La Bayadère, Basilio in Don Quixote, Stevenson's Britten Pas de Deux, the male lead in Harald Lander's Etudes, Jiri Kylian's Symphony in D and the Chosen One in The Rite of Spring.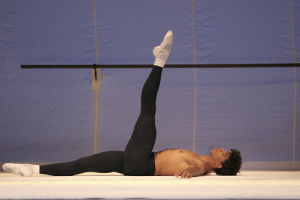 See: Carlos Acosta
Rubinald Rofino Pronk Joins Dutch National Ballet as a Soloist at Age 16
Rubinald Rofino Pronk joined the Dutch National Ballet at 16 years old after training at the Royal Conservatory of Dance. Pronk danced for the company as a soloist until 2006.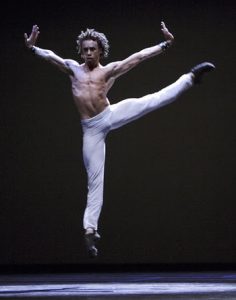 Pronk was born and raised in The Hague, Netherlands. After leaving Dutch National Ballet in 2006, he joined Dwight Rhoden and Desmond Richardson's Complexions Contemporary Ballet in New York City, where he toured extensively and performed works by Dwight Rhoden and Ulysses Dove.
In 2008 he co-founded "Jacoby & Pronk," with Drew Jacoby. Pronk was awarded the Alexandre Radius Prize for the best dancer of Holland and in 2000 he won the Encouragement prize from Dansersfonds '79. He holds two nominations for the VSCD "Silver Swan" award for best performance of the year.
Other Happenings in 1998
Dance/Ballet
 Misty Copeland wins first place in the prestigious Los Angeles Spotlight awards in 1998 at the age of 15.
American
Jan 1: All California bars, clubs & card rooms must be smoke-free
Feb 6: Washington National Airport is renamed Ronald Reagan National Airport
Feb 26: Oprah Winfrey found not guilty in beef defamation trial brought by Texas cattlemen
Oct 8: US House of Representatives votes to begin impeachment hearings against President Bill Clinton on charges of lying about his affair with Monica Lewinsky
Dec 19: resident Bill Clinton Impeached for perjury and obstruction of justice.
January 18: Now an annual observance, the New York Stock Exchange closed, for the first time, in honor of the birthday of Dr. Martin Luther King, Jr..
World
April 10: The United Kingdom, Republic of Ireland, and Northern Ireland sign the Good Friday Agreement, also known as the Belfast Agreement,
June 1:The European Central Bank is Established in Frankfurt Germany

Jul 5

:Japan launches a probe to Mars, joining the United States and Russia as an outer space-exploring nation.
Arts and Sciences
Jan 7:  The new Encarta Africana contained 3,000 scholarly articles on black culture and history as part of a 2-CD ROM set by Microsoft. It included a timeline that combines events in Africa and America.
Jan 18 55th Golden Globes: "Titanic", Peter Fonda, & Judi Dench win
Jan 28: Michelangelo's "Christ & the Woman of Samaria" sold for $7.4 million
Jan 30: Howard Stern Radio Show premieres in Indianapolis IN on WNAP 93.1 FM
Feb 18: Andrea Bocelli makes his operatic debut as Rodolfo in "La bohème" at the Teatro Comunale in Cagliari
Feb 22: "King & I" closes at Neil Simon Theater NYC after 781 performances
Mar 2: Data sent from the Galileo spacecraft indicates that Jupiter's moon Europa has a liquid ocean under a thick crust of ice
Mar 23 70th Academy Awards: "Titanic", Jack Nicholson & Helen Hunt win
Aug 25: "The Miseducation of Lauryn Hill" debut album by Lauryn Hill is released (5 Grammy Awards including Album of the Year, Billboard Album of the Year 1998)
Sept 7: The search engine Google is founded and incorporated as a private company in Menlo Park, California by Larry Page and Sergey Brin.
Oct 20: Comedian Richard Pryor is awarded the 1st ever Mark Twain Prize for American Humour
Human and Civil Rights
January 15: Civil rights veteran James Farmer was one of 15 men and women awarded the Medal of Freedom from President Clinton. Born in Marshall, Texas, he was the national director of the Congress of Racial Equality during the 1960s and was one of the most influential leaders of the civil rights movement throughout its most turbulent decade
 Feb 21: Julian Bond was elected chairman of the 64-member board of the NAACP.
Apr 23: James Earl Ray died at a Nashville hospital at age 70. He was the ex-convict who confessed to assassinating the Rev. Martin Luther King Jr. in 1968 and then insisted he was framed.
Jul 13: A jury in Poughkeepsie, N.Y., ruled that the Rev. Al Sharpton and two others had defamed a former prosecutor by accusing him of raping Tawana Brawley. Steven Pagones won a $345,000 judgment.
Sep 2: United Nations court finds Jean-Paul Akayesu, the former mayor of a small town in Rwanda, guilty of 9 counts of genocide. It is the first time that the law against genocide has been enforced.
Nov: The European Court of Human Rights (ECHR) is established as a permanent fixture
Nov 9: Britain abolishes the death penalty.
Sports
Jan 6: Barry Switzer resigns as Dallas Cowboy coach
Jan 11: US female Figure Skating championship won by Michelle Kwan
Jan 23: Michael Jordan scores in double figures for 800th consecutive game in a 100-98 OT win over New Jersey; adds 40 more double-figure scoring games to his NBA record before retiring for the second time (1998)
Jan 31: Australian Open Women's Tennis: Switzerland's Martina Hingis retains her title; beats Conchita Martinez of Spain 6-3, 6-3 for 5th Grand Slam title
Feb 20: Tara Lipinski wins Olympic figure skating gold medal
September 21: Track star Florence Griffith Joyner died at the age of 38. In the 1988 Seoul Olympic Games, Griffith became the first American woman to win four track and field medals — three gold and one silver — in one Olympic competition.