1971
Debra Austin joins New York City Ballet at the age of 16
Debra Austin began dancing when she was eight years old. At the age of 12, she was awarded a scholarship to dance at the School of American Ballet in New York City. While a student at SAB, she attended the Professional Children's School for academics. She was handpicked by George Balanchine at age 16 to join New York City Ballet, officially becoming the company's first African American female dancer. Austin was later hired as a principal dancer with Pennsylvania Ballet.
See also:
Sara Yarborough Smith leaves Harkness Ballet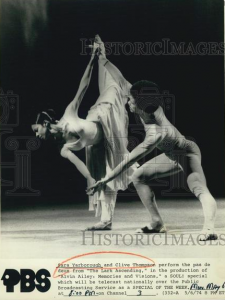 In 1971, Sara Yarborough left the Harkness Ballet company after four years. She then danced with the Alvin Ailey American Dance Theater for another four years.
Sara Yarborough (b.1950) was raised and trained as a dancer by her mother Lavinia Williams in New York and Haiti. From 1967 to 1971, Yarborough Smith danced with Harkness Ballet, a company created by Rebekah Harkness. There, she performed new works by notable choreographers including Agnes de Mille and Brian McDonald. After leaving Harkness, she went on the dance with the Alvin Ailey American Dance Theater for a total of five years: 1971-1975 and 1977.
With Ailey, Yarborough was often a featured ballerina in pieces like in Portrait of Billie, which was about the life of Billie Holiday.
From 1975-1976, Yarborough danced with Joffrey Ballet company.
"Haitians aren't conscious of themselves when they dance," Yarborough explained to People in 1974. "While dancing, I get completely possessed, I feel it coming the night before. It starts coming and you can't remember what you did." 
---
DTH gives its first performance in 1971 at the Solomon R. Guggenheim Museum in New York
On January 8th of 1971, Dance Theatre of Harlem gave its debut performance in New York at the Solomon R. Guggenheim Museum, performing Arthur Mitchell's choreography.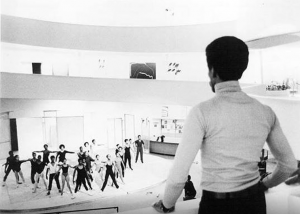 When the company was looking for a place to perform for a mixed audience, "the Guggenheim opened up its doors and presented this performance in 1971," said Duke Dang, the general manager of Works & Process.
The company presented Tones, Rhythmetron, and Fête Noire, all choreographed by Arthur Mitchell. The dancers were Lydia Abarca, Olinda Davis, Yvonne Hall, Virginia Johnson, Pamela Jones, Susan Lovelle, Gayle McKinney, Cassandra Phifer, Patricia Ricketts, Sheila Rohan, Ronda Sampson, Roslyn Sampson, Llanchie Stevenson, Gerald Banks, Homer Bryant, Lazar Dano, Clover Mathis, Edward Moore, Ronald Perry, Walter Raines, William Scott, Samuel Smalls, Rodney Swan, and Derek Williams.
Sheila Rohan, a former DTH member, said of the performance, "Mr. Mitchell rehearsed us to death for that performance. He kept saying, 'You're special. This is something the world hasn't seen so it's got to be right. You have to put your best foot forward.'"
Source:
Arthur Mitchell's Dance Theatre of Harlem: The Early Years, Columbia University Libraries
---
Balanchine and Mitchell co-choreograph Concerto for a Jazz Band and Orchestra
On May 6th, for the first and only time in history, Arthur Mitchell and George Balanchine co-choreographed Concerto for Jazz Band and Orchestra, a piece to be presented and performed once for a gala benefit with "Doc" Severinsen and the Tonight Show Orchestra.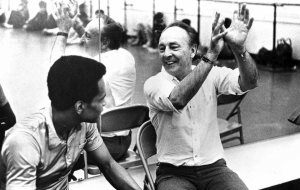 Arthur Mitchell and George Balanchine co-choreographed Concerto for Jazz Band and Orchestra, which was set to the music of the Swiss composer Rolf Lieberman. Ronald Bates was the lighting designer.
Dance Theatre of Harlem and New York City Ballet performed jointly on a guest engagement, which offered an unprecedented collaboration coupled with a platform for the emerging Harlem-based company.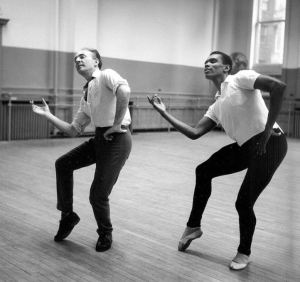 ---
Other Happenings in 1971
Ballet/Dance History
Feb 17: The Royal Ballet premieres Nicholas Grigorievich Sergeyev's reproduction of Swan Lake.
May 27: NYCB premieres the Goldberg Variations, choreographed by Jerome Robbins.
Sept 8: The John F. Kennedy Center for the Performing Arts opens.
Hans de Roo becomes the intendant at Dutch National Ballet.
American History
Jan 2: Cigarette advertisements are banned from radio and television.
Mar: The twenty-sixth amendment is ratified, giving eighteen-year-olds the right to vote.
Jun 13: The New York Times starts publishing the Pentagon Papers, government secrets about the Vietnam War.
Oct 1: Walt Disney World opens in Orlando, Florida.
World History
Feb 7: Switzerland gives women the right to vote in certain state elections.
Feb 11: The US, UK, USSR and others sign the Seabed Treaty, banning nuclear weapons in the ocean.
Jun 11: Neville Bonner becomes first Indigenous Australian to sit in the Australian Parliament.
Aug 18: Australia and New Zealand withdraw their troops from Vietnam.
Oct 14: Greenpeace is founded in Vancouver, Canada.
Arts & Sciences
Mar 16: Muddy Waters, the Chicago blues musician, wins his first Grammy Award.
Apr 6: Notable composer Igor Stravinsky passes away from heart failure.
May 3: National Public Radio starts broadcasting.
Jun 1: Ed Sullivan's last show on CBS airs.
Oct 8: John Lennon releases "Imagine."
Dec 16: Don McLean's "American Pie" is released.
Ray Tomlinson sends the first email using the @ symbol.
Human & Civil Rights
Jan 12: The Congressional Black Caucus is formed; Charles C. Diggs, Jr. is named the first chair.
Jul 1: Washington State becomes first state to ban discrimination based on sex.
Jul: Beverly Johnson is the first African-American featured on the cover of Glamour magazine.
Dec 18: Reverend Jesse Jackson organizes People United to Save Humanity in Chicago.
Johnson Products is the first company by and for African Americans to be listed in the US stock exchange.
The Association for Intercollegiate Athletics for Women is founded.
Sports
Feb 9: Leroy "Satchel" Paige is the first African American from the Negro Baseball League to be inducted into the Baseball Hall of Fame.
Mar 8: Joe Frazier beats Muhammad Ali at Madison Square Garden.
Jun 28: The US Supreme Court overturns the draft conviction of Muhammad Ali.
Dec 1: Ernie Banks becomes a coach of the Chicago Cubs.