1974
Anthony Bassae co-founds the Trockadero de Monte Carlo
In 1974, Anthony Bassae co-founded Les Ballet Trockadero de Monte Carlo, an all-male drag ballet company in New York City.
Arlene Croce, dance critic of the New Yorker,  praised Les Ballet Trockadero de Monte Carlo as "dead on target and hilarious" and describes co-founder and member of the troupe, Anthony Bassae, as "a great ballerina."
Source:
Can Men Make It In a Women's World?, Tobi Tobias, The New York Times 1975
---

Dance Theatre of Harlem debuts flesh-tone tights and shoes
Dance Theatre of Harlem first debuted flesh-tone tights and shoes in 1974 in Oslo Norway on the back leg of a European tour.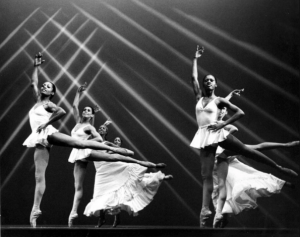 Dance Theatre of Harlem first debuted flesh-tone tights and shoes Oslo Norway on the back leg of their 1974 European tour. Virginia Johnson recalls that the company started the tour in the UK wearing pink tights and ending it back in the UK (by popular demand) in brown tights and shoes.
Dancer Llanchie Stevenson was the catalyst: From her first days in the company, she consistently implored Arthur Mitchell to allow them to wear tights and shoes that matched their skin color. Stevenson explains, "One day I noticed that my arms were a different color than my legs, I thought that I looked so disjointed. I started wearing brown tights over my pink tights." Mitchell liked it so much he decided that all dancers had to wear tights to match their skin. The decision was a declaration of ownership of the art form, and a redefinition of classism.
Source:
Is Ballet Ready fof Fleshtone Tights?, Theresa Ruth Howard, Dance Magazine 2018
---
Other Happenings in 1974

Ballet/Dance History
Apr 16: Dance Theatre of Harlem performs Geoffrey Holder's iconic Dougla for the first time at the ANTA Theatre in New York City. In addition to the choreography, Holder designed the costumes. This premiere featured principal dancers Karen Wright, Sheila Rohan, William Scott, Ronda Sampson, Gayle McKinney, Brenda Garrett-Glassman, Roman Brooks, and Homer Bryant.
Jun 29: Soviet dancer Mikhail Baryshnikov defects from the Kirov Ballet company while on tour in Canada.
Jun 21: That's Entertainment, directed by Gene Kelly, is produced by MGM.
Sept 2: Merrill Brockway directs a program on Merce Cunningham within the television series, Camera Three.
The New York City Ballet performs for the first time at the John F. Kennedy Center for the Performing Arts in Washington DC.
American History
Jan 2: President Nixon imposes 55 MPH speed limit.
Jan 4: President Nixon refuses to give up the Watergate tapes.
May 2: Former US Vice President Spiro Agnew is disbarred and prohibited from practicing law.
Jun 26: The Universal Product Code is first used to sell a package of Wrigley's Gum in Ohio.
Aug 9: Richard Nixon resigns as US President, and Gerald Ford is sworn in as the 38th President.
Sept 28: President Ford pardons Richard Nixon of all federal crimes.
Nov 21: The Freedom of Information Act is passed by Congress over President Ford's veto.
World History
Mar 9: The last Japanese soldier surrenders 29 years after WWII ended.
Mar 29: Chinese farmer finds the 8,000 terra cotta warriors guarding the tomb of Emperor Qin Shi Huang.
May 18: India becomes the sixth nation to explode an atomic bomb.
July 1: Argentinian President Juan Peron dies, and his wife, the vice president, becomes the first female in the world to ever hold the title of "President."
Dec 22: The second cease-fire between Britain and the Provisional Irish Republican Army lasts until April 1975.
Arts & Sciences
Jan 12: The song "Joker" by the Steve Miller Band peaks at #1.
Jan 15: Happy Days starts an 11-year run on ABC.
Jan 25: Christiaan Barnard performs the first heterotopic heart transplant, also known as the "piggyback transplant," where the donor heart is added without the removal of the original heart.
Feb 27: People magazine is first published.
Jun 1: The Heimlich Maneuver is published in the Emergency Medicine journal.
Jun 23: Earth sends the first message into space, directed at extraterrestrials.
Nov 16: ABBA starts first European tour, their first tour outside of Sweden.
Human & Civil Rights
Jul 29: The Episcopal Church ordains its first female priests.
Oct 9: Frank Robinson is hired by the Cleveland Indians as the first Black baseball team manager.
Oct 9: Race riots in Boston occur because of busing desegregation.
Oct 29: Discrimination based on gender or marital status in credit applications is banned by law.
Sports
Mar 26: George Foreman TKOs Ken Norton in the second round for the heavyweight boxing title.
Apr 6: Yankees play their first game in Shea Stadium.
Apr 8: Hank Aaron hits his 715th home-run, beating Babe Ruth's record. His career total is 755.
May 4: The 100th Kentucky Derby takes place.
Aug 7: Philippe Petit tightrope walks between the Twin Towers.
Oct 18: Nate Thurmond is the first NBA player to achieve a quadruple-double: 22 points, 14 rebounds, 13 assists, and 12 blocks.
Oct 30: Muhammad Ali KOs George Foreman in the eighth Round of The Rumble in the Jungle.