1960
The Philadelphia School of Dance Arts is founded in Philadelphia, Pennsylvania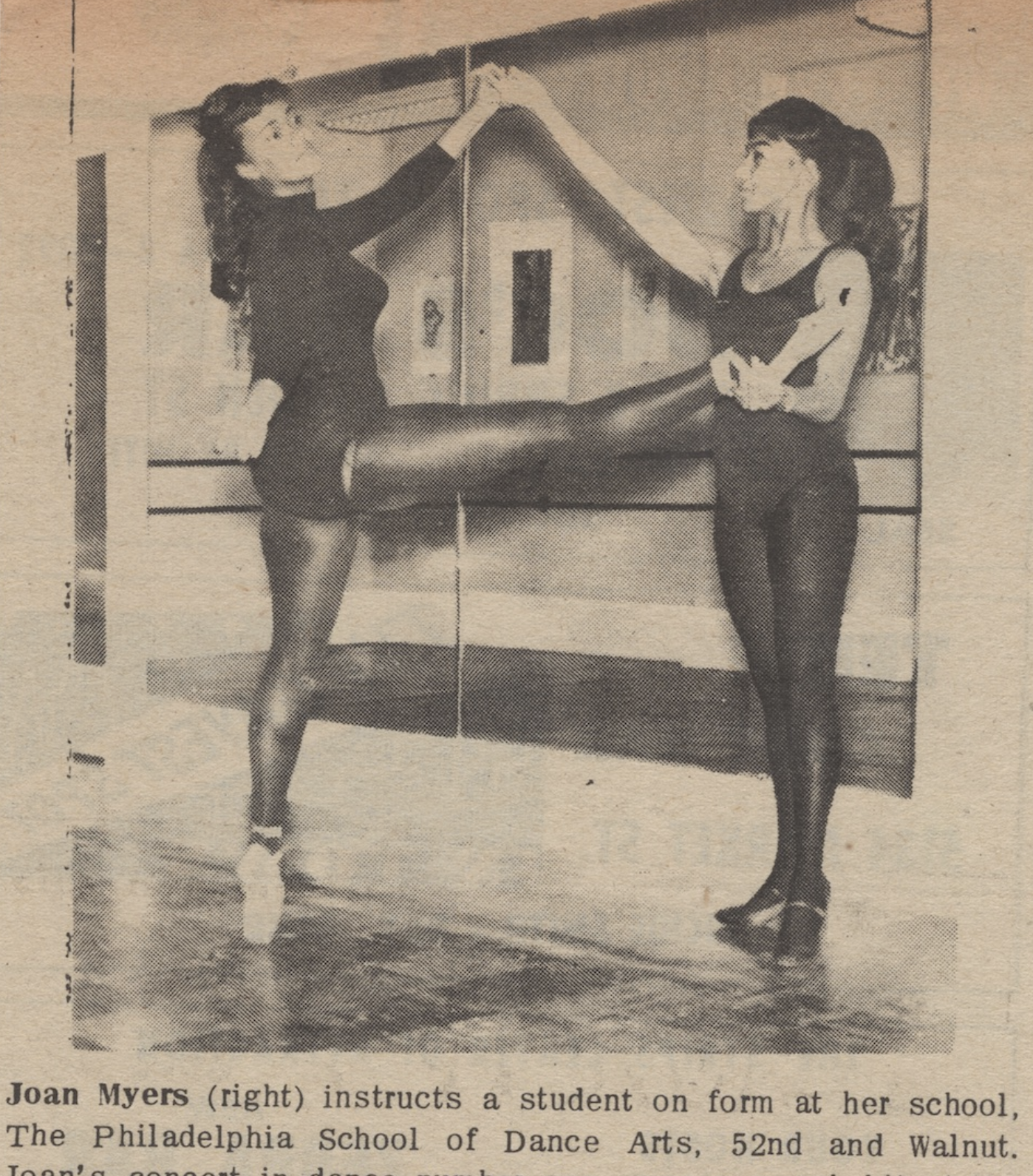 Joan Myers Brown receives help from Marion Cuyjet to begin her own dance studio, which is still an active and crucial part of the Philadelphia arts scene. 
Joan Myers Brown established her Philadelphia School of Dance Arts in 1960, and the school has served as a staple of the city for over 60 years now. Brown continues to carry on the legacy of her teachers and mentors—Sydney King and Marion Cuyjet. As a student, Brown worked various jobs at her dance schools, acquiring prior knowledge of running a business and studio. Though it was King who Brown studied with after the King and Cuyjet parted ways, Brown had to turn to Cuyjet for support starting her school:
I went to Miss Cuyjet. She opened her books to me and told me the things that I should do to have a school of my own. That was surprising because I wasn't her student. She was the only other person I knew that had a dance school in the black community. I [asked] her, "What do you do?" I knew what I did at Sydney's, but I wanted to know what she did and she showed me how she kept her books. She showed me what she did. I knew some things about production from working in show business, so I just used what I knew and what I could gather from them and kept moving.
The Philadelphia School of Dance Arts is recognized as a studio where students grow as dancers and people.
Source:
And Still They Rose: Joan Myers Brown, MoBBallet

---
Thaddeus Hayes founds Thaddeus Hayes Dance Theatre in Norfolk, Virginia
After training through his college years and at the Katherine Dunham School, Thaddeus Hayes began his teaching career and established his own school. 
Born ca. 1928 and raised in North Carolina, Thaddeus Hayes moved to Newport News, Virginia in 1939. Hayes graduated from Huntington High School in 1943 and attended Hampton Institute, planning on becoming a doctor. But it was at the university that Hayes discovered his love for dance—he performed with the Hampton Institute Dance Group for the four years he spent there. Determined to pursue dance, he moved to New York and earned a scholarship to the Katherine Dunham School of Dance. 
Continuing his studies in science, Hayes attended the University of Illinois for graduate school. But he was then invited to join the Lester Horton Dance Group, where he remained for nine years.* On the West Coast, he also studied in San Francisco with Ann Halprin. 
Hayes returned to Newport News, teaching science at Norcom High School in Portsmouth and dance at various schools. As the founder and director of the Thaddeus Hayes Dance Theatre, he mentored many young Black dancers.
Hayes was the recipient of several awards for his "outstanding dance instruction" from the Portsmouth School Board, the mayor of Portsmouth, the citizens of Portsmouth, and Norfolk State University. 
Hayes passed away on April 26, 2000 at the age of 72. On the anniversary of his death nine years later, the Downing-Gross Cultural Arts Center in Newport News dedicated a dance studio in his name. 
The Thaddeus Hayes Dance Theatre, founded in 1960 by Hayes, performed classical ballet and modern dance annually. Their concerts, called "Choreo" recitals, featured child and adult students and choreography by Hayes at Chrysler Hall in Norfolk, Virginia. One such show was entitled Struggles, Dream and Aspirations: Black Heritage 1986, and the group also appeared at Portsmouth Harborfest celebrations. In addition to choreographing for and directing the school, Hayes was also an instructor. 
*Note that other sources report that Hayes studied at Lester Horton's school and did not perform with the company.
Sources:
Thaddeus E. Hayes, Daily Press
Dance program to celebrate black heritage, Daily Press
Honors for black pioneers, Daily Press
Dance, Daily Press
College Presents Thaddeus Hayes in Dance Recital, Daily Press
---
Other Happenings in 1960
Ballet/Dance History
Jan 28: Frederick Ashton's La fille mal gardée premieres at The Royal Opera House, performed by The Royal Ballet.
Jan 31: Revelations, Alvin Ailey's legendary work, premieres at the 92nd Street Y.
Apr 3: Donald McKayle's They Called Her Moses airs on CBS. The performance features McKayle, Arthur Mitchell, Carmen de Lavallade, Sylvia Waters, and Mary Hinkson.
Mar 29: New York City Ballet debuts George Balanchine's Tchaikovsky Pas de Deux at City Center.
Nov 10: Sir Kenneth MacMillan's The Invitation debuts, performed by The Royal Ballet at the New Theatre Oxford.
Nov 16: New York City Ballet first performs George Balanchine's Monumentum pro Gesualdo.
Nov 22: George Balanchine's Liebeslieder Walzer, with music by Johannes Brahms, premieres at New York's City Center.
Johaar Mosaval is promoted to the rank of principal dancer with Sadler's Wells Ballet (The Royal Ballet).
Sylvester Campell joins Het Nederlands Ballet (Dutch National Ballet).
Benjamin Feliksdal joins Het Nederlands Ballet.
James Truitte joins Alvin Ailey American Dance Theater, where he remains until 1968.
American History
Jan 2: John F. Kennedy, then a senator, announces his candidacy for president.
Feb 18: The 1960 Winter Olympics open in Squaw Valley, California.
Aug 29: 50 are killed by Hurricane Donna in New England and Florida.
Sept 26: The first televised debate between presidential candidates (John F. Kennedy and Richard Nixon) airs.
World History
Feb 25: Alitalia Flight 618 crashes into an Irish cemetery on its way to New York.
Apr 21: Brazil's capital relocates from Rio de Janeiro to Brasília.
Apr 27: Togo gains independence from France.
May 15: The USSR launches Sputnik 4 into orbit.
Jun 26: The State of Somaliland and the Malagasy Republic gain independence from the United Kingdom.
Arts & Sciences
Jan 23: Jacques Piccard and Don Walsh reach the bottom of the Mariana Trench.
Apr 4: The 32rd Academy Awards take place. Ben-Hur wins Best Motion Picture.
Jun 16: Alfred Hitchcock's horror film Psycho premieres.
Jul 11: Harper Lee's To Kill a Mockingbird is published.
Dec 22: Jean-Michel Basquiat is born.
Andy Warhol's iconic Campbell's Soup is created.
Human & Civil Rights
Mar 21: The Sharpeville massacre occurs in South Africa; the police kill almost 70 people. The day is now a public holiday, honoring human rights and those who died in the massacre.
May 6: Dwight Eisenhowed signs the Civil Rights Act of 1960.
May 9: Birth control is approved by the US Food and Drug Administration, making it the first "combined oral contraceptive pill" in the world to be approved.
Jul 25: The same Woolworth lunch counter where a notable sit-in occurred serves its first Black customer.
Nov 14: In Louisiana, Ruby Bridges and the McDonogh Three become the first Black children to attend an all-white elementary school.
Dec 12: The US Supreme Court determines that Louisiana's segregation laws are unconstitutional.
Sports
Oct 29: Cassius Clay (Muhammad Ali) wins his first professional fight in Kentucky.
Nov 24: Wilt Chamberlain beats the NBA record for grabbing rebounds in a single game.
Sources:
List of 1960 ballet premieres, Wikipedia
Timeline: Arthur Mitchell's Performing Career, Columbia University Libraries
Revelations, Ailey Pressroom
1960, Wikipedia