1978
Anne Benna Sims Joins American Ballet Theatre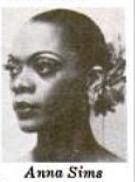 In 1978, Anne Benna Sims joined the American Ballet Theatre as the first African-American female to hold a contract with them.
Though Sims was in the corps de ballet, her first principal role was in Anthony Tudor's Undertow with Peter Fonseea, a "demanding dramatic ballet."
Sims was also in the first cast of the company premiere of Paul Taylor's "Airs".Sims began her dance training at the age of ten. She studied until seventeen when she graduated high school. After high school, she studied at the Harkness School of Ballet. Sims' professional career began with Les Grands Ballet Canadiennes where she danced in the corps de ballet.
See:
Other Happenings
American:
Jan 5th Arkansas judge rules against teaching creation in schools.
Feb 8th United States Senate proceedings first broadcast on the radio.
May 26th Atlantic City opens first legal gambling casino.
Oct 10th Susan B. Anthony is featured on a new dollar coin approved by the US Congress.
Oct 13th US President Jimmy Carter answers phone calls on National Public Radio.
Nov 7th Marion Barry, Jr. becomes the first black mayor of Washington D.C
Nov 18th Jonestown Massacre where 918 members of the Peoples Temple are murdered/committed suicide under the leadership of cult leader, Jim Jones.
Dec 1st US President Jimmy Carter doubles the national parks system.
World:
Jan 23rd Sweden bans aerosol sprays, believing that they damage the ozone.
May 18th Italy legalizes abortion.
Feb 11th China lifts bans on Shakespeare, Aristotle, and Charles Dickens.
Sept 16th An earthquake in Iran kills 25,000 people.
Sept 17th Israeli Prime Minister Menachem Begin, Egyptian President Anwar El Sadat, and US President Jimmy Carter sign the Camp David Accords, starting communications about peace between Egypt and Israel.
Oct 5th Over 30 nations sign the Environmental Modification Convention, prohibiting weather warfare.
Oct 16th Pope John Paul II is elected.
Nov 3rd USSR and Vietnam sign a peace and friendship treaty.
Dec 29th Spain's constitution goes into effect, ending its 40-year dictatorship.
Arts & Science:
April 2nd Velcro first sold.
May 3rd First bulk spam email sent.
June 11th The film "Grease" starring John Travolta and Olivia Newton-John opens.
June 19th The comic strip "Garfield", created by Jim Davis, is first printed.
Aug 11th Legionnaire's disease is contained in Atlanta.
Oct 10th Steve Perry joins the band Journey.
Nov 3rd "Different Strokes" first broadcasted on NBC.
Nov 26th The first lesbian themed tv movie airs called "The Question of Love".
Dec 8th "The Deer Hunter" premieres in LA.
Use of lead-based paint is banned in the US.
Human & Civil Rights:
Jan 8th Harvey Milk is the first openly gay person elected to a California public office.
Jan 13th NASA selects the first female astronauts.
Feb 1st Harriet Tubman is the first black woman featured on a US postage stamp.
Mar 21st San Francisco passes the US' most comprehensive bill regarding gay rights and discrimination.
April 25th Supreme Court rules that women cannot be required to pay more for pension.
May 1st Ernest Morial becomes the first black mayor of New Orleans.
May 12th US Commerce Department declares that hurricane names will no longer be just female names.
June 9th The Church of Jesus Christ of Latter-Day Saints dissolves ban of black male members from holding the priesthood.
June 25th The rainbow flag is first used as a symbol of gay pride by Gilbert Baker at a march in San Francisco.
Oct 6th Hannah Gray becomes the first woman head of a US university.
Faye Wattleton is the first black woman elected to the office of president of Planned Parenthood and is the first woman president since Margaret Sanger, the founder of Planned Parenthood.
Sports:
April 9th In separate NBA games, David Thompson and George Gervin scored 73 and 63 points, respectively.
June 20th The first six teams of the Women's Basketball League are created.
Sept 15th Muhammad Ali defeats Leon Spinks to become the first heavyweight champion to win the title three times.
Sept 26th NY Supreme Court rules that female sportswriters cannot be banned from the locker rooms