2013
Tyrone Singleton is promoted to principal with Birmingham Royal Ballet 
Tyrone Singleton was promoted to principal dancer with the Birmingham Royal Ballet in 2013.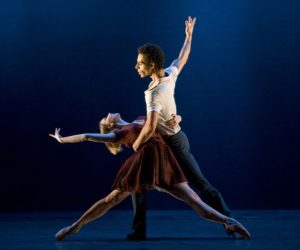 Tyrone Singleton trained at the Royal Ballet School and the Tring Park School for the Performing Arts. In 2003, he began work with the Birmingham Royal Ballet director David Bently. Since joining, he has danced many notable roles such as: Romeo (Romeo and Juliet), the Prince (The Nutcracker), Cavalier (The Sleeping Beauty), Franz (Coppelia), Prince Siegfried (Swan Lake), and Apollo (The Orpheus Suite), to name a few, and in 2013 was promoted to principal.
---
Other Happenings in 2013
Ballet/Dance History
Nikisha Fogo joins the Wiener Staatsballett.
Evelyn Pilcher, former member of the Negro Unit of Ballet Theatre, American Negro Ballet, and the Katherine Dunham Company, passes away.
American History
Apr 15: Boston marathon bombings: three people are killed and 183 injured after two explosions.
Jan 23: US Armed Forces overturns 1994 ban on women serving in combat.
Mar 3: A two-year-old girl becomes the first child born with HIV to be cured.
World History
Feb 15: Chelyabinsk meteor breaks up over Chelyabinsk, Russian, injuring over 1,200 people.
Mar 11: North Korea cuts the phone line with South Korea, breaching the 1953 armistice.
Mar 14: Xi Jinping is named as the new President of the People's Republic of China.
Jul 12: Malala Yousafzai addresses the United Nations and calls for worldwide access to education.
Dec 17: Angela Merkel is elected Chancellor of Germany for a third term.
Arts & Sciences
Jan 10: 39th People's Choice Awards—Robert Downy Jr. and Jennifer Lawrence win for Movie and Nathan Fillion and Ellen Pompeo win for TV.
Jan 13: 70th Golden Globes—Argo, Daniel Day-Lewis and Jessica Chastain win.
Apr 11: Fossilized dinosaur eggs with embryos are discovered in China.
May 13: Canadian astronaut Chris Hadfield departs the International Space Station to return to Earth.
May 16: Human stem cells are successfully cloned.
Sept 15: 38th Toronto International Film Festival—12 Years a Slave wins the People's Choice Award.
Sept 22: 65th Primetime Emmy Awards—Breaking Bad and Modern Family win.
Nov 27: Frozen is released and becomes the highest-grossing animated film of all time.
Human & Civil Rights
Apr 17: Same-sex marriage is legalized in New Zealand.
Sports
Jan 7: FIFA Ballon d'Or—Barcelona forward Lionel Messi and US forward Abby Wambach win.
Feb 3: Super Bowl XLVII—Baltimore Ravens beat San Francisco 49ers; MVP: Joe Flacco, Baltimore, QB.
Mar 25: Golfer Tiger Woods returns to his world number one ranking.
May 4: Floyd Mayweather defeats Robert Guerrero to retain his WBC Welterweight title.
Jun 8: French Open Women's Tennis—Serena Williams wins her second French title.
Jun 29: 67th NBA Championship—Miami Heat beats San Antonio Spurs; MVP: LeBron James for second straight year.
Aug 11: Usain Bolt records best time of the year in 100m dash at World Athletics Championships in Moscow, Russia.