1990
Dance Theatre of Harlem dancers perform with the Royal Ballet in The Nutcracker
Four Dance Theatre of Harlem dancers—Christina Johnson, Ronald Perry, Donald Williams, and Judy Tyrus—are reportedly the first Blacks to dance with the Royal Ballet since Johaar Mosaval, who left in 1974.
Though Britain's Arts Council required "multi-racial policies" within ballet companies at the time, only the English National Ballet and the Birmingham Royal Ballet (both of which still had a scarce amount of Black dancers) had adopted such practices. Many agreed that the Royal Ballet was behind in hiring Black dancers when finally
Christina Johnson
,
Ronald Perry
,
Donald Williams
, and
Judy Tyrus
of the Dance Theatre of Harlem were asked to perform with the Royal Ballet in two December 1990 performances at Covent Garden. Johnson and Perry were cast as the Sugar Plum Fairy and the Prince in the company's production of
The Nutcracker
, choreographed by Peter Wright. According to a
New York Times
article entitled "Blacks Dance With the Royal Ballet," the company turned to "the most established black dance company that there is" to feature a cast that was not all-white. The decision to introduce international dancers was due to Royal Ballet artistic director Anthony Dowell's wish to not "choose black dancers who were not up to the company's standard." The decision prompted the establishment of The Royal Ballet's Chance to Dance program, which would give London children from diverse backgrounds the opportunity to take ballet classes.
---
Lauren Anderson is promoted to principal for the Houston Ballet
Lauren Anderson was promoted to a principal in 1990, becoming the first African American to do so at Houston Ballet. She is also one of the few African American ballerinas at the head of a major ballet company anywhere in the world.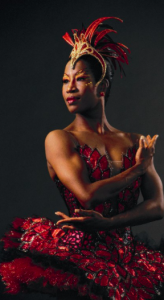 Lauren Anderson trained exclusively at Houston Ballet's Ben Stevenson Academy starting at the age of seven. She joined Houston Ballet in 1983 as a corps de ballet member, was promoted to soloist in 1987, and in 1990 became the first African American to be promoted to principal dancer at Houston Ballet.
Source:
Pioneering dancer proves her point(e), The News & Observer
---
Other Happenings in 1990
Ballet/Dance History
Jan 4: Annie 2 premieres on Broadway.
Feb 2: ABT premieres Twyla Tharp's Nine Sinatra Songs.
Apr 28: A Chorus Line, the longest-running musical in Broadway history, closes after 6,137 performances.
May 1: Gerald Arpino submits his resignation as artistic director of Joffrey Ballet in a company power struggle and a day later, prohibits the performance of his ballets and those belonging to the estate of Robert Joffrey.
American History
Jun 1: US President George H.W. Bush and his Soviet counterpart Mikhail Gorbachev sign a treaty to eliminate chemical weapon production and begin the destruction of both nations' current inventory.
Jun 7: Universal Studios Florida opens to the public.
Sept 9: Ellis Island reopens as an immigration museum.
Nov 6: Sharon Pratt Kelly is elected Mayor of the District of Columbia, becoming the first Black woman to head a major US city.
World History
Feb 11: Nelson Mandela is released from prison in South Africa and becomes the leader of the ANC.
Aug 2: Iraq invades Kuwait, leading to 1991 Gulf War.
Aug 12: In South Africa, fighting breaks out between the Xhosa people and the Zulu people.
Nov 28: Margaret Thatcher resigns from her position as Prime Minister in the United Kingdom.
Arts & Sciences
Mar 18: 13 works of art were stolen from the Isabella Stewart Gardner Museum in Boston.
Apr 24: The Hubble Telescope is placed into orbit by the United States Space Shuttle Discovery.
Jun 7: Nickelodeon Studios open.
Aug 12: "Sue," the best-preserved Tyrannosaurus rex specimen ever found, is discovered near Faith, South Dakota by Sue Hendrickson.
Nov 1: Ebony magazine celebrates its 45th anniversary.
Human & Civil Rights
Jan 13: Douglas Wilder is elected as the first African American governor of Virginia.
May 22: The Americans with Disabilities Act is passed by congress.
Nov 22: President Bush vetoes the Civil Rights Act of 1990, claiming that it would impose quotas for employers.
Sports
Feb 11: Buster Douglas defeats Mike Tyson by a knockout in round 10 to win the world's unified heavyweight title, in what many consider boxing's biggest upset ever.
Mar 28: Michael Jordan scores a career-best 69 points in the Bulls' 117-113 overtime win against the Cleveland Cavaliers.
Apr 2: The UNLV Runnin' Rebels basketball team defeats the Duke Blue Devils men's basketball team, winning the 1990 NCAA Men's Division I Basketball Tournament.
By 1990, Venus Williams is the top-ranked female player under 12 in Southern California.
Source: