1968
John Jones Leaves Jerome Robbins Ballet/ Keith Lee joins  American Ballet Theater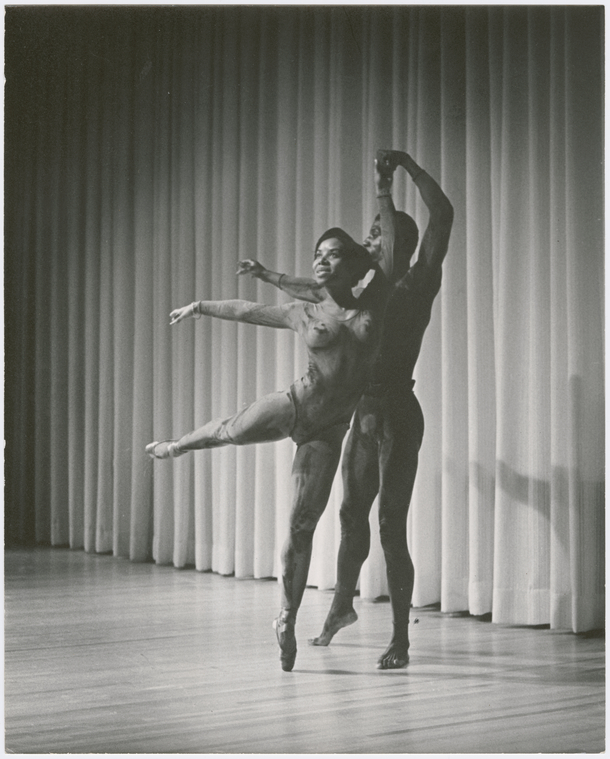 John Jones and Delores Brown.
John Jones leaves legendary choreographer Jerome Robbins' short lived company Ballet U.S.A. (1956-1962)
Prolific dancer John Jones leaves Jerome Robbins' ballet company Ballet U.S.A. One of his notable performances  was his pas de deux in "Passage for Two" with white dancer Wilma Curley: an interracial pairing which was unheard of. He was also noted for his performance  in Robbins' Age in Anxiety  ballet in the section "An Entertainment".
See:
Keith Lee joins  American Ballet Theater in 1968
A native New Yorker, after graduating from the High School of Performing Arts and studying at Harkness House for Ballet Arts, sponsored by heiress Rebekah Harkness Keith Lee joined the American Ballet Theater.
Lee's repertory included the choreography of such luminaries as Alvin Ailey, George Balanchine, Agnes DeMille, Lar Lubovitch, Jerome Robbins. Lee was able to perform in ballets such as George Balanchine's  Themes and Variations and Etudes. Prolific choreographer Antony Tudor left a profound effect on Lee as a mentor and cast him in the fifth variation of Dark Elegies.  
See:
Other happenings in 1968
American
Jan 22 Apollo 5 launched to Moon; unmanned lunar module tests made

Feb 1 Former US VP

Richard Nixon

announces candidacy for president

Feb 14 Pennsylvania Railroad/NYC Central merge into Penn Central

Mar 16

Robert F. Kennedy

announces presidential campaign

Mar 18 Congress repeals requirement for a gold reserve

Jun 6 Senator

Robert F. Kennedy

dies from his wounds after he was shot the previous night.

Jun 26 Iwo Jima & Bonin Islands returned to Japan by US

Oct 31 US President

Lyndon B. Johnson

orders a halt to all bombing of North Vietnam

Dec 2 US President

Richard Nixon

names

Henry Kissinger

security advisor
World
Feb 1 Saigon police chief Nguyễn Ngọc Loan executes Viet Cong officer Nguyễn Văn Lém with a pistol shot to head. The execution is captured by photographer Eddie Adams and becomes an anti-war icon.

Feb 7 Belgium government of Vanden Boeynants falls

Mar 3 Greek, Portuguese & Spanish embassies bombed in the Hague

Mar 7 The BBC broadcasts the news for the first time in color on television.

Mar 21 Israeli forces cross Jordan River to attack PLO bases

Apr 18 Dutch Department of Amnesty International forms

May 27

The meeting of the Union Nationale des Étudiants de France (National Union of the Students of France) takes place. 30,000 to 50,000 people gather in the Stade Sebastien Charlety.

May 30 President De Gaulle disbands French parliament

Jun 3 Canada announces it will replace silver with nickel in coins

Jun 8 Bermuda adopts its constitution

Jul 29 Pope Paul VI, in an encyclical entitled "Humanae Vitae" (Of Human Life), declares any artificial forms of birth control prohibited

Aug 24 France becomes the world's fifth thermonuclear power with a detonation on Mururoa Atoll in the South Pacific

Sep 6 Swaziland gains independence from Britain (National Day)

Sep 13 Albania leaves Warsaw pact

Sep 27 France denies UK entry into common market

Dec 28 Israeli assault on Beirut Airport
Arts and Sciences
Jan 8

Jacques Cousteau

's 1st undersea special on US network TV

Feb 8 "Planet of the Apes" premieres in New York City

Feb 19 "Mister Rogers' Neighborhood" debuts on NET (now PBS)

Mar 11 Otis Redding posthumously receives gold record for " Dock of the Bay"

Mar 15 LIFE mag calls

Jimi Hendrix

"most spectacular guitarist in the world"

Apr 4 US civil rights activist Martin Luther King Jr. assassinated in Memphis, Tennessee

Apr 29 "Hair" opens at Biltmore Theater NYC for 1750 performances

Jun 12 U.S. premiere of horror film "Rosemary's Baby", based on the bestselling novel of the same name by Ira Levin

Jul 1

John Lennon

's 1st full art exhibition (You are Here)

Sep 8 "Funny Girl" with

Barbra Streisand

premieres

Sep 24 "60 Minutes" premieres on CBS-TV

Oct 22 Apollo 7 returns to Earth

Oct 30 Nobel prize for physics awarded to Luis Alvarez (bubble chamber)

Nov 14 First European lung transplant

Dec 21 Apollo 8: 1st manned Moon voyage launched with

Frank Borman

, Jim Lovell and William Anders
Human and Civil Rights
Feb 4 Around 100 Indians and Pakistanis from Kenya arrive in Britain, escaping discrimination

Feb 29 National Advisory Commission on Civil Disorders (Kerner Comm) reports against racism & demands aid given to blacks

Mar 4

Martin Luther King

Jr. announces plans for Poor People's Campaign

Apr 11 US President

Lyndon B. Johnson

signs 1968 Civil Rights Act

Jun 18 Supreme Court bans racial discrimination in sale & rental of housing

Jun 20 Austin Currie, then Nationalist Member of Parliament (MP) at Stormont, and other Irish civil rights activists, protest discrimination in the allocation of housing by 'squatting' (illegally occupying) in a house in Caledon, County Tyrone, Northern Ireland
Sports
Mar 4 Joe Frazier TKOs Buster Mathis in 11 for heavyweight boxing title

Mar 21 "Royals" chosen as the name of new KC AL franchise

Jun 9 67th Women's French Open: Nancy Richey beats Ann Jones (5-7, 6-4, 6-1)

Jun 24

Joe Frazier

TKOs Manuel Ramos in 2 for heavyweight boxing title

Jul 6 75th Wimbledon Women's Tennis:

Billie Jean King

beats J Tegart (97 75)

Jul 9 All star MVP:

Willie Mays

(SF Giants), 1st player to win a second times

Jul 21 55th Tour de France won by Jan Janssen of Netherlands

Aug 25

Arthur Ashe

becomes 1st African American to win the US singles championship

Oct 26

George Foreman

wins gold for USA at Mexico Olympic games (Heavyweight boxing)

Nov 26 34th Heisman Trophy Award: O.J. Simpson, Southern Cal (RB)