1982
Debra Austin is hired as a principal with Pennsylvania Ballet
In 1982, Austin was hired by Robert Weiss, the artistic director of the Pennsylvania Ballet, to be a principal dancer for the company. This made her the first African American female to be hired as a principal dancer of a major ballet company.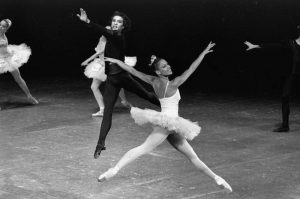 During her tenure at Pennsylvania Ballet, Debra Austin danced in Swan Lake, Coppelia, A Midsummer's Night Dream, La Sylphide, and Giselle.
Austin was also the first African American female dancer at New York City Ballet. Austin received a scholarship to the School of American Ballet when she was 12. At 16, she was handpicked by George Balanchine to join the school's affiliate company, NYCB. While there, Debra danced many principal roles by both George Balanchine and Jerome Robbins, one of which was filmed for a PBS television special, Live From Lincoln Center. She later joined the Zurich Ballet in Switzerland, where she danced principal roles in works by many major choreographers.
She currently serves as ballet mistress for the Carolina Ballet.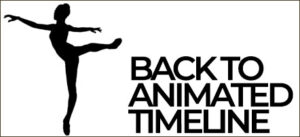 ---
Alonzo King LINES Ballet is founded
Alonzo King founded his company LINES in 1982.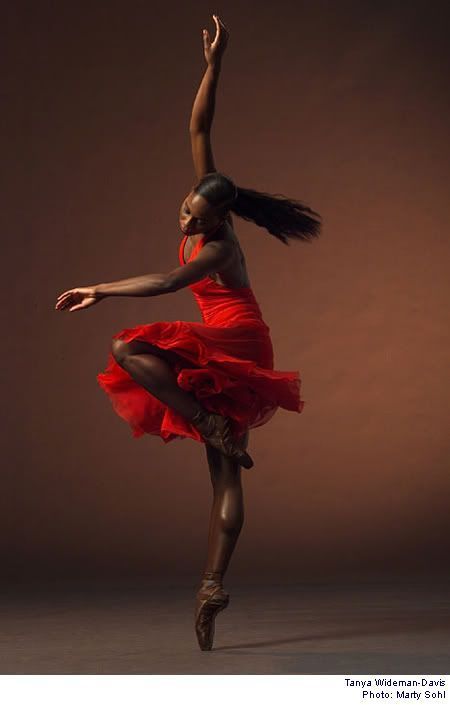 Founded in 1982 by Alonzo King, LINES is a contemporary ballet company based in San Francisco with its own permanent home known as the LINES Dance Center. King has been acclaimed as a visionary who draws upon a diverse set of deeply-rooted cultural traditions, altering the way we look at ballet. His work is in the repertories of leading companies around the world, and he is the recipient of many prestigious honors including the 2008 Jacob's Pillow Dance Award. A list of the company's work carries the subtitle "The hierarchical migration of birds and mammals," and its abstract imagery indeed evokes the delicate beauty of winged creatures.
Source:
Alonzo King's [sic] LINES Ballet, Jacob's Pillow Dance Interactive
---
Other Happenings in 1982
American History
Mar 10: US President Reagan proclaims economic sanctions against Libya.
Jun 15: Supreme Court rules all children, regardless of citizenship, are entitled to a public education.
Jun 24: Equal Rights Amendment goes down to defeat.
Jul 27: Indian Prime Minister Indira Gandhi visits the US for the first time in almost 11 years.
Oct 14: US President Reagan proclaims a war on drugs.
World History
Feb 7: Luis A. Monge is elected President of Costa Rica.
Feb 19: USSR performs nuclear test at Eastern Kazakh/Semipalatinsk USSR.
Feb 27: France performs nuclear test at Mururoa atoll.
Mar 23: Guatemala military coup under General Efrain Rios Montt occurs; President Romeo Lucas flees.
May 30: Spain becomes 16th member of NATO.
Jun 22: Prince Charles and Princess Diana take new-born son Prince William home from hospital.
Jul 13: Iran launches first attack into Iraq.
Dec 8: Colombian writer Gabriel Garcia Marquez receives the Nobel Prize for Literature.
Dec 29: Bob Marley postage stamp issued in Jamaica.
Arts & Sciences
Jan 30: 39th Golden Globes—On Golden Pond, Henry Fonda, and Meryl Streep win.
Feb 1: Late Night with David Letterman debuts on NBC.
Feb 21: Ain't Misbehavin' closes at Longacre Theater NYC after 1604 performances.
Russian spacecraft Venera 14 lands on Venus and sends back data.
Mar 29: 54th Academy Awards—Chariots of Fire, Henry Fonda, and Katharine Hepburn win.
Apr 19: Sally Ride is named the first American woman astronaut.
Jun 11: E.T. The Extra-Terrestrial, directed by Steven Spielberg, is released.
U.S. journalist Bryant Gumbel (b. 1948) becomes the first African American to be an anchor on a major network when he joins The Today Show.
Jun 30: Lena Horne: The Lady and Her Music closes at Nederlander in NYC after 333 performances.
Sept 9: Your Arms Too Short to Box with God opens at Alvin NYC for 69 performances.
Oct 1: Marvin Gaye releases his last studio album Midnight Love, featuring single "Sexual Healing."
Nov 30: Gandhi, directed by Richard Attenborough and starring Ben Kingsley and John Gielgud, premieres in New Delhi (Best Picture 1983).
Human & Civil Rights
Dec 7: In Texas, Charles Brooks Jr. becomes the first person to be executed by lethal injection in the US.
A national campaign against environmental racism is launched when Reverend Benjamin Chavis (b. 1948) and his congregation block a toxic waste dump in North Carolina.
Sports
Jan 13: Hank Aaron and Frank Robinson are elected to Hall of Fame.
Jan 24: Super Bowl XVI: San Francisco 49ers beat Cincinnati Bengals.
Mar 6: NBA highest-scoring game—San Antonio beat Milwaukee 177-166.
Jun 1: Rickey Henderson is fastest to reach 50 stolen bases in a year.
Jun 11: Larry Holmes TKOs Gerry Cooney in 13 for heavyweight boxing title.
Jul 3: Wimbledon Women's Tennis—Martina Navratilova beats Chris Evert 6-1, 3-6, 6-2 for the first of 6-straight Wimbledon singles titles.
Nov 9: Sugar Ray Leonard retires for first time.