1955
Arthur Mitchell joins New York City Ballet
In 1955, Arthur Mitchell made his debut as the second African American to perform with the New York City Ballet (NYCB), performing in Western Symphony after Lincoln Kirstein asked him to join the corps de ballet.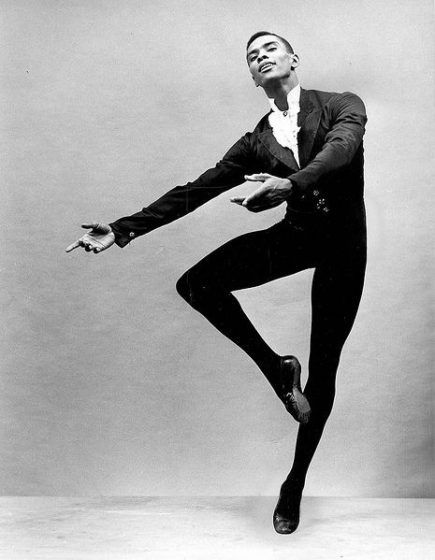 At the age of 18, Arthur Mitchell was offered a scholarship to study at the School of American Ballet before joining the school's affiliate company, New York City Ballet, in 1955. He became the second African American to perform with the company, after Arthur Bell in 1950.
Mitchell's repertoire with NYCB included: A Midsummer Night's Dream, The Nutcracker, Bugaku, Agon, Western Symphony, and Arcade. Mitchell was part of the original 1957 cast of Agon, performing the pas de deux created for him and Diana Adams. In 1968, the performance appeared on The Tonight Show. A Dance Magazine article records Mitchell's sentiments about the piece: "the contrast between the color of his skin and the color of the ballerina's skin is part of the choreography, and that casting white men makes for a different ballet." George Balanchine also created the role of Puck in A Midsummer Night's Dream for Mitchell; the ballet premiered on January 17, 1962.
Sources:
Arthur Mitchell Talks Race and Balanchine, Dance Magazine
See also:
Arthur Mitchell (Roll Call)
1962: Arthur Mitchell is Promoted to Principal of New York City Ballet
1969: Arthur Mitchell and Karel Shook Form the Dance Theatre of Harlem
Give Take Show: Remembering Arthur Mitchell
Rebellious Daughter: A Tribute to Mr. Arthur Mitchel by Tai Jimenez
Arthur Mitchell Exhibit
Allegra Kent and Arthur Mitchell in Balanchine's Agon Rehearsal
Arthur Mitchell and Patricia Neary – In the Inn
1960 Television Broadcast of Agon

---
Raven Wilkinson joins the Ballet Russe de Monte Carlo in New York City
Raven Wilkinson was the first African American woman to receive a contract to dance full time with a major ballet company.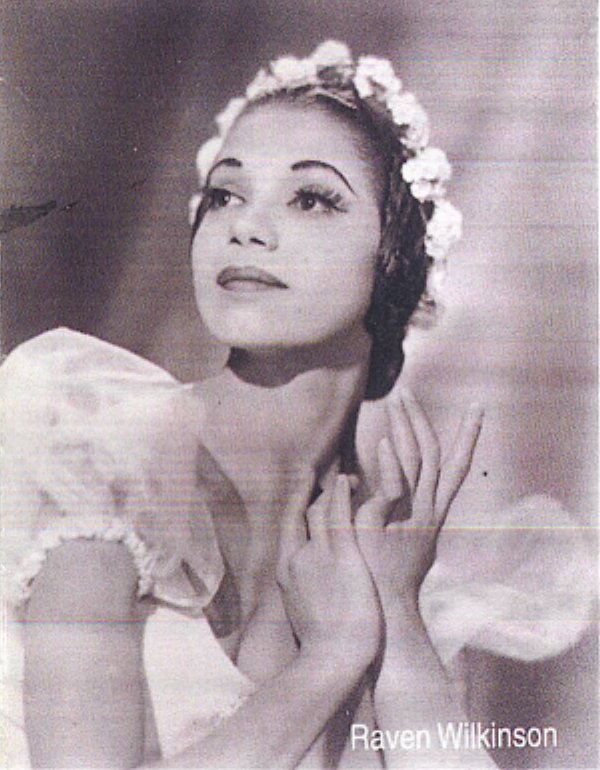 Sergei Denham, director of the Ballet Russe de Monte Carlo, bought the Swoboda School in 1951, giving Raven Wilkinson an opportunity to audition for the troupe. Although she was light-skinned, acceptance into a ballet company was unlikely because of her race. Fellow ballet students advised her not to seek a position, but, in 1954, Wilkinson auditioned for the Ballet Russe de Monte Carlo. After being rejected twice, in 1955, Denham informed Wilkinson, now 20 years old, that she had been accepted on a six-week trial basis. Ballet Russe dancer Frederic Franklin gave the audition class and advised the company staff to accept Wilkinson.
Her repertoire included: Les Sylphides, Ballet Imperial, Le Beau Danube, Capriccio Espagnol, Gaite Parisienne, Giselle, Graduation Ballet, Harlequinade, Swan Lake, and Variations Classiques.
Sources:
Anne Raven Wilkinson (1935-2018), Black Past
See also: 
---
Janet Collins Retires from the Metropolitan Opera Ballet
Janet Collins closed out her career at the Metropolitan Opera Ballet in 1955.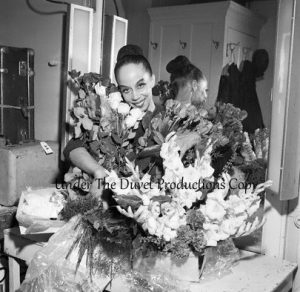 In 1955, Janet Collins retired from the Metropolitan Opera Ballet, which she joined in 1951. She was the first African American to dance with the company.
Sources:
The Metropolitan Opera Archives
See also:
1951: Janet Collin joins the Metropolitan Opera Ballet
---
Other Happenings in 1955
American History
Jan 19: First presidential news conference is filmed for TV.
Mar 16: President Eisenhower upholds the use of atomic weapons in case of war.
Apr 10: Dr. Jonas Salk successfully tests Polio vaccine.
Apr 15: US performs nuclear test at Nevada Test Site.
May 31: US Supreme Court orders school integration "with all deliberate speed."
Aug 12: President Eisenhower raises minimum wage from 75 cents to $1 an hour.
World History
Jan 25: US & Panama sign canal treaty.
May 5: West Germany becomes a sovereign country recognized by countries like the US, France, and the UK.
Aug 2: USSR performs nuclear test.
Nov 2: David Ben-Gurion forms Israeli government.

Arts & Science
Jan 7: Marian Anderson becomes the first black singer to perform at the Met in New York City.
Feb 24: 12th Golden Globes—On The Waterfront, Marlon Brando, & Judy Garland win.
Mar: Jim Henson builds the first version of Kermit the Frog.
Mar 30: 27th Academy Awards—On the Waterfront, Marlon Brando & Grace Kelly win.
May 2: Pulitzer prize is awarded to Tennessee Williams for Cat on Hot Tin Roof.
May 21: House of Flowers closes at Alvin Theater NYC after 165 performances.
Jun 23: Walt Disney's Lady & the Tramp is released.
Jun 30: The Johnny Carson Show debuts on CBS.
Sept 15: Vladimir Nabokov's Lolita is published in Paris.
Oct 1: The Honeymooners premieres.
Oct 3: Captain Kangaroo premieres on CBS.
Oct 3: Mickey Mouse Club premieres.
Oct 26: First edition of The Village Voice (NYC) is published.
Human & Civil Rights
Feb 9: 60,000 non-white residents of the Sophiatown suburb of Johannesburg are forcibly evicted.
Mar 2: Claudette Colvin refuses to give up her seat on a bus in Montgomery, Alabama.
Jun 26: The Freedom Charter of the anti-apartheid South African Congress Alliance is adopted at a Congress of the People in Kliptown.
Nov 5: Racial segregation is outlawed on trains and buses in interstate commerce in the US.
Dec 1: Rosa Parks is arrested for refusing to move to the back of a Montgomery bus for a white passenger.
Dec 5: Historic bus boycott begins in Montgomery, Alabama.
Sports
Apr 14: The Detroit Red Wings win the Stanley Cup for the seventh time.
May 13: Mickey Mantle hits three consecutive HRs of at least 463'.
Sept 19: Cubs slugger Ernie Banks hits record fifth grand slam of the season.