1962
Arthur Mitchell is promoted to Principal with New York City Ballet
Arthur Mitchell became the first Black principal dancer in the history of New York City Ballet and was cast as Puck in George Balanchine's A Midsummer Night's Dream in 1962.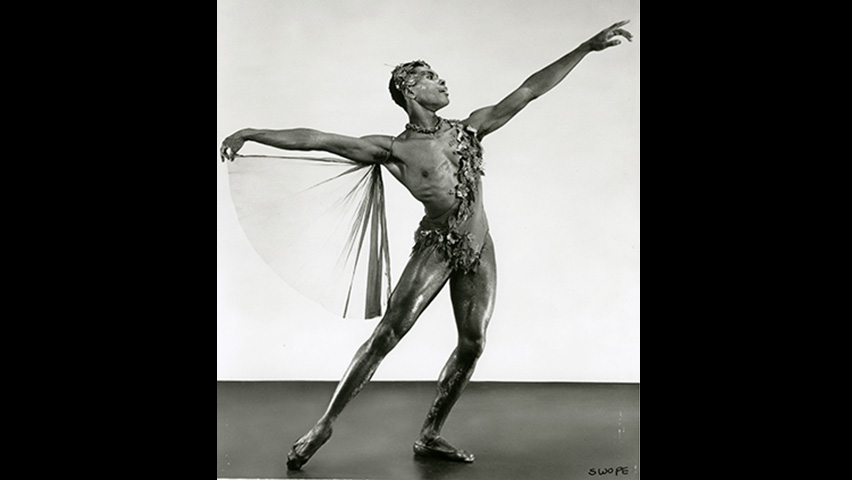 On January 17th, 1962, George Balanchine's ballet A Midsummer Night's Dream premiered with Arthur Mitchell as the mischievous wood nymph Puck. Based on William Shakespeare's whimsical 1596 play, Balanchine's A Midsummer Night's Dream captures the fantastical yet realistic display of human nature. The ballet, with a score by Felix Mendelssohn, was the first original evening ballet that Balanchine choreographed in America. The premiere of A Midsummer Night's Dream commenced during the first annual benefit gala for the New York City Ballet.
Original Cast: Suki Schorer, Arthur Mitchell, Edward Villella, Melissa Hayden, Conrad Ludlow, Roland Vazquez, Francisco Moncion, Patricia McBride, Nicholas Magallanes, Bill Carter, Gloria Govrin, Violette Verdy.

Sources:
A Midsummer Night's Dream, New York City Ballet
Timeline, 1962, New York City Ballet
Arthur Mitchell as Puck, New York City Ballet (page no longer active)
---
Other Happenings in 1962
American History
Feb 14: President JFK authorizes US advisors in Vietnam to retaliate if fired upon.
Jun 11: Three inmates at Alcatraz Island successfully breakout in the infamous "Escape from Alcatraz."
Oct 22: The Cuban Missile Crisis begins between the USA and Cuba.
Oct 28: The Cuban Missile Crisis ends.
World History
Feb 27: South Vietnamese President Diem survives another coup attempt during the Vietnam War.
May 31: The "Architect of the Holocaust" Adolf Eichmann is executed for war crimes against humanity.
Aug 5: The US, Soviet Union, and Great Britain sign the Limited Nuclear Ban Treaty to prohibit nuclear testing in outer space, underwater, or the atmosphere.
Arts & Sciences
Feb 20: Astronaut John Hershel Glenn Jr. makes the first orbital flight by an American on the Friendship spacecraft.
Dec 25: The film To Kill a Mockingbird, based off the 1960 novel of the same name, premieres.
Oct 1: Johnny Carson takes over from Jack Paar as the new host of The Tonight Show.
Oct 24: James Brown records his iconic album Live at the Apollo.
Human & Civil Rights
Mar 18: France and the Front de Liberation Nationale sign a peace treaty ending the Algerian War and 130 years of French colonization in Algeria.
Sept 30: After a legal battle, Black student James H. Meredith is escorted on the University of Mississippi campus; this sparks riots.
Nov 6: The UN condemns apartheid in South Africa.
Nov 20: President JFK issues Executive Order 11063, which calls for an end of housing discrimination.
Sports
Mar 2: Wilt Chamberlain scores 100 points in a single contest, beating out his previous record.
Sept 10: Rod Laver is the first man to win the Grand Slam in the same year since 1938.