1972
The Dance Theatre of Harlem school moves to its permanent location
The Dance Theatre of Harlem school moves to its permanent home at 466 West 152nd Street.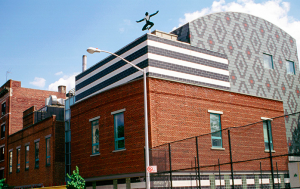 Dance Theatre of Harlem's first home was at Dorothy Maynor's Harlem School of the Arts. When Arthur Mitchell and Maynor's relationship soured, the school moved to the Church of Masters on 122st Street and Morningside Avenue in September 1969.
An excerpt from Zita Allen's Arthur Mitchell's Dance Theatre of Harlem: The Early Years:
DTH quickly outgrew Church of the Master. Luckily, thanks to help from friends and supporters, Mitchell found a solution that allowed him to build the organization and place it on a more secure footing. One Wednesday afternoon in 1971 the wealthy department store heiress and philanthropist Mrs. Alva B. Gimbel accompanied a friend to a DTH Open House. Afterward, she spoke to Mitchell who recalled the conversation: "She said, 'These kids are fantastic, and you shouldn't be stuck in this basement. Look, if you need space I would like to help you, and if you want some help just let me know.' Well, you know that was the last thing to tell me." Soon afterward he learned of a building on 152nd Street between St. Nicholas and Amsterdam Avenues, not far from his mother's home. He contacted Mrs. Gimbel, immediately, and together they went to check it out.
"It was $110,000 dollars, so Mrs. Gimbel said she would donate the money from her and her husband's Foundation, the Alva and Bernard F. Gimbel Foundation, to secure the two-story garage with basement building. So we started the renovation, then we went to the Rockefeller brothers and got a grant of $75,000 dollars there, and the dancers did $70,000 in extra performances, and didn't accept any fees, so as to help renovate the building. By the end of the renovation and the fund-raising the building cost $325,000 dollars…. Right from the beginning I felt it was better to own everything oneself rather than renting, so we started acquiring our lighting equipment, sound systems and everything like that."
Given the impact of rising rents and vanishing studio space on the dance field generally, Mitchell's decision was inspired. Dance Theatre of Harlem continues to occupy the home it acquired in 1971.

The spacious facility allowed Mitchell to create an enhanced training program that equipped students with a variety of allied skills. Costume designer Zelda Wynn taught a fashion and wardrobe design workshop. The Cuban-born composer and conductor Tania León became head of the music department. Wynn's students became apprentices paid to help make the dancers' costumes. León's students helped teach music as their skills advanced. Despite the expansion, DTH never lost sight of its primary raison d'être—to train Black ballet dancers and develop the first permanent Black classical ballet company in America. To that end, Mitchell said, "with the new building we were able to expand, break the classes down and sort out those who were gifted and those who weren't." Echoing the wisdom [George] Balanchine and [Lincoln] Kirstein shared when founding New York City Ballet, Mitchell said, "Without the School to provide it with dancers the Company could not exist. But without the Company, the School would be meaningless. The dancers must have an example put before them and must also be trained for a real purpose."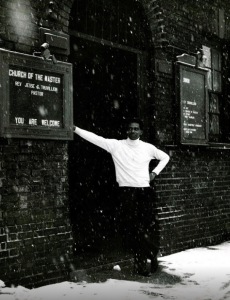 Karel Shook recounted in an interview:
"The gymnasium had an observers' galley along one side, so we instituted a policy of open rehearsals each Wednesday afternoon to which school children, senior citizens and club groups were invited."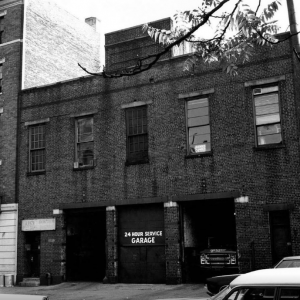 "One day the actress/singer Benay Venuta brought with her Mrs. Alva B. Gimbel. She watched the rehearsal with growing emotion, and when it was over, she told Arthur that if he could find a building, she would present it to us. He needed no further motivation, and soon, as the result of a chance conversation with a gypsy cab driver, found an empty garage and warehouse with two stories and an ample basement which was for sale on 152nd Street."
"Transactions were made, and Mrs. Gimbel presented us with a permanent home."
With larger facilities, the number and variety of classes offered at DTH increased. DTH offered ballet, modern, ethnic, jazz, tap, acting, music, percussion and sewing. Apprenticeships were offered in costume and set design, stage lighting and stage managing. Wardrobe supervisor Zelda Wynn helped to start these additions to the DTH curriculum.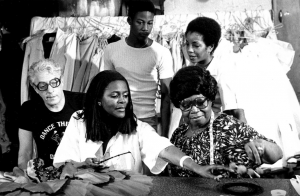 Source:
Arthur Mitchell's Dance Theatre of Harlem, Columbia University Libraries
---
Louis Johnson choreographs Forces of Rhythm for the Dance Theatre of Harlem
Louis Johnson began making dances in 1953 and achieved his greatest fame as a choreographer who comically combines a continuum of movement styles, including social dances with popular music, classical ballet technique, Katherine Dunham-inspired modern dance, spiritual dancing, and acrobatics. One of his two most popular ballets are Forces of Rhythm (1972), created for the Dance Theatre of Harlem; it was the young company's signature work.
See also:
1952: Performed Jerome Robbins' Ballade with NYCB
---
Sylvester Campbell joins Winnipeg Ballet
In 1972, Sylvester Campbell joined the Royal Winnipeg ballet in Canada as a principal dancer and also began guesting with Maurice Béjart's Ballet du XXme Siècle (Ballet of the 20th Century) company in Brussels, Belgium for three years.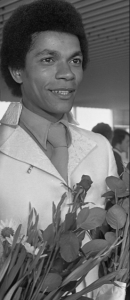 An excerpt from an interview with Sylvester Campbell in the Fall 2014 issue of Ballet Review:
BR: After your twelve years in the Netherlands, you went into the Royal Winnipeg Ballet.
Campbell: Yes. It was through Agnes de Mille that I got to Canada.
BR: How did you know de Mille?
Campbell: She was one of the judges in a competition in Russia. I competed in 1969. My partner and I won a prize. I was in that big hotel in Moscow. De Mille was in the elevator, and I knew who she was. She said to me, "You want to know, son, I saw a lot of dancers out there on that stage doing things, but you were dancing. I need to talk to you about something. You need to go back to the States, because you're a classical dancer and this is something that the American people need to be seeing." On her advice, I came back to the States via Canada and the Royal Winnipeg Ballet. I never really got back to the States, you might say. I was in Canada for three years during which time I was sent on a European tour and a South American tour.
Source:
A Conversation with Sylvester Campbell, Ballet Review
See also:
---
Anna Benna Sims joins the Grand Ballet Canadiens
Anna Benna Sims joined the Grand Ballet Canadiens in the corps de ballet, as her first professional job as a dancer.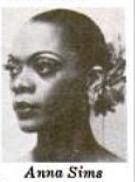 Anna Benna Sims began her dance training at the age of ten. She studied until seventeen when she graduated high school. After high school, she studied at the Harkness School of Ballet.
Sims also performed with Geneva Opera Ballet (1973-1975), Frankfurt Opera Ballet (1975-1977), Eglevsky Ballet Company (1977-1978), and American Ballet Theatre (1978).
---
Other Happenings in 1972
Ballet/Dance History
Judith Jamison receives Dance Magazine Award and becomes a Presidential Appointee to the NEA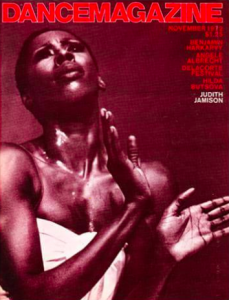 A tradition dating back to 1954, the Dance Magazine awards long celebrated living legends who have made a lasting impact on dance.
In addition to receiving the award in 1972, Judith Jamison also became a presidential appointee to the National Endowment for the Arts (NEA). Created by the US Congress in 1965, NEA is an independent agency of the United States federal government that offers support and funding for projects exhibiting artistic excellence.
Katherine Dunham choreographs and directs Scott Joplin's opera, Treemonisha
Dr. T.J. And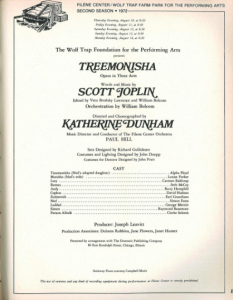 erson, the renowned African American composer who was in residence at the Atlanta Symphony Orchestra (1969-1972) and was the Danford Visiting Professor of Music at Morehouse College, orchestrated Scott Joplin's Treemonisha using Joplin's "personal notated score" and his own copy of the score. Joplin scholars considered Anderson's orchestrations the definitive version of Treemonisha by being "in line with Joplin's original vision."
The creative team of the production also included the celebrated African American Katherine Dunham, who directed and choreographed; the legendary African American Dr. Wendell Whalum, director of Morehouse's Glee Club, who musically directed the Morehouse, Spellman, and Atlanta community singers; and the white anti-racist integrationist Robert Shaw, director of the Atlanta Symphony Orchestra, who conducted.
The cast included the crystal-voiced Alpha Floyd as Treemonisha; Seth McCoy as Remus; Harold Henderson as Zodzetrik; Louise Parker and Simon Estes as Monisha and Ned, respectively; and Dunham's East St. Louis's Performing Arts Training Center Dancers.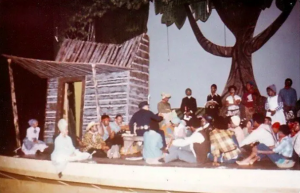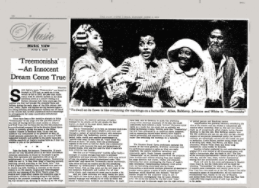 More Ballet/Dance History
Feb 13: The musical Grease opens on Broadway.
Jun 27: Boston Ballet dancers join Rudolf Nureyev on a tour to Mexico.
Jul 1: Hair closes on Broadway after 1,750 performances.
Jul 2: Fiddler on the Roof closes at Imperial Theater NYC after 3,242 performances.
Oct 23: Tony award-winning musical Pippin premieres.
Gelsey Kirkland is promoted to the rank of principal dancer at New York City Ballet.
American History
Mar 21: US Supreme Court rules states can't require one-year residency to vote.
Mar 22: Congress approves Equal Rights Amendment (never ratified).
Jun 23: US President Nixon signs act barring sex discrimination in college sports.
Aug 3: US Senate ratifies the Anti-Ballistic Missile Treaty.
Nov 7: Richard Nixon is re-elected as President of the United States.
World History
Jan 1: The first female police officers are enlisted in the South African Police Force.
Jan 9: British coal miners start their first protest in over 50 years.
Jan 14: Margrethe II becomes the first Queen of Denmark since 1412.
Feb 21: Richard Nixon becomes the first US President to visit China.
Dec 28: Kim Il-Song becomes new supreme leader of North Korea.
Arts & Science
Jan 14: Sanford & Son premieres on NBC.
Feb 1: The first handheld scientific calculator is sold for $395 by Hewlett-Packard.
Mar 15: The Godfather, starring Marlon Brando and Al Pacino, premieres in NYC (Wins Best Picture 1973).
May: Magnavox releases the first home video game console that can be connected to the television.
Jun 10: Elvis Presley records a live album at NYC's Madison Square Garden.
Sep 4: The Price is Right, the United States' longest running game show debuts on CBS.
Sep 16: First TV series about mixed marriage Bridget Loves Bernie premieres.
Sep 17: TV show adaption of the movie M*A*S*H premiers on CBS starring Alan Alda, Loretta Swit, and Wayne Rogers.
Nov 1: First gay-themed TV movie, That Certain Summer, airs.
Civil & Human Rights
Feb 5: Bob Douglas is the first African American inducted into the Basketball Hall of Fame.
Feb 6: A Civil Rights march is held in Newry, County Down; there is a very large turnout for the march with many people attending to protest the killings in Derry the previous Sunday.
Mar 10: The first Black US political convention opens in Gary, Indiana.
Jul 1: The first Gay Pride march in England takes place.
Jul 7: Susan Roley and Joanne Pierce are the first women sworn in to the FBI.
Jul 25: US health officials concede that African Americans were used as guinea pigs in 40-year syphilis experiment.
Sep 18: Art Williams is the first Black National League umpire for Los Angeles vs. San Diego.
Sports
Jan 15: Heavyweight Joe Frazier KOs Terry Daniels.
Feb 3: The 11th Winter Olympics open in Asia in Sapporo, Japan.
Feb 29: Hank Aaron becomes first baseball player to sign for $200,000 a year.
Mar 22: Kareem Abdul-Jabbar named NBA MVP.
Mar 28: Wilt Chamberlain plays his last pro basketball game.
May 25: Heavyweight Joe Frazier KOs Ron Stander.