1954
Negro Dance Theater was founded

Negro Dance Theatre (NDT) was founded by an Englishman from Cheltenham, Aubre Hitchins, (1906-1969) in New York City in 1954.  This all-male group performed ballet, modern and what Hitchins called "primitive dance."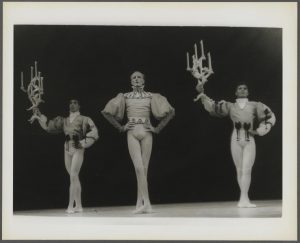 The dancers had different levels of training but were all very athletic.  The company was well received at Jacob's Pillow for two summers.  The first summer the company performed Italian Concerto with music by Johann Sebastian Bach choreographed by Hitchins. The second year they performed four ballets.  They repeated Italian Concerto and added Ode also by Hitchins as well as Outlook For Three by Dania Krupska and Gotham Suite by Tony Charmoli.  Walter Terry stated, "The Negro Dance Theatre is still on the student level."  He did not like Hitchins' choreography or his personnel included Bernard Johnson, (New York Negro Ballet) and Charles Moore (Broadway, Dunham dancer, Ailey Dancer and Charles Moore Dance Theatre) and Nat Horne (Broadway and jazz dancer). Courtesy of Dr. Joselli Audain Deans
Dancers: Arthur Wright, Edward Walrond, Moore Carson, Frank Glass, James A. Smith, Charles Martin, Albert Rivera, Charles Queenan, Norman DeJoie, Jimmy McMillan
Dancers: Charles Moore, Frank Glass, Charles Queenan, Arthur Wright, Edward Walrond, Nat Horne, Charles Martin, Aubrey Hitchens, Bernard Johnson, James A. Smith
Outlook for Three

, choreography by Dania Krupaka and music by Ellington
Dancers: Charles Moore, Charles Martin, Charles Queenan
Hitchens' assistant: Madame Ada Verova
Delores Browne, John Jones and Billy Wilson perform in Antony Tudor's Offenbach in the Underworld
Offenbach in the Underworld was first performed at the Philadelphia Convention Hall on May 8, 1954. Jacques Offenbach's original operetta premiered in 1858. While Offenbach's piece was based on Greek mythology, Antony Tudor's ballet is a "humorous story about the flirtatious interactions among celebrities at a 1870s French cafe, [and] is filled with colorful characters and costumes. It culminates with a sultry and exhilarating chorus line of high kicking known as the 'can-can.'" The ballet has been performed by American Ballet Theater, Joffrey Ballet, Ballet West, and National Ballet of Canada. (http://www.antonytudor.org/ballets/offenbach-in-the-underworld.html, https://en.wikipedia.org/wiki/Orpheus_in_the_Underworld)
Both John Jones and Billy Wilson were members of Offenbach in the Underworld's original 1954 cast. Jones studied at the Judimar School in Philadelphia and with Antony Tudor at the Metropolitan Ballet School, later joining companies like Jerome Robbins' Ballets: USA, Joffrey Ballet, and Dance Theatre of Harlem. Wilson trained at the Sydney King School and with Tudor as well. He performed on Broadway and with the Dutch National Ballet (then called The National Ballet of Holland). Delores Browne also performed in the ballet in 1954. She trained at the Judimar School and danced with the New York Negro Ballet.
"Offenbach in the Underworld was created in Philadelphia at the Academy of Music using dancers from Catherine Littlefield's Philadelphia Ballet Company." (http://www.antonytudor.org/antonytudor/newyork.html)
See:
John Hines
Other Happenings in 1954
American
Jan 26th Groundbreaking begins on Disneyland

Feb 2nd President Eisenhower reports detonation of 1st H-bomb (done in 1952)

Feb 23rd 1st mass inoculation against polio with Salk vaccine (Pittsburgh)

Feb 18th The first Church of Scientology is established in Los Angeles, California.

Mar 15th "CBS Morning Show" premieres with Walter Cronkite & Jack Paar

Apr 1st US Air Force Academy established

Apr 25th Bell labs announces the 1st solar battery made from silicon. It has about 6% efficiency.

Jun 17th Televised Senate Army McCarthy hearings ends

Jul 12th President Eisenhower put forward a plan for an interstate highway system

Aug 24th US President Eisenhower signs Communist Control Act, outlawing the Communist Party, at height of

McCarthyism

Dec 23rd The first human kidney transplant is performed by Dr. Joseph E. Murray at Peter Bent Brigham Hospital in Boston, Massachusetts.
World
May 24th German airline Lufthansa forms

Jul 12th ANC President Albert Luthuli banned by South African Minister of Justice from attending public gatherings and confined to the magisterial district of Lower Tugela, Natal

Aug 1st In South Africa, The Natives Resettlement Act empowers the Government to remove Africans from any area within and next to the magisterial district of Johannesburg; less than a year after the Act was passed Sophiatown residents were forcefully removed to Meadowlands in Soweto

Oct 1st British colony of Nigeria becomes a federation

Dec 10th Albert Schweitzer receives Nobel Peace Prize



Art & Sciences


Jan 17th Jacques Cousteau's 1st network telecast airs on "Omnibus" (CBS)

Feb 1st Scapino Ballet Studio in Amsterdam destroyed by fire

Apr 5th Elvis Presley records his debut single "That's All Right"

Mar 25th 26th Academy Awards – "From Here to Eternity" best film, William Holden & Audrey Hepburn best actor/actress

May 13th "Pajama Game" opens at St James Theater NYC for 1063 performances

Jul 28th "On the Waterfront", directed by Elia Kazan starring Marlon Brando and Eva Marie Saint, is released (Best Picture 1955)

Sep 17th "The Lord of the Flies" by William Golding is published by Faber and Faber in London

Oct 28th Nobel Prize for Literature is awarded to Ernest Hemingway

Sep 27th Steve Allen's "Tonight Show" premieres

Sep 29th "Star is Born" starring Judy Garland & James Mason premieres

Dec 30th "House of Flowers" opens at Alvin Theater NYC for 165 performances

Human & Civil Rights

Jan 20th The National Negro Network is established with 40 charter member radio stations.

May 17th US Supreme Court unanimously rules on Brown v Topeka Board of Education reversed 1896 "separate but equal" Plessy v Ferguson decision

Aug 18th James E. Wilkins is 1st black to attend a US cabinet meeting

Aug 19th Ralph J Bunche named undersecretary of UN

Sep 7th Integration begins in Wash DC & Balt MD public schools
Sports
Apr 13th Milwaukee Braves' Hank Aaron's 1st game
March 19th The first televised boxing prize fight in color airs.
Sep 14th Giants' Willie Mays gets 82nd extra-base hit, breaks Mel Ott's record