1868
George Washington Smith Restages The Black Crook
"The Black Crook" a theatrical extravaganza, was opened in 1866 and restaged in 1868. During its very long run, the musical introduced generations of Americans to the art of ballet. Hundreds of dancers were used in its long run and tour, that lasted until 1909. It was the start of the Music Hall and Variety show.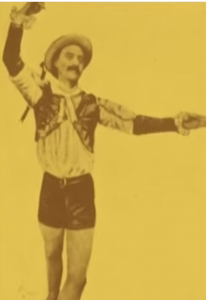 The Black Crook is a work of musical theatre first produced, with great success, in New York in 1866. Many theatre writers have identified The Black Crook as the first popular piece that conforms to the modern notion of a musical, while others regard this conclusion "as something of a joke". The book is by Charles M. Barras (1826–1873). The music, selected and arranged by Thomas Baker, consists mostly of adaptations, but it included some new songs composed for the piece, notably "You Naughty, Naughty Men". The story is a Faustian melodramatic romantic comedy, but the production became famous for its spectacular special effects and skimpy costumes.
It opened on September 12, 1866 at the 3,200-seat Niblo's Garden on Broadway, in New York City, and ran for a record-breaking 474 performances. It was then toured extensively for decades and revived on Broadway in 1870–71, 1871–72 and many more times after that. The Black Crook is often considered a prototype of the modern musical in that its popular songs and dances are interspersed throughout a unifying play and performed by the actors.
A British production titled The Black Crook, which opened at the Alhambra Theatre on December 23, 1872, was an opera bouffe with a new story based on some of the French source material that influenced the New York version, with new music by Frederic Clay and Georges Jacobi. A silent film version of The Black Crook was produced in 1916.
The production combined scantily clad Italian Ballerinas with special effects, it was sensationalism and spectacle, mixing in a melting-pot of entertainment both high and low. It was widely popular and got more outrageous with each production. 1868 The Black Crook was restaged by GW Smith for the Walnut Street Theatre where he restored the integrity of the ballet.
George Washington Smith, born in Philadephia and deemed America's first premier danseur. Smith's talents were developed by studying with various visiting European teachers in his native Philadelphia, then a mecca for theatre and dance. His performing debut was made in 1832, and he soon grew into a versatile dancer, admired for his skills as a technician, actor, partner, and pantomimist.
See:
Other Happenings in  1868
Dance/Ballet
Jun 21: Richard Wagner's opera The Mastersingers of Nuremberg has its premiere in Munich.
Mar 9: The opera Hamlet premieres in Paris.
Edgar Degas created his oil canvas Mlle Fiocre in the Ballet "The Source".
American
Feb 24: The impeachment process against Andrew Johnson was initiated.
Jul 9: Francis L. Cardozo was elected in South Carolina as Secretary of State and became the first African American to hold a statewide office in the United States.
Nov 3: Ulysses S. Grant won the 21st presidential election and later, was nominated the 18th President of the United States of America.
Nov 27: George Custer led federal troops in the massacre of more than 100 Native American, on an official reservation beside the Washita River.
World
Jul 28: Seward Treaty of 1868 was signed: a landmark treaty between the United States and Qing China.
Sept 23: In the town of Lares in Puerto Rico, an armed uprising against Spanish rule takes place becoming known as the Grito de Lares ('Cry of Lares').
The capital, Edo, was renamed Tokyo, after Tokugawa rule is declared over.
Benjamin Disraeli becomes British prime minister.
Arts and Sciences
Feb 23: William Edward Burghardt (W.E.B.) Du Bois was born.
Sept 30: US author Louisa May Alcott begins serial publication of her book for children, Little Women.
Nov 5: Howard University Medical School opens, becoming the first in the United States to train African American doctors.
Nov 23: Louis Ducos du Hauron was granted a patent on a process for making colour photographs.
Elizabeth Keckley, former slave, published Behind the Scenes- Thirty Years a Slave and Four Years in the White House.
Human and Civil Rights
Jul 9: United States Constitution adopted the 14th Amendment.
Sept 28: The Opelousas Massacre takes place: White Americans in opposition to the Reconstruction and African American voting kill an estimated 250 African Americans in Opelousas, LA.
The Klu Klux Klan evolves into a hooded terrorist organization known to its members as "The Invisible Empire of the South".
Sports
Jan 1: William Henry Lewis was born and later became the first black athlete chosen to play on Amherst (MA) College's football team
First written account of a football game played in Quebec, Canada
The All England Club was established on four acres of meadowland outside London; The club was originally founded to promote croquet
Sources:
http://www.thepeoplehistory.com/1860to1869.html
https://sites.google.com/site/wwwcatherinelittlefield/writings
http://michaelminn.net/andros/history/beginnings_of_american_ballet/
https://en.wikipedia.org/wiki/1868_United_States_presidential_election
https://en.wikipedia.org/wiki/Fourteenth_Amendment_to_the_United_States_Constitution
http://stateoftheunion.onetwothree.net/timelines/Timeline_US_hist_1860-1899.html
https://www.loc.gov/exhibits/civil-war-in-america/timeline.html
https://www.thirteen.org/wnet/slavery/timeline/1867.html
https://www.britannica.com/art/African-American-literature/Prose-drama-and-poetry
https://libguides.lib.msu.edu/c.php?g=95622&p=624423
https://scholar.lib.vt.edu/ejournals/JOTS/v31/v31n2/pdf/johnson.pdf
http://www.fsmitha.com/time/ce19-7.htm