1975
Dance Theatre of Harlem's Lydia Abarca becomes the first Black female ballerina on the cover of Dance Magazine
Lydia Abarca of Dance Theatre of Harlem became the first Black female ballerina on the cover of Dance Magazine in 1975.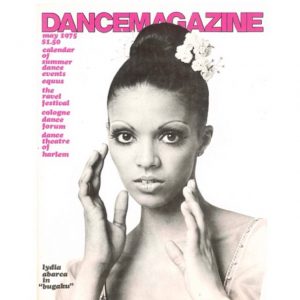 Lydia Abarca was Dance Theatre of Harlem's first prima ballerina and performed works like George Balanchine's Bugaku and Jerome Robbins' Afternoon of a Faun. She went on to perform in Bubbling Brown Sugar and The Wiz on Broadway.

---
Keith Lee leaves American Ballet Theatre
In 1975, Keith Lee left the American Ballet Theatre at the age of 24 because he felt he could not progress more with the troupe and to chase his dream of being a choreographer.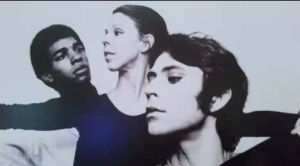 Keith Lee (b. 1951) left the American Ballet Theatre in 1975 after seven years due to the feeling that he had "hit a wall." He had been promoted to soloist after only one year with the troupe but was often typecast as the antagonist in the ballets. Even though he had created a ballet for the troupe, he felt held back by them. Lee wanted to work more as a choreographer and teacher. Three years later, he was called by Doris Jones of the Capitol Theatre in Washington DC to become a director of the company. He choreographed for many professional troupes and even founded his own dance school in 1999 called Dance School of Lynchburg. His latest endeavor has been directing the professional Keith Lee Dances troupe, which he founded in 2013 also in Lynchburg, Virginia.
Sources:
Keith Lee Troupe and a Solo for a Teacher, The New York Times
New Strides for Black Dancers, The Washington Post
Dance Theatre of Lynchburg founder Keith Lee prepares for final performances with organization, The News & Advance
Photo of Keith Lee and others
---
Sylvester Campbell leaves Béjart's Ballet du XXme Siecle
Ballet/Dance History
Jan 5: The Wiz: The Super Soul Musical "Wonderful Wizard of Oz" premieres on Broadway.
Jul 30: NYCB premieres The Steadfast Tin Soldier choreographed by George Balanchine to Bizet's Jeux d'enfant.
Sept 25: Rocky Horror Picture Show premieres.
American History
Feb 6: US performs a nuclear test at Nevada Test Site.
Feb 21: Watergate figures John Mitchell, H.R. Haldeman & John D. Ehrlichman are sentenced to 2.5-8 years for conspiracy and obstruction of justice.
Sept 5: First Assassination attempt on US President Gerald Ford by Lynette Fromme in Sacramento.
Nov 20: Ronald Reagan announces candidacy for Republican nomination for US President.
World History
Jan 14: USSR breaks trade agreement with US.
Mar 21: Ethiopia abolishes its monarchy after 3,000 years.
Apr 2: Vietnam War—Thousands of civilian refugees flee from the Quang Ngai Province in front of advancing North Vietnamese troops.
Apr 21: Last South Vietnam President Nguyen Van Thieu resigns after 10 years.
May 7: US President Gerald Ford declares an end to "Vietnam Era."
Aug 14: Pakistani military coup against Bangladeshi President Sheikh Mujibur Rahman takes place.
Nov 22: Juan Carlos I is proclaimed King of Spain as monarchy restored after 31 years.
Arts & Sciences
Jan 6: Wheel of Fortune debuts on NBC.
Jan 25: 32nd Golden Globes—Chinatown, Jack Nicholson, and Gena Rowlands win.
Mar 3: First People's Choice Awards—John Wayne and Barbara Streisand win for Motion Picture, and Alan Alda, Telly Savalas, and Mary Tyler Moore win for TV.
Apr 4: Microsoft is founded as a partnership between Bill Gates and Paul Allen.
Apr 8: 47th Academy Awards—The Godfather Part II, Ellen Burstyn, and Art Carney win.
Apr 20: 29th Tony Awards—Equus and The Wiz win.
Jun 20: Jaws, directed by Steven Spielberg, is released.
Oct 11: Saturday Night Live, created by Lorne Michaels, premieres on NBC
Oct 31: British rock band, Queen, releases "Bohemian Rhapsody"
Nov 19: One Flew Over the Cuckoo's Nest, starring Jack Nicholson and Louise Fletcher, is released.
Human & Civil Rights
Oct 17: UN passes resolution saying "Zionism is a form of racism."
Nov 18: Black Panther leader Eldridge Cleaver returns to US.
Sports
Mar 24: Muhammad Ali TKOs Chuck Wepner in 15 for heavyweight boxing title.
Jun 30: Muhammad Ali retains his world heavyweight boxing crown by beating Englishman Joe Bugner by unanimous points decision in a re-match in Kuala Lumpur, Malaysia.
Jul 5: Wimbledon Men's Tennis—Arthur Ashe becomes first African-American to win Wimbledon, beats countryman Jimmy Connors 6-1, 6-1, 5-7, 6-4.