1952
Louis Johnson performs in Jerome Robbins' Ballade with NYCB
On February 14, 1952, Louis Johnson performed in Jerome Robbins' Ballade with New York City Ballet. Johnson starred in Ballade alongside the rising stars of the genre, Nora Kaye and Janet Reed. The musical score was by Claude Debussy and the piece was 13 minutes in length.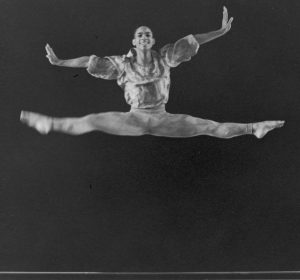 Louis Johnson was born March 19, 1930 in Statesville, North Carolina. He later moved to Washington DC, where he trained alongside Chita Rivera under Doris Jones and Claire Haywood. Johnson then relocated to New York City to study at the School of American Ballet (the affiliate school of NYCB). He refined his artistry under ballet visionaries George Balanchine and Jerome Robbins.
Sources:
Louis Johnson's Biography, The History Makers
Ballade, New York City Ballet
---

Other Happenings in 1952
Ballet/Dance History
Apr 16: A revival of Four Saints in Three Acts premieres on Broadway. The cast includes Arthur Mitchell, Louis Johnson, and Helen Taitt as dancers.
American History
Jan 9: US President Harry S. Truman warns of the Cold War.
Nov 1: The United States tests the first hydrogen bomb.

World History
Jan 5: British Prime Minister Winston Churchill makes an official visit to the US.
Feb 6: Queen Elizabeth II succeeds King George VI to the British throne.
Jun 26: Nelson Mandela & 51 others infringe South Africa's curfew.
Nov 4: General Dwight Eisenhower (R) elected 34th president of the US, beating Adlai Stevenson (D).

Arts & Sciences

Feb 4: Jackie Robinson becomes the first Black executive of a major TV station.
Mar 20: 24th Academy Awards—An American in Paris, Humphrey Bogart, and Vivian Leigh win.
Mar 27: Singin' in the Rain, a musical comedy starring Gene Kelly, Donald O'Connor and Debbie Reynolds, is released.
Human & Civil Rights
Dec 24: The McCarran-Walter Act takes effect and revises U.S. immigrant laws.
Sports
Sept 23: Rocky Marciano KOs Jersey Joe Walcott in 13 for heavyweight boxing title.
Feb 20: First Black umpire in organized baseball is certified (Emmett Ashford).
Jun 5: Jersey Joe Walcott beats Ezzard Charles in 15 for heavy weight boxing title.
Nov 30: Jackie Robinson charges NY Yankees with racism.